As explained in a 2009 article, Capital Structure in the REIT Sector, by Green Street Advisors,
the deleveraging process that is now underway in the REIT sector is in the very early stages, with a lot of work to be done before most capital structures resemble their pre-credit crunch make up. After that work is done, well-run REITs will continue the process, as they increasingly acknowledge that their prior leverage targets were too high.
As Green Street suggested,
There is no reason why a non-taxable entity (e.g. a REIT) should have any debt, yet the costs associated with credit crunches (both in the form of distress and missed opportunities) provide ample reason to limit leverage to relatively low levels. These costs have proven to be so high that optimal leverage targets for most REITs likely fall in the 0-30% (debt/asset value) range.
Green Street's three-year old article was 'spot on' in that most
corporations have a powerful incentive to utilize debt (i.e. interest expense helps minimize the double taxation of corporate profits) and they typically employ far less leverage than REITs. The simple fact that real estate can support relatively high debt levels has nothing to do with whether it should.
It seems that many REITs today have broken some leverage habits, while others continue to straddle the fence with the question of "how much debt can I get"? Green Street explained this prophetically habitual cycle as follows:
Old habits can, however, be hard to break. Despite the powerful arguments that follow as to why REITs should have less leverage than most companies, even today's more conservatively levered REITs utilize a lot more debt than is common at other corporations. It is clear that the historic culture of the real estate industry continues to play a big role when it comes to how real estate companies are financed, much in the same way that the equity-heavy historic culture of the Tech industry continues to cause even mature companies (e.g. Microsoft, Oracle, Cisco, etc.) with now-predictable income streams to utilize little or no long-term debt. Cultural norms that no longer make sense can persist for a long time, but ultimately the companies that have done the best job of reacting to the changed conditions eclipse the firms that are stuck in the ways of the past. 'How much debt can I get?' is certainly the wrong question. Companies that instead ask, 'How much debt should I have?' will be the winners.
Picking REITs with Modest Leverage Fundamentals
Investing in REITs with modest leverage can be rewarding so long as the acceptable debt levels do not compromise the strength of the REIT's balance sheet. Accordingly, modest leverage can enable a REIT to capture greater returns when good opportunities are abundant. However, a REIT with strong management, presented with the best acquisition ever, will nevertheless be shut out of the capital markets it has a weak balance sheet, perhaps marred by excessive debt.
During and since the great recession, several REITs utilized modest leverage that did not compromise the company's balance sheet. These REITs have been able to capture strong and sustainable returns (when opportunities arise) by maintaining optimal leverage ratios that have, in turn, warranted higher share prices.
Public Storage (NYSE:PSA), Taubman Centers (NYSE:TCO), Simon Properties Group (NYSE:SPG), Realty Income (NYSE:O), National Retail Properties (NYSE:NNN), Federal Realty (NYSE:FRT), Kimco Realty (NYSE:KIM), HCP Inc. (NYSE:HCP), Tanger Factory Outlets (NYSE:SKT), and Urstadt Biddle Properties (NYSE:UBA) have all maintained modest leverage fundamentals that are distinguished by consistent risk control practices - and four of these are at their 52-week level (O, NNN, FRT and HCP).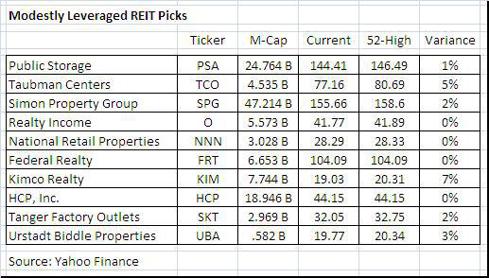 Click to enlarge
These ten REITs have proven leverage attributes that are all characterized as soundly defensive income alternatives driven by durable sources of sustainability. Because these REITs have sharper leverage differentiation, they are considered leaders in a uniquely intelligent fixed-income portfolio. Accordingly, this strategic model of differentiation is explained by the author of The Intelligent Investor, Ben Graham:
The defensive investor must confine himself to the shares of important companies with a long record of profitable operations and in strong financial condition.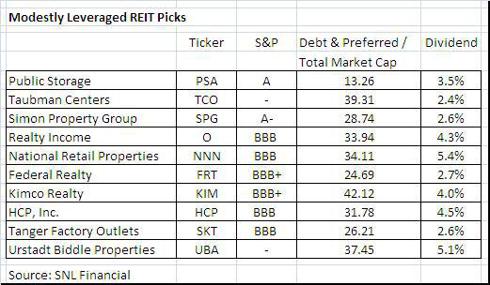 Click to enlarge
In closing, Green Street Advisors summed up the appropriate question for any intelligent investment operation, "How much debt should I have?" By developing an investment portfolio around this critical (but simple) principle, an investor is certain to build a long-lasting portfolio aimed to protect principal (first) and yield (second). Or as Howard Marks, author of The Most Important Thing wrote,
Outstanding investors, in my opinion, are distinguished at least as much for their ability to control risk as they are for generating return…when you boil it all down, it's the investor's job to intelligently bear risk for profit. Doing it well is what separates the best from the rest.
Source: Green Street Advisors article and SNL Financial data.
Disclosure: I have no positions in any stocks mentioned, and no plans to initiate any positions within the next 72 hours.