Shares of the major airlines US Airways (LCC), United Continental (NYSE:UAL), Southwest Airlines (NYSE:LUV), Delta (NYSE:DAL), and Alaska Air Group (NYSE:ALK) all struggled on Friday, despite a more than 2% surge in the major averages following positive news from Europe.
Click to enlarge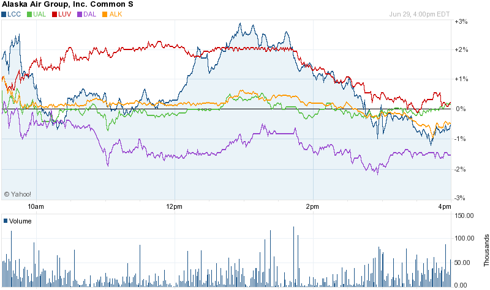 Click to enlarge(yahoo)
The reason why airline stocks struggled was the surge higher in oil prices. WTI Crude Oil surged $7.27 per barrel or 9.36%, while Brent Crude Oil also moved sharply higher. As shown by the chart below, the surge in oil prices sent energy ETFs and stocks sharply higher on Friday.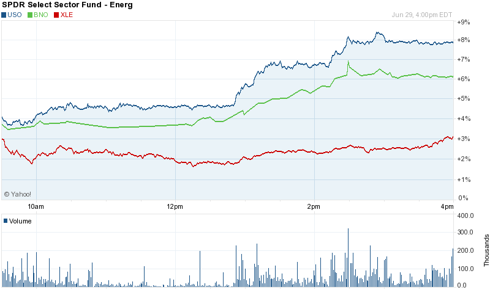 Click to enlarge
(yahoo)
Recent Airline Rally
Over the past few months, airline stocks have been moving higher led by LCC, as oil prices have declined.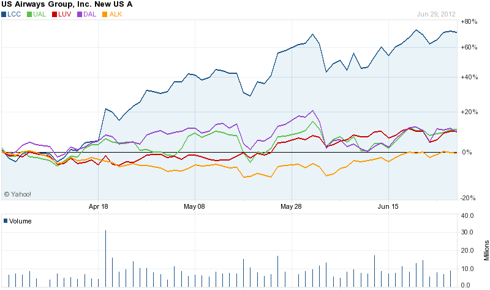 Click to enlarge
(yahoo)
My Take
I have written many bullish articles about airlines over the past few months, but I am now more cautious. While airlines should report strong earnings for the past quarter, traders should use any rally as an opportunity to sell. The airlines may be entering a time period wherein good news is bad and bad news is bad. If good macroeconomic news continues to come in, oil prices will likely continue moving sharply higher. Just as lower oil prices helped airline stocks over the past few months, lower oil prices will hurt airline stocks.
If, however, bad macroeconomic news comes in, while oil moves lower, airlines will likely move lower too as travel demand will be hurt. Airlines have been a great trade over the past few months, but I would start taking profits, as upside is now limited with the turn in oil prices.
Disclosure: I have no positions in any stocks mentioned, and no plans to initiate any positions within the next 72 hours.