Companhia Paranaense de Energia (NYSE:ELP), more commonly called COPEL, released 4th quarter and 2007 year end results last week. I went to the website and dug out the earnings report press release. Fortunately, they have an English version; unfortunately all results are in Brazilian Reals, so the only numbers that make a lot of sense are the percentage changes.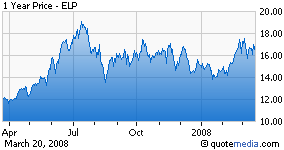 As background, COPEL is the power company for the Brazilian state of Parana, in the southern part of the country. The state government owns 58% of the common stock. This company is an infrastructure play on a growing area of Brazil. Past growth has been explosive, but the company seems to be settling into a more stable growth pattern.
Here are some of the figures I pulled from the earnings press release:
Net operating revenue (total revenue minus a bunch of acronyms) was up 10.9% for the year. Q4, 2007 was up slightly over Q3.
Total energy consumption for 2007 was up 6.8% over 2006, driven by an official 6.6% employment increase in the state.
Net income for the year fell 10.9% due to a 16% increase in operating expenses, primarily due to a 13.3% increase in depreciation and a 26.4% increase in "financial compensation for the use of water resources and concession charges – Aneel grant." ANEEL is the national electric energy agency.
Net income in the 4th quarter was up 15.7% over Q3 and 0.6% higher than Q4, 2006.
The net per share for the year was R$4.0, giving a trailing PE of 7.3 based on today's Brazilian market price of R$29.50.
The proposed dividend works out to 24% of net income, or 3.2% of the current share price. The dividend will be submitted to the shareholder in April 2008.
COPEL is happy to point out in the news release that the share price increased 29.5% for 2007. I believe this is a steady way to partake in any growth in the Brazilian economy.
Disclosure: I currently do not have a position in ELP.