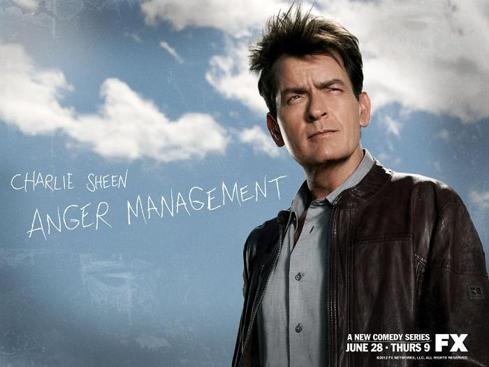 Click to enlarge
Much hyped television show Anger Management premiered Thursday night with 5.74 million viewers, a new record premier for comedies on cable. The new television show, starring Charlie Sheen, had two episodes on Thursday. The first episode at 9pm had 5.47 million viewers, while the second show picked up viewers and set the record with 5.74. One of the key demographics for advertisers is the 18-49 age group. The show was strong with that age group making up well over half of viewers, with 2.65 million and 2.89 million respectively.
The show is being produced by Lions Gate TV, a division of Lions Gate Entertainment (NYSE:LGF). Lions Gate has already received an order for ten episodes from FX. Good ratings are a sign of things to come for Lions Gate, as ratings goals could lead to a 90 episode deal for the show.
Anger Management was picked up for distribution by several countries prior to the show's first episode. Listed below are some of the countries already signed.
· Canada - CTV
· Latin America - TBS
· Denmark - 3+
· Sweden - TV6
· Norway - Viasat 4
· Australia - Nine Network/Go!
· Germany - VOX
· Netherlands - Comedy Central
Lions Gate is already winning big with Anger Management, despite its short time on the market. The international rights to the show were sold at around $600,000 per episode. Lions Gate will begin marketing the show aggressively soon, where it could command up to $1 million per episode. The strong ratings premier likely did wonders for Lions Gate push overseas.
Lions Gate television unit is undervalued in my opinion. Lions Gate has long been recognized as a movie company and now is known as the company behind The Hunger Games. Television shows associated with Lions Gate include:
· House of Payne, Meet the Browns, Are We There Yet?, The Wendy Williams Show, The Jeremy Kyle Show, Boss, Mad Men, Nurse Jackie, Weeds, Blue Mountain State
Along with its owned television shows, the company also owns the syndication rights to several shows through its ownership of Debmar-Mercury. The company's television segment is seeing record viewership numbers. Mad Men premiered with strong ratings this season. Weeds premiers this Sunday with its last season set for a strong premiere. Surprise hit Boss, starring Kelsey Grammer, returns in August.
News Corporation (NASDAQ:NWS), which owns the FX channel hit it big with Thursday night's entire lineup. After strong results from Anger Management's premier, the channel was able to keep viewers for two returning shows and another freshman show. Wilfred, starring Elijah Wood, saw ratings up 71% from last year's first season. Louie, starring comedian Louie CK, saw 1.43 million viewers, which was a 55% increase. Russell Brand premiered with his new late night talk show Brand X on the network at 11pm. The show saw 1.1 million total viewers, which wasn't a great number, was an increase over normal programming at the 11pm hour.
The good ratings and the hype around the show bode well for advertisers. Advertisers in industries like automobiles, alcohol, and movies, bought ads at a rapids rate. In fact, FX sold out all of the advertisements for the first four episodes. Advertisers will continue to pour in after the key marketing 18-49 age demographic.
When investing in Lions Gate Entertainment, investors need to realize there is more to the company than The Hunger Games. In the company's most recent fiscal quarter and full year earnings, the television segment hit record revenue. For fiscal 2012, television revenue hit a record of $397 million. I have argued previously that Lions Gate has a great upcoming lineup of movies away from The Hunger Games as well. I have recommended Lions Gate since before The Hunger Games shot shares up. I purchase shares of Lions Gate last year as a long term bet.
Several viewer numbers and details were taken from Hollywood Reporter, Part 2
Disclosure: I am long LGF.