Weekly Outlook: The Friday news was of Europe extending a helping hand to Spain and Italy as well as making changes to bonds that were seen as very bullish for the market as it curbed fear and improved "risk-on" trading. That news, coupled with some end of the quarter window dressing, left the market with a very strong finish to the quarter. Yet, it was a very weak quarter all in all. Moving forward, the bailout helps the market as well as an extension of Operation Twist by the Fed, but the dog days of summer may dog the market. Employment, Europe, and earnings remain big question marks for the market moving forward. While many believe recent upside is sign of a bottom, it will be a very volatile summer once again with large swings that can burn traders and investors.
We hope to provide you each week with an outlook of important market moments as well as commentary that can help you know when it's good to hedge, go long, and go short. In the coming week, the market will continue to react to the European news from Friday and should see follow through to start the week. Mid-week, however, we will start to look to employment numbers on Friday that could provide some weakness, leading to the all-important NFP report on Friday.

We have an extremely busy week of data ahead of the market. We start on Monday with Construction Spending and the ISM Index, which both could curb any follow through from the market. Both are not expected to be as strong as the prior month reading, but data has been weak as of late. From there on Tuesday, we get Factory Orders and Auto/Truck Sales. Thursday will give us Challenger Job Cuts, ADP Employment, Jobless Claims, ISM Services, and Crude Inventories. A jam-packed day on what may be a fairly light volume day could create some big movements. Friday concludes with Nonfarm Payrolls, Unemployment Rate, and other jobs data. We look at the beginning of the week as staying pretty positive and most likely turning on Thursday. If ADP is strong on Thursday, though, we could see very strong bullish movements.
Europe will continue to be important to this market. The announcement on Friday does take them slightly out of the spotlight, but we do have some important data points to be released from Europe this week as well. Monday we get Italian and Euro-Zone Unemployment Rate, which could have some impact on bonds in Italy especially. Tuesday will give us Euro-Zone Producer Price Index as well as some key data on credit and construction in Great Britain. Wednesday will be Euro-Zone Retail Sales. Thursday will also be big for Europe with the Bank of England rate decision and the ECB Rate Decision. Those announcements are points for them to talk about any "free money" decisions or any impactful decisions that can drastically affect the markets. Friday is light.
The market will take a break from earnings into the final week before earnings season starts. Earnings were not great in the last two weeks, which does give us some concern for the market. Some places of weakness were Nike (NYSE:NKE), Family Dollar (NYSE:FDO), and Research in Motion (RIMM). One major concern heading into earnings is companies with large international sales seeing negative effects from currency issues. The only interesting earnings to watch are Chimera (NYSE:CIM) that will give us a look at financial REITs moving into earnings season. Other semi-notable earnings are Acuity Brands (NYSE:AYI) and JDA Software (NASDAQ:JDAS).
The Fed has nothing on the docket this week. They take a break for the holidays before gearing up for a July meeting where QE3 will be discussed further.
So where are we headed this week?
We see the market as having more potential upside to start the week with a good way to end the last month and the start of a new quarter for the markets. The ISM Index will be key to start the week on a good note. Moving out of the holiday, it's going to be all about unemployment. Will the markets get some surprise news that gets us going with employment? The bar is set pretty low with the last report and general malaise the market has about employment, so it would be easier to shock to the upside. Yet, a weaker than expected report may confirm many suspicions and cause more weakness. Some contrarians say though that weak data is actually positive because it continues to push the envelope for QE3. Watch for a volatile end to the week.
Stocks To Trade:
Stocks we are watching this week are McDonald's (NYSE:MCD) and JPMorgan (NYSE:JPM). McDonald's may be on the bear watchlist given the news we are seeing from mutli-national corporations with lots of sales overseas that are seeing earnings limitations due to currency exchange. MCD has been very weak over the past month, and it barely joined in the recent market excitement. The stock is on a tough downward trend, and while we do not expect a severe sell-off, we expect MCD to underperform market at least until earnings. We paired a short on MCD with a long in Ashland (NYSE:ASH) to finish off Friday. We also like JPM long right now. The company looks to have turned a corner on its chart, and we believe that it may actually see some short covering into its earnings report that will create upside. The stock has been trending higher and is flirting with its 200-day and 50-day MA right now. A move above both of those would give a lot of upside to JPM.
Position #1: Short MCD
Position #2: Long JPM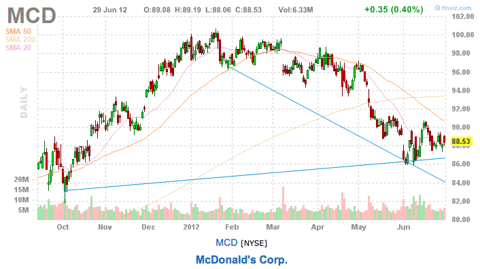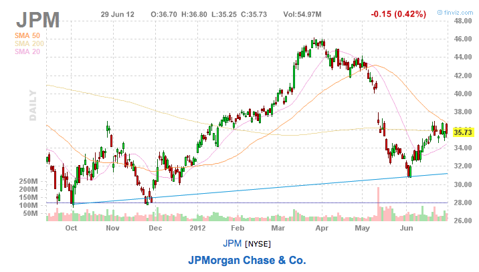 Oxen Group Holdings:
We have the following positions. In our Short-Term Equity Portfolio we are long Ashland, eBay (NASDAQ:EBAY), Apple (NASDAQ:AAPL), and Clean Energy (NASDAQ:CLNE). We are short McDonald's, Williams Sonoma (NYSE:WSM), SPDR S&P (NYSEARCA:SPY), and Biogen Idec (NASDAQ:BIIB). In our Options Portfolio, we are long Dicks Sporting Goods (NYSE:DKS), Dollar General (NYSE:DG) and AutoZone (NYSE:AZO). We are short Aflac (NYSE:AFL), Garmin (NASDAQ:GRMN), and Kohl's (NYSE:KSS). We have a reverse iron condor on Apple. In our Earnings Alpha portfolio, we are long Disney (NYSE:DIS), Ashland, Vertex (NASDAQ:VRTX), Intuitive Surgical (NASDAQ:ISRG), Marriott (NYSE:MAR). We are short Schlumberger (NYSE:SLB) and Walgreen (WAG). We have a reverse iron butterfly in Decker's Outdoor (NASDAQ:DECK).
Disclosure: I am long PNRA.