SanDisk Corporation (SNDK) is a NAND flash storage card supplier whose stock has followed a predictable pattern for the past two years. The year 2012 is shaping up to be a repeat of 2011 and 2010: Buy in the Summer and sell in January.
Click to enlarge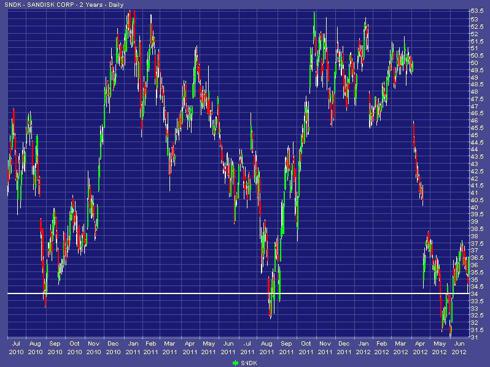 Perhaps it's all the excitement about the next Apple (NASDAQ:AAPL) Iphone every Fall or just a seasonal thing related to electronic gadget sales in the fourth quarter. But SanDisk has popped two years in a row from it's summer lows.
Goldman Sach's Semiconductor analyst James Schneider said on June 25th when upgrading SanDisk to a buy:
"Schneider thinks the NAND flash memory market, which has seen huge price declines, will reach a supply/demand balance in Q4 thanks to Samsung and Hynix's efforts to restrain capacity. He also notes SanDisk trades at just 5x estimated 2013 EPS after backing out $15/share in cash and royalty income."
Below are the last six years of revenue by quarter. One can see a dramatic drop off in revenue, starting in Q4 and continuing with guidance for Q2.
At SanDisk's 1st Quarter earning's conference call, SanDisk's CEO stated:
"We now believe the industry experienced an imbalance between supply and demand in the first quarter, and we believe this imbalance is likely to continue through the second quarter of 2012. Industry demand has been weaker than we had expected, and we believe supplies have increased more than we had estimated at the beginning of the year. This led to greater-than-expected price decline, particularly in the second half of the first quarter, impacting our revenue and gross margin. As we look into the second half of the year, we believe the ramp of new smartphones, tablets, ultrabooks and Enterprise solid state drives, along with stronger seasonality, should lead to an improved demand environment. With this demand, coupled with a modest wafer capacity growth expected within the industry for the remainder of the year, we expect a better supply-demand environment in the second half of 2012."
Although Micron Technology (NASDAQ:MU) is primarily a DRAM supplier, it does have a significant presence in the NAND memory market. At their earning's conference call on June 20th, Micron's management also echoed SanDisk's management.
"We remain bullish on the NAND market. The fact the prices have declined at this pace has made -- created demand elasticity with higher demand content in smartphones, tablets and SSDs being protected for the second half of the year. For example, NAND density for tablet is expected to grow close to 90% in 2012. The other good news on the outlook for NAND is what appears to be a very disciplined approach with all of the major suppliers reacting to the weaker pricing environment by slowing down, delaying or even cutting NAND wafer production. Our current CapEx outlook, which Ron described earlier, follows the same industry trend as we're not currently planning to add any new wafer capacity in fiscal year 2013."
Unlike competitor Micron, SanDisk has been consistently profitable. Below is a look at the last nine quarters.


Conclusion
The year 2012 looks like it will repeat the overall market pattern of 2011 and 2010. Because of this, SanDisk is definitely one stock that should be on your summer buy watch list. If inclined to buy this summer, I recommend exercising some caution, and would not advise buying a full position all at once due to the annual summer market volatility.
Data from the company's earnings releases and 10Qs.
Disclosure: I have no positions in any stocks mentioned, but may initiate a long position in SNDK over the next 72 hours.