Yum Brands Inc. (NYSE:YUM) has been producing great results in recent quarters and years mostly through growth in its international business. YUM reports earnings July 9, 2012 for Q2. The economic news from the EU, from China, from India, from the US, and from many other emerging market countries indicates that those economies have been slowing. The Chinese GDP grew at a +9.5% rate in Q2 of 2011. The Bank of China's recent estimate for Q2 2012 growth was +7.6%. That's almost 2% lower than the previous year's growth rate; and the Bank of China's estimate is by no means the lowest estimate out there.
Zheng Xinli, deputy head of the China Center for International Economic Exchanges (CCIEE), a top government think tank, said, "GDP growth in Q2 could fall below 7% if there are no significant improvements in economic data for June." If that happens, the situation in China could become very dire. It would almost certainly mean a further steep fall in Q3. Loans that were made to individuals and businesses when the economy was growing at 10%+ just two years ago would default quickly if the economy only grows at 5%. Commercial buildings will find no tenants, etc.
The Indian GDP growth is also falling quickly. It was +7.7% in Q1 2012. It fell to +6.9% growth in Q2 2012. The government had previously projected 8.5% growth for the current fiscal year (April through March 2013). Now many are wondering if even +7% growth is achievable. Brazil managed only +0.2% GDP growth in Q1 2012. Its government still has an estimate for +4% growth in FY2012. However, many now believe Brazil will come nowhere near that figure; and they expect the government to lower its estimate again soon. In the EU, GPD growth was 0.0% for Q1.
Many believe recent results are indicative of a continuing near term economic deterioration. Some are warning of financial Armageddon there. In the Eurozone six countries had negative economic growth year over year in Q1. If you consider the entire European Union, you can add two or more countries to that list. This list of countries with falling GDP numbers seems likely to increase dramatically as the Q2 2012 numbers come out. The US grew at only +1.9% in Q1 2012, and many indicators for Q2 growth have looked substantially worse.
In the retail end of things, Spanish retail sales fell by -10% in April and -4.9% in May year over year. Greek retail sales fell in revenue year over year by -15.2% in March and -11.6% in April. Italian retail sales in April showed a -6.8% year over year decline. Even German retail sales were down -1.1% in May year over year. Ford (NYSE:F) and General Motors (NYSE:GM) are talking about closing factories in Europe because the sales are so slow. In fact, GM has already announced that it is shuttering a German car factory. Even with this some estimate that over capacity in Western Europe may double to about 2 million vehicles in 2012. The European auto market is expected to contract by -7% in 2012.
While one would not expect Yum's restaurant business to get hit as hard as the auto market, one would still expect it to contract in the current EU economic environment. One would expect the numbers from China and India to be considerably lower than earlier predictions, given their greater than expected level of slowing. Both the Yum China division and Yum Restaurants International should get hurt worse than expected. The US operations seem unlikely to compensate for any of this. In fact they may get hurt themselves.
The recent Nike (NYSE:NKE) earnings report for the quarter ending May 31, 2012 showed that diluted EPS for the quarter were down 6% as a result of lower gross margin, higher SG&A spending, an increase in the effective tax rate, and a charge related to restructuring NIKE Brand Western Europe's operations. Caterpillar (NYSE:CAT) and many of its big international market cohorts have seen large stock price falls recently on expectations of just the above kinds of results. In fact Caterpillar's stock price has fallen far below its 200-day SMA.
Yum's stock price in contrast has stayed stubbornly above its 200-day SMA. However, it has passed through its 50-day SMA moving downward, and it does appear to be poised to push through its 200-day SMA to the downside (see the two year chart below).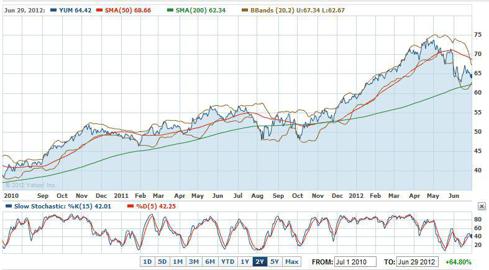 Click to enlarge
Further the 50-day SMA has turned downward. It is still far above its 200-day SMA. However, it looks like it is setting up to push through its 200-day SMA to the downside. Both the price line pushing through the 200-day SMA and the 50-day SMA pushing through the 200-day SMA would be sell signals. Barring a substantial movement of the overall market to the upside in the near future, Yum will likely move substantially downward in the near term. This means you should sell it, if you own it. It means it is almost a perfect short set up, especially given the recent NKE, F, and GM news.
If China is hit as hard as some people believe it will be, this could turn out to be an outstanding short. If Europe's economy goes into a severe recession or a depression, Yum could turn out to be a great short. If the US economy goes back into recession, this could turn out to be a good short. If all of these things happen, YUM will be a great short. Overall an investor seems unlikely to lose much money by shorting Yum, and the potential gains are tremendous.
Yum looks like it could easily fall to the $50-$55 range. From there it could fall further to $40. The 2008 bottom was $24.22, and that was without a major implosion in China. Such an implosion could occur this time around. At least 10% of Yum's growth in China is supposed to come from Unit Growth. Some or all of this could easily get put on hold in 2H 2012 and beyond, if China continues to slow at its current rate. Further Yum is expecting 5%+ increases in same store sales in China.
These increases may be much more modest. If the situation deteriorates enough, they could even be negative. Fundamentally and technically, Yum looks like a near perfect short. Yum's dividend of 1.80% is a modest disincentive to short, but it is very modest considering the potential downside.
Good Luck Trading.
Disclosure: I have no positions in any stocks mentioned, but may initiate a short position in YUM over the next 72 hours.