Texas Instruments (NYSE:TXN) is the third largest Semiconductor company in the world with sales of $13.7B in 2011. Since Texas Instruments' high water mark of $3.74B in revenue for the third quarter of 2010, revenue has declined to $3.12B in the first quarter of 2012 because of the semiconductor inventory correction. On June 12th, Texas Instruments reconfirmed second quarter revenue guidance of $3.28B to $3.42 or sequentially up 7.3%. Guidance for GAAP earnings was $0.32 to $0.38 and restructuring charges of $0.06/share.
Click to enlarge

Click to enlarge
Analog Business Unit
The Analog Business Unit is Texas Instruments' largest business unit with 54% of total revenues in Q1 2012. In 2011, TI had a 15% market share of the $42B analog market. With the $6.5B acquisition of National Semiconductor (closed 9/23/2011), TI's market share has grown to 18%.
Texas Instruments' next biggest competitors by market share in the Analog market (according to Databeans data shown at TI's investor meeting on May 3...page 12) are STMicroelectronics (NYSE:STM) with 10%, Qualcomm (NASDAQ:QCOM) with 6%, Infineon (IFX.DE) with 6%, Analog Devices (NYSE:ADI) with 6%, and Maxim Semiconductor (NASDAQ:MXIM) with 5%. Texas Instruments is currently the only semiconductor company with a 300mm dedicated Analog Wafer Fab. It is in the very early stages of a production ramp.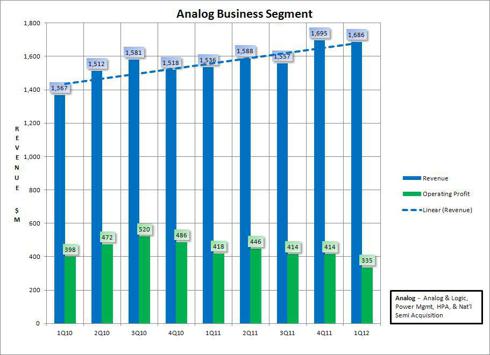 Click to enlarge
Operating profit in the Analog Business Unit has trended down since 3Q of 2010, even though Analog revenue is up. It will be important to watch to see if the profitability of the Analog Business Segment turns up when Texas Instruments reports July 23rd.
Embedded Processing Business Segment
Texas Instruments is #2 worldwide in embedded processors (DSPs and Microcontrollers) with 12% market share in 2011 per Investor Meeting Presentation...page 14. In microcontrollers alone, Texas Instruments was ranked 6th in 2011 with 5.5% market share. This is up from 7th place in 2010 according to Databeans.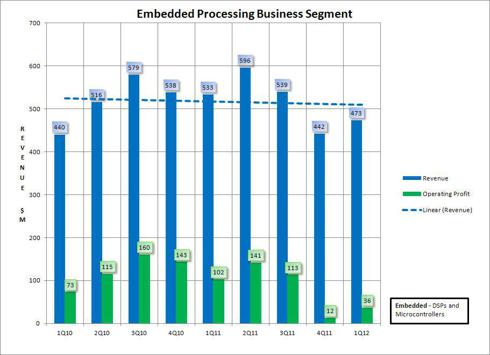 Click to enlarge
With the semiconductor inventory correction profitability in the Embedded Processing Business segment was hit hard in Q4 2011, but rose sequentially in Q1 2012.
Wireless Business Segment
From the graph below, one can see the impact on Wireless revenue by Texas Instruments' decision to exit the baseband business and will be completely out this market by Q1 2013. Its emphasizes is on OMAP application processors where it compete with Qualcomm's Snapdragon processors and Nvidia's (NASDAQ:NVDA) Tegra processors. Texas Instruments stated during their May Investor Meeting that they have over 100 OMAP design wins.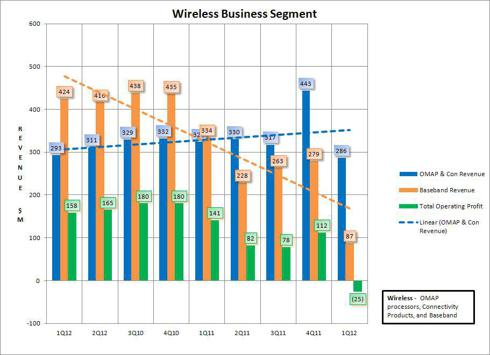 Click to enlarge
Other Business Segment
The Other Business Unit consists of DLPs, ASIC, Calculators, and Royalties.
Note: the plunge in profitability in the 'Other' Business Segment is where Texas Instruments took the National Semi acquisition charges of $256M in Q4 2011 and $174M in Q1 2012, plus restructuring charges of $112M in Q4 and $10M in Q1 for fab closures.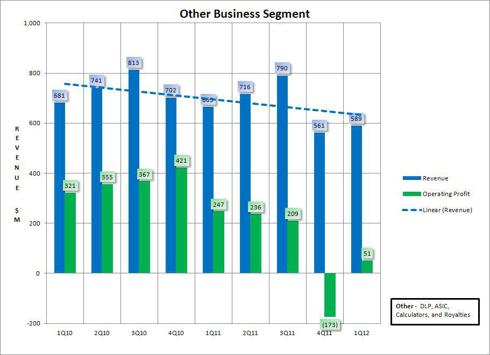 Click to enlarge
In-House Manufacturing Capacity
Since the downturn in 2009, Texas Instruments has been very aggressive at picking up wafer fab capacity both clean room and equipment at extremely favorable prices. From the CFO's presentation at the May 3rd Investor Meeting;
"Most of you are probably aware that in 2011, we recorded total annual revenues of $13.7 billion. I just described to you incremental capacity that we have brought on board over the last couple of years, totaling $7 billion. That's incremental equipped capacity already bought and paid for to generate additional $7 billion. So in a real simple world, what we have is a manufacturing footprint today, from a wafer fab standpoint, that is equipped to generate about $21 billion worth of revenue. That's simply taking the $7 billion of recent low-cost incremental capacity to put on board and adding it to our existing capacity that we generated last year of $13.7 billion of revenue, and we've got clean room space equipped today that can support about $21 billion worth of revenue. We've got open clean room that with the addition of additional equipment years into the future, can allow us to support up to $25 billion or - excuse me, $26 billion of total revenue."

"Over the last couple of years, the investments we've put into the back end has an equipped revenue-generating capacity of $18 billion. So on a fully balanced capacity footprint that we have today, we have a total of $18 billion of revenue-generating capacity already bought, paid for, installed and ready for operation. That's about $4.3 billion of incremental revenue already installed over what we just recorded in 2011."

"So to put that another way, we've got $4.3 billion of fully installed incremental capacity today to support no additional cost to generate revenue at our historical fall-through rates of about 75%, you should expect when that $4.3 billion of additional capacity ready today is fully utilized, we should drop through over $3 billion of gross profit to the bottom line."
Clearly Texas Instruments has positioned itself to grow revenue at low cost in the Analog and Embedded Processor markets when the global economy recovers.
Financial Metrics
Texas Instruments pays a dividend of $0.17 per quarter for an annual rate of 2.4% based on Friday's market close price of $28.69. Dividend payout ratio is 39.0%, forward PE (Dec 31, 2103) is 12.3, cash is $2.76B and debt is $5.28B. (Data from Capital IQ.)
Conclusion
It's very intriguing to see another large U.S. Semiconductor company, besides Intel (NASDAQ:INTC), view it's manufacturing operations as a competitive advantage. Texas Instruments is very well positioned in growing markets as the #1 Analog chip company and #2 embedded processor chip company, with plenty of market share left to gain and the low cost capacity to run the wafers, assembly, and test.
The question is when is this upturn coming? According to Texas Instruments, the 1Q of 2012 was the bottom of this semi cycle. Although the upturn may not be as robust as in the past, those times will eventually come as they always have and Texas Instruments is well positioned to take advantage of it.
Note: Data from Company's earnings releases and 10Qs.
Disclosure: I have no positions in any stocks mentioned, and no plans to initiate any positions within the next 72 hours.