In the light of plunging US interest rates, it has become much more difficult for the older investor. I am speaking of people who are retired and are of the age in their investing life where they need a reasonable fixed rate of return without the volatility. It has become nearly impossible to get anything which yields over 2%.
There are securities with higher rates of returns such as Reits which have been toxic. Of course,there are many energy-related income trusts which have a great yield. But there is the coming change in the Canadian tax laws. Also their return is ultimately tied to the price of energy, which probably means some volatility in the price. Does an 80 year old really want the volatility?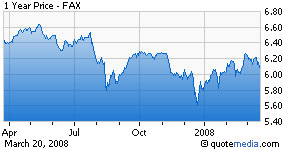 One possible solution for a portion of their portfolio is the Aberdeen Asia-Pacific closed-end bond fund (NYSEMKT:FAX). Since 2005,the price of FAX has stayed in a fairly tight price range between 5 1/2 and 7 with most of the time spent between 6 and 6 1/2. The current yield is nearly 7%. Over the past 5 years,the total annualized return has been 11.4%. The fund has over 45% of its assets in Australian securities with an average maturity of 7.8 years. This may be a plus for FAX for two reasons. First, the US dollar may continue its decline and second, the commodities boom may also continue. So FAX may be a partial solution to the problem of getting a higher yield for your portfolio.
Disclosure: none