Real estate, REITs and homebuilders have been very popular with investors lately as the return potential has been compelling. Roll all of these sectors up and you have a company called Forest City Enterprises (NYSE:FCE.A)(NYSE:FCE.B).
In case you are not familiar with the company, here is a description of the company:
Founded in 1920 and publicly traded since 1960, Forest City Enterprises (NYSE:FCY) is principally engaged in the ownership, development, management and acquisition of commercial and residential real estate and land in 28 states and the District of Columbia. As of April 30, 2012, the company had approximately $10.5 billion of consolidated assets. Their core markets include Boston, Chicago, Dallas, Denver, Los Angeles, New York, Philadelphia, the Greater San Francisco metropolitan area and the Greater Washington D.C. metropolitan area. Their portfolio of real estate assets is diversified both geographically and among property types.
Forest City operates their business through three primary strategic business units:
Commercial Group, the largest business unit, owns, develops, acquires and operates regional malls, specialty/urban retail centers, office and life science buildings, hotels and mixed-use projects.
Residential Group owns, develops, acquires and operates residential rental properties, including upscale and middle-market apartments and adaptive re-use developments. It also develops for-sale condominium projects and owns interests in entities that develop and manage military family housing.
Land Development Group acquires and sells both land and developed lots to residential, commercial and industrial customers. It also owns and develops land into master-planned communities and mixed-use projects. On January 31, 2012, the Board of Directors approved a strategic decision by senior management to reposition or divest significant portions of the Land Development Group and is actively reviewing alternatives to do so.
Forest City recently re-opened a $25 par senior note deal that is exchange traded under the ticker FCY. Details of the offering are:
| | |
| --- | --- |
| Issuer | Forest City Enterprises |
| Security Offered | $25 par senior unsecured debt |
| Maturity | February 1, 2034 |
| Ticker | FCY |
| Coupon | 7.375% |
| Rating | B3/B- |
| Shares | 4,000,000 |
| Dividends | Quarterly 2/1, 5/1, 8/1 and 11/1 |
| Call Date | Currently callable |
| Use of Proceeds | To redeem a portion of the outstanding 7.625% Senior Notes due June 1, 2015 |
| Prospectus | Found here |
The notes are effectively subordinated to secured debt and structurally subordinated to any liabilities of the company's subsidiaries. As of April 30, 2012, our total consolidated liabilities were approximately $8.5 billion, of which $1,009.6 million were senior unsecured liabilities outstanding equal in right of payment to the notes and $29.0 million was subordinated indebtedness. Of this amount, $7.5 billion were other consolidated liabilities of our subsidiaries (including trade and other payables), all of which would be structurally senior to the notes.
Capital Structure and Debt Information
| | |
| --- | --- |
| Mortgage debt, nonrecourse | $5,671,705 |
| Senior Debt | $609,610 |
| Convertible Senior Debt | $400,000 |
| Subordinated Debt | $29,000 |
| Preferred Stock | $220,000 |
| Shareholders Equity | $1,556,113 |
Note that as a senior unsecured debt holder, you are behind a mountain of mortgage debt that is non-recourse. While this type of funding helps lessen the risk of the company (property goes dark and there are no takers, you can turn the keys back to the bank and it becomes their problem), it increases the risk to the unsecured noteholders as there are fewer assets available should there be an event of default or bankruptcy.
As of April 30, 2012, Forest City had $1,207,169,000 of nonrecourse mortgage financings with scheduled maturities during the fiscal year ending January 31, 2013, of which $33,620,000 represents regularly scheduled amortization payments. Subsequent to April 30, 2012, we have addressed $202,482,000 of these remaining 2012 maturities, through closed transactions, commitments and/or automatic extensions. The company is currently in negotiations to refinance and/or extend the remaining $971,067,000 of nonrecourse debt scheduled to mature during the year ended January 31, 2013.
Forest City has six nonrecourse mortgages amounting to $235,298,000 that are in default as of April 30, 2012 and are included in 2012 nonrecourse mortgage financings due during the fiscal year ending January 31, 2013.
Covenants
The primary covenants included in the debt are:
Change of Control: A "Change of Control" will occur when either: (1) any person, other than a Permitted Holder, or any persons acting together will beneficially own, within the meaning of Rule 13d-3 under the Exchange Act at least 30% of the aggregate voting power of all classes of Forest City's Voting Stock; or (2) any person or group, other than Permitted Holders, will succeed in having a sufficient number of its nominees elected to the Board of Directors which will constitute a majority of the Board of Directors of Forest City.
Limitation on Debt: Forest City may not Incur any Debt, and may not permit any Subsidiary to Incur any Debt, unless, after considering the new issuance, (1) Forest City's Consolidated EBITDA to Interest Ratio for the last four full fiscal quarters for which quarterly or annual financial statements are available would be greater than 1.3 to 1; and (2) Forest City's Consolidated Adjusted Net Worth would be greater than its Minimum Adjusted Net Worth.
Asset Dispositions: Forest City may not, and may not permit any Subsidiary to, make any Asset Disposition in one or more related transactions unless: (1) Forest City receives consideration for such disposition at least equal to the fair market value for the assets sold or disposed of as determined by the Board of Directors of Forest City in good faith; and (2) all Net Available Proceeds, less any amounts invested within 365 days of such disposition in assets of Forest City or any Subsidiary thereof used in a Permitted Business, including capital stock of an entity which is engaged in a Permitted Business, are applied within 365 days of such disposition to the permanent repayment or reduction of outstanding Debt that ranks equally to the notes, or any outstanding Debt of any Subsidiary of Forest City, the terms of which would require such application or prohibit the repurchase of the notes.
Restricted Payment: The company may not make any payments (dividends, distributions or payment in connection with a merger) if
(A) an Event of Default, or an event that with the passing of time or the giving of notice, or both, would constitute an Event of Default, will have occurred and is continuing or would result from such Restricted Payment,
(B) after giving pro forma effect to such Restricted Payment as if such Restricted Payment had been made at the beginning of the applicable four fiscal quarter period, Forest City could not Incur at least $1.00 of additional Debt pursuant to the first paragraph of "Limitation on Debt" above, or
(C) upon giving effect to such Restricted Payment, the aggregate of all Restricted Payments from January 31, 2003 exceeds the sum of:
(i) 25% of the sum of
cumulative Consolidated Net Income, or, if negative, less 100% of such deficit, of Forest City since January 31, 2003 through the last day of the last full fiscal quarter ending immediately preceding the date of such Restricted Payment, taken as a single accounting period, plus
the amount of consolidated depreciation and amortization and deferred taxes included in such Consolidated Net Income, less
the amount of ordinary and necessary expenditures for the purpose of maintaining the real and personal property of Forest City and its Subsidiaries in a state of good repair that was included in such Consolidated Net Income or that was capitalized and included on the consolidated balance sheet of Forest City and its Subsidiaries since January 31, 2003; plus
(ii) 100% of the aggregate net proceeds received by Forest City after February 10, 2004, including the fair market value of property other than cash (determined in good faith by the Board of Directors of Forest City), from contributions of capital or the issuance and sale (other than to a Subsidiary) of Capital Stock (other than Redeemable Stock) of Forest City, options, warrants or other rights to acquire Capital Stock (other than Redeemable Stock) of Forest City and the principal amount (or, in the case of Debt issued at a discount, the accreted value of such Debt) of Debt of Forest City that has been converted into or exchanged for Capital Stock (other than Redeemable Stock and other than by or from a Subsidiary) of Forest City after the date of original issuance of the notes, so long as any net proceeds received by Forest City from an employee stock ownership plan financed by loans from Forest City or a Subsidiary of Forest City will be included only to the extent such loans have been repaid with cash on or prior to the date of determination; plus
(NASDAQ:III) $30 million.
The company's bank revolving credit facility and indenture dated May 19, 2003 contain certain restrictive financial covenants. A summary of the key financial covenants as defined in each agreement, all of which they are compliant with at April 30, 2012, follows:
You will notice, however, that their ratios have been dropping sequentially. This is a disturbing trend that bears watching closely.
A closer look at Forest City
Variable Interest Entities: The Company's VIEs consist of joint ventures that are engaged, directly or indirectly, in the ownership, development and management of office buildings, regional malls, specialty retail centers, apartment communities, military housing, a hotel, land development and The Nets, a member of the NBA. As of April 30, 2012, the Company determined that it was the primary beneficiary of 32 VIEs representing 21 properties (16 VIEs representing 7 properties in the Residential Group, 14 VIEs representing 12 properties in the Commercial Group and 2 VIEs/properties in the Land Development Group). The creditors of the consolidated VIEs do not have recourse to the Company's general credit. As of April 30, 2012, the Company held variable interests in 60 VIEs for which it is not the primary beneficiary. The maximum exposure to loss as a result of its involvement with these unconsolidated VIEs is limited to the Company's investments in those VIEs totaling approximately $67,000,000 at April 30, 2012. In addition, the Company consolidates a VIE which holds collateralized borrowings of $29,000,000 as of April 30, 2012.
Observation: Due to the nature of their non-recourse loans and VIEs, the company's capital exposure is limited. The Nets? How many real estate companies can say they have an ownership in an NBA team?
Bank Revolving Credit Facility: The company has a Third Amended and Restated Credit Agreement and a Third Amended and Restated Guaranty of Payment of Debt (collectively, the "Credit Facility") which provides total available borrowings of $450,000,000. The Credit Facility matures on March 30, 2014 and provides for one, 12-month extension option, subject to certain conditions.
Observation: Now you know why they are trying to take out some of the 2015 debt that could front-run the banks, should the facility be extended.
The Nets: The ownership of The Nets is through Nets Sports and Entertainment LLC ("NS&E"). NS&E also owns Brooklyn Arena, LLC ("Arena"), an entity that through its subsidiaries is overseeing the construction of and has a long-term lease in the Barclays Center arena, the future home of The Nets. NS&E consolidates Arena and accounts for its investment in The Nets on the equity method of accounting. As a result of consolidating NS&E, FCE records the entire net loss of The Nets allocated to NS&E in equity in loss of unconsolidated entities and allocate, based on an analysis of each respective members' claims on the net book equity assuming a liquidation at book value, NS&E's noncontrolling partners' share of its losses, if any, through noncontrolling interests in our Statement of Operations.
Observation: ownership of sports teams are for wealthy families or individuals, not corporate entities as they rarely have a high return on equity.
Assets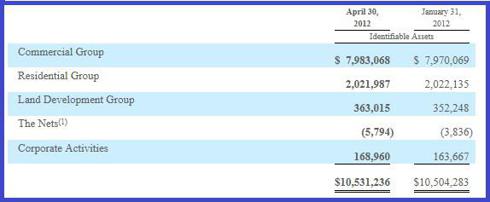 As you can see, the Nets has, thus far, been a cash drain as the assets has a negative value associated with it.
Occupancy

Forest City's occupancy has been somewhat flat over the last year, although it seems to be slowly creeping up.
Tenants
As Forest City is a multi-sector real estate company, the office and retail sectors will have separate tenant lists.
Retail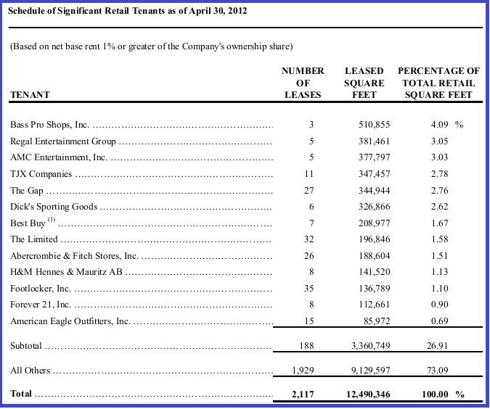 The retail tenant list is strong and well diversified, while theaters having over 6% of the square footage can be a concern, both theater chains are strong and do not represent an oversized risk concentration.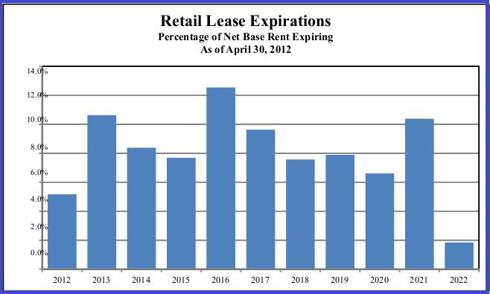 Office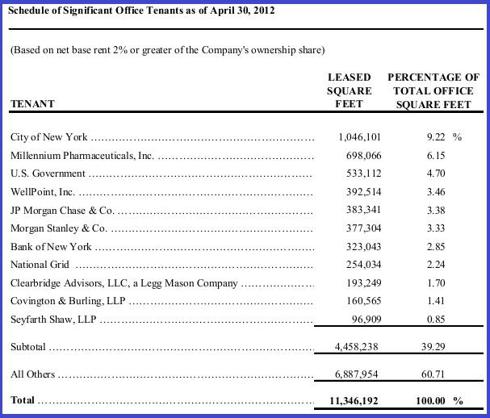 Forest City's office tenancy is strong, with the City of New York having the largest exposure at 9.22% and Millennium Pharmaceuticals. The tenant roster is strong and well diversified.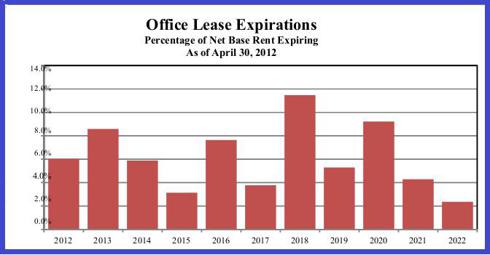 Funds from Operations

FFO has been volatile, which is difficult to build a business on and even more difficult to invest in.
Equity Snapshot: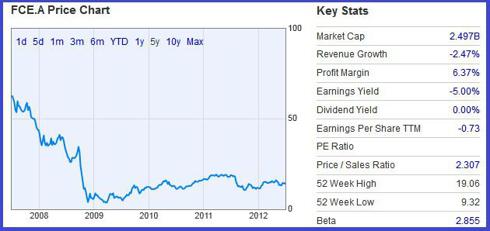 The equity has not recovered from the correction of 2007, and given the development pipeline of over $1B (net remaining cost to the company is approximately $100mm), I cannot see a catalyst to move the equity higher.
Forest City has also underperformed such peers as: Kimco (NYSE:KIM), Boston Properties (NYSE:BXP), Tanger Factory Outlet Centers (NYSE:SKT), Simon Properties Group (NYSE:SPG) and AvalonBay Communities (NYSE:AVB).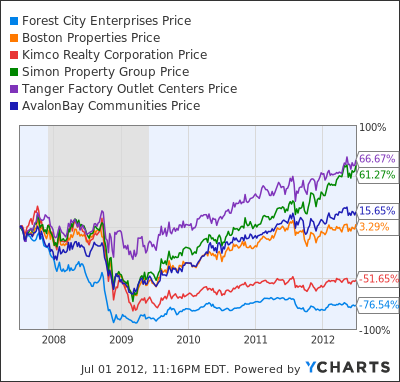 Bottom Line: The offered bonds may, on the surface, seem to be a decent investment, but further investigation of this B3/B- real estate company reveals a company with a larger development pipeline, slipping covenant coverage, and significant amounts of debt which have priority to the offered debt. Based on this analysis, the company may qualify as a value play (no dividend makes it a pure terminal value discount play), but the debt is not attractive and an equity catalyst seems elusive. Capital is better committed elsewhere.
Disclosure: I have no positions in any stocks mentioned, and no plans to initiate any positions within the next 72 hours.