Agency mortgage REITs have been among the better performing asset allocations in 2012 thus far, largely on the strength of U.S. treasuries and ever decreasing high yield options. During the second quarter of 2012, treasuries averaged about 12 percent appreciation, which is well above their average.
Agency mortgage REITs hold portfolios composed exclusively of residential mortgage backed securities that are insured by federal agencies, which means they come with an agency backing and an implied U.S. government backing. Still, rising interest rates and prepayment concerns could soon hurt the asset class.
Most investors allocate to mortgage REITs, or mREITs, for the income. Generally, mREITs leverage their assets in order to multiply the return, and agency mREITs usually are the most levered mREITs due to the relatively low yield that agency debt offers. Currently, most agency mREITs offer an annualized dividend yield of over 10 percent, and an average quarterly payout that is superior to the yield of a 10-year treasury or the S&P 500.
Still, most agency mREITs also appreciated during the second quarter. See the below chart, comparing the performance of five popular agency mREITs, American Capital Agency Corp. (NASDAQ:AGNC), Annaly Capital Management, Inc. (NYSE:NLY), Capstead Mortgage Corp (NYSE:CMO), Cypress Sharpridge Investments (NYSE:CYS) and Hatteras Financial Corp (NYSE:HTS), to the SPDR S&P 500 Trust ETF (NYSEARCA:SPY) through the second quarter of 2012:
Click to enlarge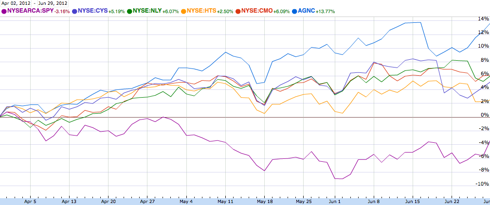 Click to enlarge
Therefore, not only have each of these agency mREITs outperformed the benchmark through the second quarter, but each also distributed more than the S&P 500 will through all of 2012. Still, most underperformed the appreciation of an investment in longer-term treasuries, though offering more immediate income.
These agency mREITs are not without their risks, and many may argue that the risks are peaking, largely because interest rates and spreads have rarely been lower. A key concern that could affect these mREITs is that spiking interest rates might hurt the assets held by these mREITs. If rates rise, the assets they hold could have similarly multiplied losses. At last reporting, for the end of Q1, agency mREITs had leverage rates between five and nine times their asset valuations, with most increasing their leverage over the last few quarters.
Another major concern to these agency mREITs is prepayment buying of mortgages. Because interest rates have been declining, most already existing agency RMBSs are now trading at a premium. That premium is lost when the paper is prepaid or called. As a result, a dramatic uptick in prepayments could cause a significant reduction in book value. Most agency mREITs try to limit their exposure to rising interest rates and prepayments, but spiking rates are often difficult to prepare for, and may catch many of these mREITs off guard. If you believe interest rates will dramatically increase during the second half of 2012, you probably should stay away from these agency mREITs.
Owing to the risks associated with agency mREIT leverage and potential peaking of Treasury valuations, exposure to the asset class should be limited to a reasonable percentage of a portfolio, based upon your risk profile, time-horizon, income needs and other investments. Additionally, most REIT dividends are taxed as regular income and not at the lower corporate dividend rate, making them substantially better performing investments when held within tax deferred or exempt accounts.
Disclosure: I am long NLY.