Apple (NASDAQ:AAPL) has experienced an extremely volatile 2012 with five percent price swings becoming the modus operandi rather than the exception. I have recommended option strategies on Apple since 2010 with positive results (remember past performance is not indicative of future results). For reference, please view the first and other articles in the series to fully understand the strategy and its strong potential returns. This strategy is oriented towards long term investors with the objective of simultaneously generating income and reducing your effective cost basis in the underlying stock.
In essence, the investment objective is to capitalize on Apple's volatility by selling out-of-the-money options to generate weekly income without sacrificing long-term returns. I perform a weekly analysis of Apple's stock, options, recent news, and competitive analysis. Even if you have no plans to engage in the options market this is your one-stop primer for the critical Apple developments from the past week.

(Source: Yahoo Finance)
A brief recap of this week in Apple, which was up $6.70 (1.2%):
Apple Wins Key Injunction Against Samsung Galaxy Nexus (Reuters June 29)
Research in Motion (RIMM) Revenues Fall Significantly (Wall Street Journal June 29)
Apple started the week by nearly touching $580 only to slowly slip down to the $560s later in the week before the euro agreement on Friday rocked most equities higher. Apple has been trading well and is holding a trading channel indicative of limited near term downside. If you have not taken advantage of the numerous Apple buying opportunities over the past month I highly suggest doing so while it is in the low $580s. iPhone 5 rumors will support the stock in the next few weeks until the earnings announcement in late July. Also remember that the dividend initiation is on the horizon should finally attract more income/value oriented funds that will continue to support the stock.
Make no mistake, I am extremely optimistic on Apple's future prospects but the extreme volatility in the stock threatens to shake out less patient investors and I do not want that to happen to you. Apple should finally resume its climb back to the mid $600s in the near-term. This would imply a very reasonable forward P/E in the mid-teens before adjusting for cash. If you are very bullish now might be an attractive time to go long the Jan 2013 LEAPS with strikes around $620 with the objective of leverage Apple exposure.
The competitive landscape for tablet is growing increasingly crowded and consumers will finally have choices in the robust tablet market. Two weeks ago Microsoft (NASDAQ:MSFT) announced a tablet to compete with Apple's iPad and now Google is finally getting into the tablet space. I will echo my sentiments that competing tablets will only help Apple in the long-term as consumers realize how superior iOS is and eventually trade up to the iPad. If anything, the new Google tablet will draw sales away from Microsoft Surface and Apple will cede minimal market share.
On the opposite end of the spectrum there is Research in Motion which is essentially in a death spiral as a standalone company. Revenues are down precipitously, losses continue to grow, and the latest operating system will not be available before the holiday season. Speculation of a Microsoft or Google acquisition of Research in Motion will continue to linger but an acquisition will not have a materially negative impact on Apple. Continue to monitor the actions of rivals but do not make a rash investment decisions out of concern for Apple's viability. Aside from macroeconomic concerns, I do not envision any catalysts that would cause me to sell before the iPhone 5 launch around October.
Below I present three possible scenarios and the potential returns for the Apple options. The first scenario represents a negative outlook for Apple while the final two scenarios are more reasonable. These scenarios are just projections and there is no guarantee that they will come to fruition. Even if you are optimistic it is important to consider both positive and negative circumstances in order to stress your assumptions. As a general rule, selling calls with higher strike prices has greater potential return but additional risk of loss due to the lower (or lack of) downside protection. For more information on the fundamentals of covered calls, consult Investopedia.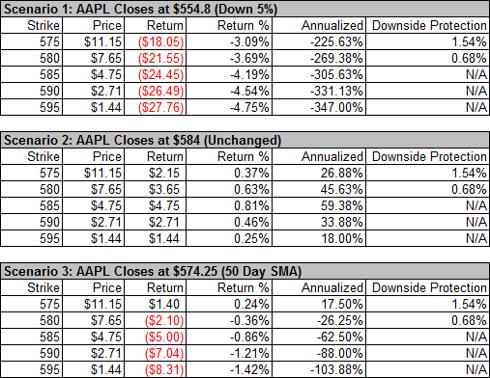 Additionally, if you would like even more information, I have prepared a sensitivity analysis for absolute return and percent returns, respectively. After studying the information above, these two charts make it easy to pick a strike price based on where you believe Apple will close at the end of the week. Estimate where you believe Apple will close and select the strike price with the highest return.

With this information, executing a buy-write on AAPL July 6 (Weekly) 595s is the optimal risk-return strategy as an opening Apple transaction. If you are uncomfortable with this strike I would consider a buy-write in the range of 580-605. This makes for an excellent trade if you are currently not long Apple; however, if you are a long-term Apple investor I would not necessarily sell calls as Apple appears to be breaking out of its trading range. Even if you are extremely bullish you can still profitably sell covered calls; Apple is volatile enough that you will have opportunities to repurchase on further dips.
An alternative approach is to sell out-of-the-money 580 puts and collect the premium without having to purchase the stock outright. Based upon Apple's volatility I think this might be the best strategy of all for this week. Note that if the stock declines to the strike price, you are obligated to buy the stock (or closeout the position). You should always consider the risk factors (particularly with naked calls or puts) raised in this article in light of your personal circumstances (including financial and taxation issues) in consultation with your professional financial adviser.
Disclosure: I am long AAPL, GOOG.
Additional disclosure: Author is long AAPL and GOOG; intends to write AAPL July 6 600 Calls.