Ciber Inc. (NYSE:CBR). Closed on March 20, 2008 at $4.66.
52-week range: $4.20 [1/25/08] - $9.03 [6/1/07]
Ciber provides information technology [IT] system integration consulting as well as other IT services to both governmental and corporate entities worldwide. It offers IT project solutions and IT staffing. CBR also resells third-party IT hardware and software.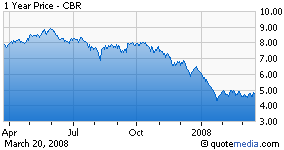 The company reached a milestone in 2007 with revenues breaking the $1 billion mark for the first time. Earnings hit their highest level of the past eight years at $0.48 /share – up 20% year-over-year. Even with the slow U.S. economy the consensus view for 2008 is $0.55 – up 14.5%.
The company has been buying in shares, and has just authorized an additional $10 million buyback on February 27, 2008. A company director signaled his bullishness with a 20,000 share open-market purchase @ $4.72 /share on February 28, 2008.
Despite all the positive news Ciber shares are trading below their lows from April of 2003 right through 2007. They sell for a fraction of their almost $7/share book value and at just 9.7x trailing earnings.
CBR's valuation has never been this low in its entire history.
Officers and directors own about 11% of the company.
Other Major Holders [as of Dec. 31, 2007]:
Year-end closing price: $6.11
Dimensional Fund Advisors: 8.98%
Barclays Global Investors: 7.05%
Pzena Invest. Mgt: 6.48%
AXA Financial: 5.04%
Vanguard Group: 3.43%
Royce & Associates: 3.33%
State Street Corp: 2.53%
Over the past 5 years [2002 – 2007]:
Sales per share went from $9.49 to $16.37
Cash Flow / share grew from $0.40 to $0.76
EPS more than doubled going from $0.22 to $0.48
Ciber has typically commanded a P/E multiple of 16 – 23. Even 15x this year's $0.55 estimate leads me to a target price of $8.25 or plus 77% from Thursday's closing quote.
Is that a reasonable expectation? CBR shares have hit peak prices of $7.40 - $11.70 during each calendar year since 1999. Even a return to their 2008 high of $6.20 would give us a 33% gain from here.
Ciber is an under-followed small-cap gem. CBR shares trade near 6-year lows despite the best sales and earnings in eight years.
Where else can you find a solid, growth company at < 10x last year's and 8.5x projected 2008 earnings?
Disclosure: Author has a long position in Ciber shares.