The balance between growth and income is weighed on a scale investors often measure on the basis of their age. Younger investors are often encouraged to seek growth and to prosper from the development of value. Older investors are often advised to seek yield in order to ascertain stability and income replacement. And while these tested ideas can stand true in concept, reality often urges both groups to find a middle ground between the two.
Balanced portfolios can capture the strengths of both worlds and offset the weaknesses of each. When volatility strikes, growth investors gain the stability of investments backed by an income component in a balanced portfolio. Likewise, times of prosperity prevent income investors in a balanced portfolio from missing out on significant capital appreciation they would have otherwise.
The following list of companies compile an actual portfolio of mine. It currently yields a little over 5%, and many of the companies have steadily growing dividends. On the other hand, the portfolio also retains a very compelling growth component. It also stands fully diversified in regards to industry, and it also takes into consideration a domestic emphasis with slight foreign exposure. All values were taken as of July 1, 2012.
| Name | Fwd. P/E | Beta | Fwd. Div% | Industry |
| --- | --- | --- | --- | --- |
| Seagate Technology (NASDAQ:STX) | 2.74 | 2.64 | 4.00% | Data Storage |
| Cliffs Natural Resources Inc. (NYSE:CLF) | 4.86 | 2.37 | 5.10% | Iron & Met. Coal |
| Xinyuan Real Estate Co., Ltd. (NYSE:XIN) | 2.13 | 1.49 | 5.30% | Real Estate Development |
| Solazyme Inc. (SZYM) | n/a | n/a | n/a | Tailored Oils |
| AstraZeneca Group plc (NYSE:AZN) | 7.32 | 0.45 | 8.90%** | Drug Mfg. |
| CommonWealth REIT (NYSE:CWH) | n/a | 1.54 | 10.46% | REIT |
| New York Community Bancorp, Inc. (NYB) | 11.71 | 1.02 | 8.00% | Banking |
| Corning Inc. (NYSE:GLW) | 8.51 | 1.60 | 2.30% | Glass Mfg. |
**NOTE: Referring to AstraZeneca's forward dividend yield, most statistics portray a yield of 8.9%. However, in reality, the actual forward yield is likely to be about 7% due to the atypical semi-annual distribution in which the second distribution tends to be lower than the first. This can be portrayed in the following chart.
Click to enlarge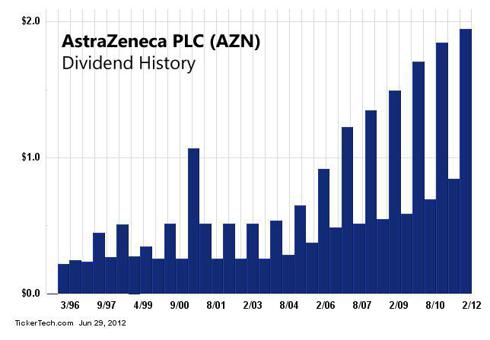 Seagate. This hard-disk drive manufacturer offers exposure to the essential commodity used throughout the technology sector: information storage space. With consolidation essentially creating a duopoly shared between Seagate and Western Digital Corporation (NYSE:WDC), this investment provides an undervalued name in a company with vastly increasing cash flows and a rapidly rising dividend.
Cliffs Natural Resources. The poor economic performance of the global industry has discounted this iron and metallurgical coal producer. Yet even amidst hardship, the company has continued to thrive as demonstrated by a trailing price-to-earnings ratio of a meager 4.48. The company has aggressively strengthened its portfolio holdings and its balance sheet remains strong. A recent raise of its dividend by over 300% from the year prior expresses management's own confidence in the company's future.
Xinyuan Real Estate. While found to be somewhat speculative in light of an ongoing negative sentiment towards Chinese companies trading on the American exchanges, Xinyuan Real Estate operates as a real estate developer in China's Tier II and Tier III cities. The company trades on the NYSE and retains a price-to-book value of 0.34. Yet unlike most Chinese companies, Xinyuan established a dividend last year and even sought to raise it for the current year. It now offers a comfortable 5.3% yield and maintains an ongoing stock buyback.
Solazyme. As my most promising growth company, Solazyme provides numerous industry solutions as a renewable oil innovator and manufacturer. The company's tailored oils are able to cost-effectively replace oils derived from petroleum, plants, and animal fats utilizing a renewable process. The company is even capable of developing oils that are fit for specific industries, and it offers a level of customization that is second to none. With the capability to create oils never before seen in this world, Solazyme's growth prospects remain limitless. Its ability to quickly develop new products utilizing a standardized process places this growing company in direct competition with seed oil developers such as Monsanto Company (NYSE:MON) and Syngenta AG (NYSE:SYT).
AstraZeneca. As an established and diversified drug manufacturer, London-based AstraZeneca provides this portfolio with a high-yielding and stable name operating within the healthcare sector. The company's portfolio of drugs remain strong and its pipeline is being refreshed through recent acquisitions.
CommonWealth REIT. As a commercial real estate investment trust managed by a private real estate company, Commonwealth enjoys a high yield north of 10% annually. The company provides this portfolio with broad exposure to domestic real estate and a significant income component.
New York Community Bancorp. With its $1 annualized dividend extending back a whole eight years, New York Community Bancorp stands as one of the few banks still able to consistently pay out such a high distribution. Even as markets fell during the Great Recession, New York Community Bancorp continued to provide its shareholders with a reliable source of income.
Corning. With a 160-year history, specialty glass manufacturer Corning has evolved into a supplier of glass innovations essential for next-generation technologies. Corning's growth prospects appear to pair the company alongside growth found in the solar industry, the mobile device industry, and the OLED display industry. The company maintains very steady cash flows, and is poised for much additional growth going forward. The company's dividend was recently raised.
Disclaimer: Please refer to my standard disclaimer found here.
Disclosure: I am long STX, CLF, XIN, SZYM, AZN, CWH, NYB, GLW.