The banks have been some of the most vulnerable companies in recent years since the 2008 financial crisis. The stocks of the banks get hit hard when worries about the economy or European debt are on the front burners. While the short-term outlook could still create some volatility, the long-term outlook for banks looks promising.
Banks will make their share of mistakes on occasion. For example, Bank of America's (NYSE:BAC) acquisition of Countrywide cost the bank $40 billion in real-estate losses. JP Morgan's (NYSE:JPM) trading loss which was originally reported as $2 billion is now being estimated at $9 billion. The recent scandal involving Britain's bank, Barclay's (NYSE:BCS) involved an attempt by traders and senior managers to rig the London Interbank Offered Rate (Libor).
Despite their mistakes, the banks should prosper for the long-term. However, some banks are better than others as evidence will show in the following analysis.
Wells Fargo

(NYSE:WFC)

Bank of America

Citigroup (NYSE:C)

US Bancorp

(NYSE:USB)

JP Morgan

Dividend

2.6%

0.50%

0.10%

2.4%

3.4%

Forward P/E

9.14

8.35

6.00

10.72

6.73

PEG Ratio

0.90

1.82

0.71

1.19

1.17

Price to Book

Ratio

1.28

0.39

0.43

1.86

0.75

Profit Margin

21.9%

0.07%

16.58%

29.98%

20.78%

Operating

Cash Flow

$12.36 B

$49.46 B

$49.05 B

$6.68 B

$106.18 B

Total Cash

$165 B

$643.88 B

$808 B

$10.99 B

$869.94 B

Total Debt

$180.7 B

$701.8 B

$646.5 B

$58.3 B

$729.91 B

Expected

5-Year Annual Earnings

Growth Rate

11.34%

7.88%

9.67%

9.75%

7.03%
We can see in the chart above that Bank of America , Citigroup , and JP Morgan are all trading at less than their book value per share as reflected in the price to book ratios. This is a deep undervaluation which happens to stocks that have fallen out of favor. Wells Fargo and US Bancorp have price to book ratios under 2, which is also a nice undervaluation. Also worth noting is that Wells Fargo and Citigroup have PEG ratios under one making them attractively undervalued when accounting for earnings growth. All of these banks are attractive from a valuation standpoint.
All of the banks except for Bank of America have healthy double-digit profit margins. Operating cash flow is also strong for all of the banks. Total cash is also in good shape and the debt in relation to cash is not in bad shape.
One area that has been a sore spot for banks is the balance sheet. However, the banks have been improving their balance sheets significantly since the financial crisis. As the balance sheets continue to improve and deposits and earnings rise, the banks look poised to perform well for the long-term.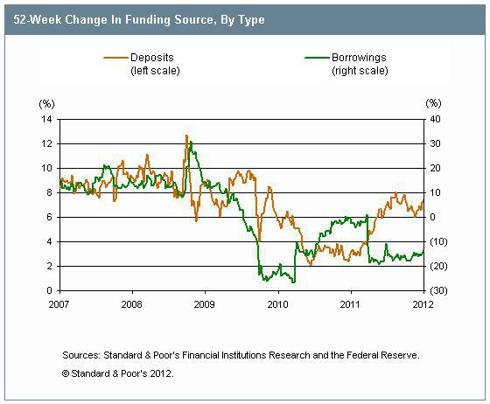 The stand-out bank in my opinion is Wells Fargo. It has the highest CAGR in terms of dividend yield plus expected earnings growth. This combination is nearly 14% annually. This should be a guideline for where the stock price will be five years from now. With a 14% CAGR, a $1000 investment in Wells Fargo should be worth at least $1900 in five years if dividends are reinvested.
Here's a look at the future stock prices of the five banks:
| | | | |
| --- | --- | --- | --- |
| Bank | CAGR | Current Stock Price | 2017 Stock Price |
| Wells Fargo | 14% | $33 | $64 |
| Bank of America | 8.38% | $8 | $12 |
| Citigroup | 9.77% | $27 | $43 |
| US Bancorp | 12.15% | $32 | $57 |
| JP Morgan | 10.43% | $35 | $57 |
Overall, the banks are all currently well priced. Yes, they could face some downturn in the short-term with macroeconomic worries. However, the long-term looks good as their balance sheets continue to improve and earnings increase. You want to pick one with the best CAGR and that is Wells Fargo. I haven't heard much bad news from Wells Fargo as compared to some of the other banks and this reflects how the bank operates with strong management. Wells Fargo should lead the pack higher into the future.
Disclosure: I have no positions in any stocks mentioned, and no plans to initiate any positions within the next 72 hours.