On March 18, Energy Services Acquisition Corp. (ESA) filed its schedule 14A, which is a preliminary proxy statement showing in enormous detail the operations, revenues, and net profits of its two purchases to date for its shareholders to review prior to their vote for approval. This filing is in excess of 100 pages.
I have gone through them and will condense the most important points for your review.
2007 revenue of the two companies 175M.
2007 EDIDTA for the two companies 30M.
Net earnings correlate to 1.15 per share on a fully diluted basis.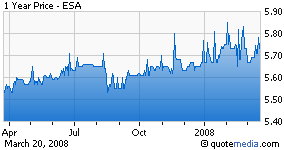 These numbers equate to an extremely attractive valuation: lower price to earnings and enterprise value to EBIDTA multiples than the median of the publicly-traded comparables, based on ESA's liquidation value of approximately 5.79 per share. Not only are these numbers extremely fair for the shareholders, the most exciting story is what I will talk about now.
Every analyst talking these days is talking about the next boon in the energy business, Natural Gas. One only has to Google natural gas in Appalachia to see that there are 50 trillion cubic feet of recoverable natural gas waiting for the new drilling technology to tap into. This will be a major development in our country's future to wean ourselves off expensive foreign oil. Remember where this gas find is: Appalachia. Natural gas once found has to be sent from where it is found to where it is needed.
I think you can see where I am going. Marshall Reynolds, the chairman of ESA, has made more millionaires in this country than anyone else, with the exception of Bill Gates, who have invested with him over the past 20 years. Mr. Reynolds, who was born in West Virginia and still resides there, is buying up profitable private gas pipeline companies in this area preparing for the coming boon. The two companies now under ESA's wing are ST Pipeline and CJ Hughes, both 40 plus year old very successful gas pipeline businesses from West Virginia.
This, I believe, is only the beginning of what ESA will become. Mr Reynolds seems to have taken the same business model of another super successful businessman, named Wayne Huizenga from Miami, Fl., who take a lot of smaller profitable companies in an industry and put them together into a very large company under one umbrella, eventually selling out to a major company in the industry and making all investors a lot of money. He has done that in the banking business, the paper business, the dairy business, and now he is going to do it in the energy business. My father, who became a multimillionaire, always gave me great advice while growing up. He said, "Son, you don't have to be the smartest guy in the world to make a lot of money; I am a good example of that. But what you do have to do is hang around and invest with those that are."
That is what I am suggesting to the investors out there with ESA. In conclusion, find an industry that is about to grow rapidly, find a management team that has proven itself and knows how to succeed, find a compelling valuation, and my friends, you have found ESA.
Disclosure: Author has a long position in ESA