It seems like the new trendy topic on Seeking Alpha is Facebook (NASDAQ:FB). Around 4 articles are released on the social networking giant each day and the vast majority of it is negative. I have already had my fun at its valuation here and here. Perhaps one stock that hasn't received enough negative press, in my view, is Amazon (NASDAQ:AMZN). This eCommerce firm was founded 18 years ago and looks even more overvalued than Facebook. The stock continues to resist a burst despite stratospheric multiples: it now trades at a respective 187.2x and 88.9x past and forward earnings. By contrast, Facebook is valued at "only" 100.3x and 47.8x past and forward earnings.
Of course, the latter has significantly more growth drivers to pull than the former. With 800M active user under its universe and a projection for 1B this year, Facebook virtually controls a universe. If they could just charge users $1 for an extra sharing feature and only 10% agree to it, that's an extra $80M payday right there. And while some have complained about the weakness of advertising on Facebook, there has been a general failure to recognize other revenue avenues. Zynga (NASDAQ:ZNGA) contributes more than a tenth of Facebook's business, so I am optimistic about the firm's role in providing a medium for third-party app producers going forward. As it stands, however, execution is highly risky. The Facebook model appears very faddish - more so than what many recognize - and unsustainable in light of competition. Any signs of desperation might come off as "so not cool" to the fans.
Then there's Amazon. It is fascinating how the company can trade at 89.3x free cash flow and yet be rated around a "buy" on the Street. EPS is expected to grow by 30.9% per annum over the next 5 years, and this sense of optimism has been buoyed by terrific execution in 1Q12 and 4Q11. But even the combination of high double-digit growth and optimism won't be enough to justify, let alone appreciate, shareholder value…
Based on consensus growth expectations, 2016 EPS should be around $7.55. At a generous multiple of 18x, the future value of the stock is $135.90. Discounting backwards by 10% yields a price target of $84.38. Interestingly, this price target is actually pretty generous given that it translates to a 60.2x past earnings multiple and 18.2x free cash flow multiple. That means, instead of being worth 120% of Disney (NYSE:DIS), Amazon is only worth 43.9% of Disney.
The reason why I just love comparing Facebook and Amazon to Disney is because it forces readers to consider the value of next generation media over, well, sustainable media. Disney has, of course, been in business for a long time, has diversified across everything from tween entertainment to sports, and executed time and time again. One struggles to assign a value to EPCOT or rights to the iconic logo, but there shouldn't be much doubt that the brand is stronger than that of Amazon and Facebook.
In light of how overvalued Amazon and Facebook are, it is interesting to compare them to Google (NASDAQ:GOOG). Google is a next generation media business and has significantly diversified over the years. From becoming #1 in mobile through Android to growing market share in the search business, Google knows how to deliver. It trades at only 17.6x past earnings - a multiple dwarfed by that of Amazon and Facebook. As can be seen in the horrifying graph below, Amazon and Facebook have overly inflated valuations for somewhat greater, and riskier, growth prospects relative to Disney and Google. For an industry with few barriers to entry, Disney and Google actually have established moats and maintain the best chance of making inroads in emerging markets.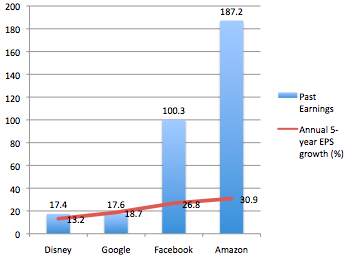 The tablet is one such market where I anticipate Google hitting a homerun. The company recently unveiled its Nexus 7 tablet. The sleek 7-inch device has a 1,280 x 800 pixel HD screen that runs an upgrade to Android and screams "cool". With a leading position in the mobile and search markets, Google almost indisputably has a plethora of synergistic levers to pull. Cross-selling opportunities are significant that it is hard for me to see a scenario in which Google will fail under a pure trial and error modus operandi. The company is moving towards the right direction by launching a cloud-based service for building and opening applications. This is an excellent answer to Amazon's Web Services and further strengthens Google's leading role in media.
In regard to Google's approach to handling Facebook, I think the firm is doing a much better job than what the market appreciates. Google+ has already been built into the search engine results, and, in my view, it is only a matter of time before Gmail users start joining the network. Instead of appearing desperate in launching a social network, Google has rightfully treated Google+ as an auxiliary feature waiting to be picked up when the time is right. Management understands the faddish nature of social networking, because they have been there and done that. Sergey Brin himself has commented how he doesn't understand the joy in sharing what's on your mind every few seconds. He has also seen the rise and fall of instant messaging, the rise and fall of MySpace, and the rise and fall of AOL email addresses. Google+ works because of the integration on search results, the connections to email recipients, and its logical extension in mobile.
In short, while speculation is inherent in valuing any business, it certainly requires much riskier speculation to justify Amazon and Facebook's lofty valuations against Google or Disney's.
Disclosure: I have no positions in any stocks mentioned, and no plans to initiate any positions within the next 72 hours.