Universal Insurance (NYSEMKT:UVE), a smallcap Florida property & casualty insurance company, has dropped about 70% from its high recently. Much of that drop occured after it posted quarterly earnings on March 17th. It is one of the top 5 writers of homeowners' insurance policies in the state of Florida. The stock is very volatile with a beta of over 18.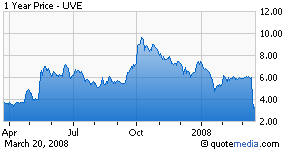 The market did not like the top line revenue dropfor the quarter. Gross premiums written decreased 16.9 percent to $117.4 million in the fourth quarter of 2007 from $141.3 million for the same period of 2006. Although the number of policies in-force increased quarter over quarter, gross premiums written decreased primarily due to a decline in premium rates. Also, there was an increase in the net loss ratio was higher compared to the same period ending December 2006.
The market ignored the positives, which were earnings per share growth of 20%, greater market peneration, agressive expansion from Florida into other states including Texas, Hawaii, Georgia, South Carolina and North Carolina. UVE has been steadily increasing its dividend, and in the next quarter announced a 10 cent/share dividend. On an annualized basis, that works out to more than a 10% yield based on the current trading price of $3.29/share. In the twelve months of 2007, gross premiums written increased 34.2 percent to $498.7 million from $371.8 million for the same period in 2006.
Here are other metrics that make it worthy of consideration.
Current P.E. under 3

Cash per share over $6.00

High insider ownership (almost 60%) The CEO, Bradley Meier, owns almost 20 million shares (about 56% of the outstanding shares)

Recent listing on AMEX increased institutional investment

Profit margin of almost 30%

High R.O.E.

Price/Sales of 0.24 ($117million market cap/$498 million revenues for 2007)
UVE is well positioned in its industry and is poised for a rebound.
Disclosure: I own UVE shares, and have added to my position in this drop. Created on