Not the most detailed graph in the world but we love it all the same: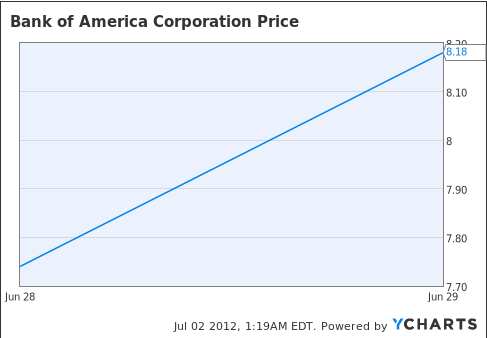 We love it especially because on Thursday morning we urged investors to buy financials for a quick trade: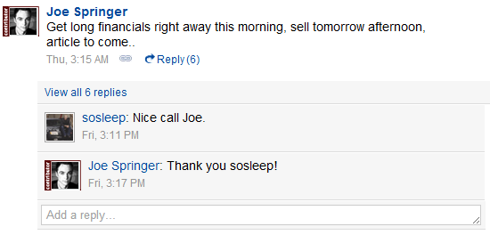 Click to enlarge
The reason we liked the long side of financials so much went like this:
I don't usually do this, but I'm going to recommend a speculative trade because I believe we are setting up for a very special and very short period of diminished risk. I believe the risk vs reward trade-off has swung far over in favor of going long until 3:55 pm tomorrow (Friday).

It is rather unlikely but possible that leaders emerge before the market close on Friday with a "solution" and markets rally. It is very unlikely that leaders break early and announce they have given up and the market tanks. No, the most likely outcome might just be that these leaders cancel their weekend plans that they already did not make and stay behind close doors counting beans.

So what this means is that the we have a market that is beholden by an event that can report good news before the close Friday, but probably not bad...That's why I believe the market can not sell off, not merely because people want in on the rally, but because they are terrified to miss it.
So with that in mind we recommended a specific trade:
Here is what I suggest. Have a look at Bank of America's (NYSE:BAC) weekly options, expiring tomorrow after close.

Have a look at the $6 strike for the calls. Bank of America closed Wednesday at $7.77, there is an ask for $1.77. That means that there is NO TIME PREMIUM AT ALL...we get the leverage of options for free.

Let's take the plunge, we'll do a hypothetical trade with $33,000 and get 186 calls.
So how did we do? BAC closed Friday at $8.18, up 5.3% from where we bought. Our calls were up the same 41 cents, but that represented a 23.2% gain on $1.77. Our 186 $6 calls' intrinsic value of $2.18 works out to $40,548. Not bad for a little more than 30 hours.
A commenter made a point that we could have bought out of the money $8 calls for just 3 cents, and I agree that would be a great way to speculate. But the point of my argument that investors should go long was not that the market would go up, it was that it would not go down. I recommended the $6 strike because if Bank of America stayed right where it was you could get 100% of your money back at 3:55 on Friday, where as the $8 call would be worthless. Having said that, the $8 strike was up 500%.
Conclusion
We often counsel not to buy short term options. This is because in almost every case you pay a time premium that quickly disappears. But in the case of very liquid options with only a short amount of time to go you can sometimes get the leverage of options without paying for it.
Right now, with the world stage being as volatile as it is, financials should continue to have big moves based on headlines. If you think you can get an advantage like we did with this situation then consider looking for options with no time premium on financial names. Citigroup (NYSE:C) trades with European headlines, JPMorgan (NYSE:JPM) usually does but has had its own headlines lately. Wells Fargo (NYSE:WFC) and U.S. Bancorp (NYSE:USB) are also worth looking into. Have a great second half of 2012 investing everyone!
Disclosure: I have no positions in any stocks mentioned, and no plans to initiate any positions within the next 72 hours.