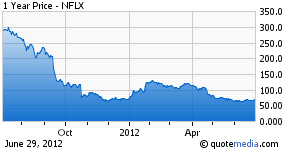 Netflix's (NASDAQ:NFLX) wild ride continues. During the last 18 months, we have made two successful 1-star calls on its stock. The first as it ran from $150 to $300, then again after the "great fall" of 2011, when the shares hit our 4-star rating at $62 in November 2011 and triggered our 1-star rating at $125 two months later. We recently lowered our fair value estimate to $55 per share from $80, which would make Netflix a 1-star call if the stock price increased to around $85.
We arrived at our new fair value estimate after lowering our long-term assumptions for subscribers and profitability. Our $55 fair value estimate implies forward 2013 price/earnings of about 50 times. Admittedly, short-term earnings per share estimates are difficult to predict given Netflix's new business model and various moving parts in the cost structure. But we believe Netflix's business model is flawed as most of the economic rents flow through to the content owners, and we see the international business acting as a drag on earnings and cash flow.
Bottom line, we think Netflix has a lot of issues.
International Expansion "Story" Will Prove to Be a Tall Tale
This strategy is the worst decision the company has made. The idea of an aggressive international push sounds exciting because of the large "addressable market," and somehow Netflix assumes its success in the United States and Canada can translate across the world. It won't. Domestically, the company had a known brand before rolling out its streaming service. This head start does not exist overseas, where Netflix must demonstrate how it will attract and retain customers. We think the international business will incur operating losses for the next several years at a minimum and will struggle to generate meaningful profits. In international markets, there is a much lower appetite for video content per capita, and both content creation and pay-TV distribution are typically much more concentrated than in the U.S. Therefore, capital spent overseas, especially in Latin America, is a waste and depletes Netflix of the dry powder it will need to defend market share from competitors to its domestic service.
We view the existing pay-TV distributors like Comcast (NASDAQ:CMCSA) and Dish Network (NASDAQ:DISH) as the biggest long-term competitive threat to Netflix in the U.S. In fact, Comcast recently announced its intention to offer a similar service as Netflix (Xfinity Streampix -- initially with a much weaker library) to more than 22 million of its pay-TV subscribers for $5 per month. We think Netflix's growth has made these firms less complacent than they were several years ago. Also, the movie studios, many of which also own TV content, realize that a superior pay-per-view alternative for home video is better economically than pushing consumers to discount DVD rental services like Redbox and Netflix.
Content Is King
It is well documented that Netflix had a great deal with Starz in which it had unlimited streaming rights to Sony (NYSE:SNE) and Disney (NYSE:DIS) movies (starting 12 months after DVD release) for less than $40 million per year. Before the decision was made not to renew the agreement with Starz, we estimated it would cost Netflix at least $400 million per year. We think this is the first example of Netflix realizing that the content owners hold all the leverage when renewing licensing agreements. That is the beauty for content owners offering short-term deals, they can consistently re-price the programming. Furthermore, the competition for valuable streaming content is only going to increase. Netflix's growth bulls have a mantra, "We are only in the early innings of a nine-inning game." Our thought always has been that there are plenty of innings left for additional competition to emerge.
We See Value Elsewhere
We believeTime Warner (NYSE:TWX), Discover Network (NASDAQ:DISCK), and Grupo Televisa (NYSE:TV), which are getting the much better end of licensing deals with Netflix, are selling at a discount to intrinsic value. At current prices, we'd steer investors who are more skittish on the macroeconomic outlook to Time Warner, which has the least amount of advertising exposure among its peers. It also owns an outstanding -- and often overlooked -- content studio and a portfolio of strong cable networks such as HBO and TNT. Discovery is a great growth story as it has a strong presence in pay TV across the globe; its international profitability dwarfs its U.S.-based peers. For investors looking outside of the U.S., Grupo Televisa is an international wide-moat media business that owns great content and distribution assets. Televisa's core broadcast networks enjoy dominant audience ratings that exceed 70%, and its growing pay-TV interests are continuously gaining market share in Mexico.
Disclosure: Morningstar licenses its indexes to certain ETF and ETN providers, including BlackRock, Invesco, Merrill Lynch, Northern Trust, and Scottrade for use in exchange-traded funds and notes. These ETFs and ETNs are not sponsored, issued, or sold by Morningstar. Morningstar does not make any representation regarding the advisability of investing in ETFs or ETNs that are based on Morningstar indexes.