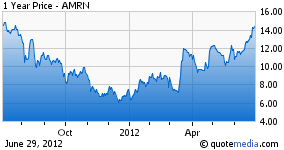 Shares of Amarin Corporation (NASDAQ:AMRN) were on the fly last week when the U.S. Patent and Trademark Office gave indications that it would approve a key patent for AMR-101, the company's treatment for high triglycerides that is due to receive an FDA approval decision later this month.
As announced by Amarin on early Monday, the new patent will cover AMR-101 until 2030 at the earliest, a key factor for investors and potential partners or buyers in determining the full potential value of AMR-101 on the open market.
With the patent issue sorted, it's time for investors to start keying on other potential catalysts, such as the expected approval of the product in late July - many in the sector consider this one a slam dunk - and the likelihood of a major partner jumping on board in time to lead the commercial launch later this year.
Such speculation has led to drastic AMRN share price runs before, with buyout talk last year propelling shares to near the twenty dollar mark. It's likely, again, that speculation will dominate AMRN's trading patterns for at least the next few weeks, as many in the sector ultimately believe that AMR-101, having already been labeled as an expected blockbuster, will end up either partnered or acquired outright through a full purchase of Amarin.
Large pharmaceutical companies are heavily on the prowl looking for takeover targets and potential blockbuster drugs and pipelines to replace those big sellers that have come off patent over the past few years and protect future revenues as many more are still slated to lose protection.
Ironically enough, it's Amarin's newfound patent protection that makes it such an attractive play right now. The buyers and potential partners can now slap a more accurate value on AMR-101 in sorting out a deal and Amarin has a much heavier bargaining chip knowing that the protection is secured.
AMRN also ran hard a couple of months ago on positive patent projections and could be slated to do so again. With the hype that has - and will continue to - surround this stock over the coming weeks, it's possible that a trip towards twenty bucks will materialize sooner, rather than later.
Any buyout offer is likely to come in at well above that mark, as it is a buyer's market right now. GlaxoSmith (NYSE:GSK), for instance, made headlines recently with an offer to acquire Human Genome Sciences (HGSI). That bid has since gone hostile when Human Genome demanded a better bid. When you also consider that Illumina Inc. (NASDAQ:ILMN) also rejected two offers from Roche Holding AG (OTCQX:RHHBY) just a couple of months ago -- one for $44.50/share and the other for $51/share -- and that Amylin Pharmaceuticals (AMLN) turned away Bristol-Myers Squibb Company (NYSE:BMY) last month on a $3.5 billion, $22/share offer, it's easy to see why smaller Amarin is on the block in an opportune time for the acquiree to negotiate from a position of strength - aside from just having a blockbuster drug.
With D-Day for the FDA now just weeks away and a hugely valuable patent secured, it's we're likely to see some pretty exciting trading surrounding Amarin Corporation for the rest of the month.
Given that there's less uncertainty than normal here, buyout or partnership news can materialize at any time.
Disclosure: I have no positions in any stocks mentioned, and no plans to initiate any positions within the next 72 hours.