The internet has changed how shareholders communicate. Now many shareholders flock to different websites to blog with others about their favorite stocks. This past Friday, BIDZ.com (NASDAQ:BIDZ) former Chief Operation Officer Matthew Mills decided to fight back against what he believes is an illegal shorting activity. Here is a copy of the Yahoo blog in which he addresses his intentions.
Ladies and Gentlemen,

As most you know, I am the former Chief Operation Officer of Bidz. I have maintained a very close relationship with a great number of the original shareholders of Bidz and still hold a sizeable stock position in the company. Over the last couple of days I have been meeting with a number of large investors of Bidz. These investors are very well known in the investment community, connected to big name law firms coast to coast and have political ties in Washington DC.

All of us long shareholders believe that what we have experienced recently is a well organized illegal short attack on Bidz. After numerous discussions, we have decided that it is time to take these matters into our own hands. We now intend to combat these seemingly illegal activities through our legal system. The attorney's that will represent myself and other shareholders are confident they can file actions against the persons and/or entities involved. In addition, we will be working on getting the right people in the right places to listen to us. If the shareholders work together in providing the necessary proof it will strengthen our cause.

The first step will be to file lawsuits against certain individuals and/or entities who have been involved in the publishing and disseminating negative information as part of the scheme to illegally manipulate Bidz stock.

Another course of action will be to go after the firms involved with improperly trading the stock. Part of this phase will be to gather information regarding shareholder holdings so as to determine amounts of the company's actual float and available shares. We are very confident that if we get all of the sizable shareholders together and prove our holdings against the current float, we will be able to assist in revealing counterfeit shares for which a number of brokerage houses are responsible.

I have volunteered to round up the troops and start gathering information to try to put a stop to this unlawful action once and for all. Justice and a level playing field will be ours.

If you are a Bidz shareholder and would like to help this cause it's important that we get together one on one and discuss our plan of attack.

My contact information is as follows; matthewmills21[at] yahoo.com

I will start my follow up next week, all information that is gathered will remain confidential.

Thank you for your help!

Matthew Mills

Bidz Shareholder
It appears Matthew Mills believes that some of the articles published about BIDZ are untrue and were written and published to help the short attackers. I would like to discuss some of the issues reported in regards to "shill bidding" Shill bidding is the practice of fake bidding to drive the price of an item up during the auction.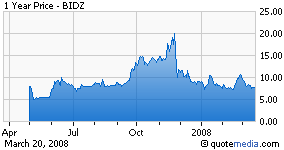 I am a verified customer on BIDZ and I have purchased over $13,500.00 in winning auctions. I have won many auctions. I currently use the watch list and continue to monitor pricing to see if this shill bidding might exist. In my findings, I have purchased too many items for what I believe were exceptional deals to believe that shill bidding has ever taken placed. I challenge anyone to watch the website; there are many items that sell for the initial bid of $1.00. I certainly would not buy from a website based business if I ever thought something seemed fishy with the bidding system.
I would like to discuss the return policy which has also come under fire. I have only returned one item and I have purchased well over 100 plus items. The item I returned was refunded 100% and the process was very easy. Many people claim that BIDZ sells junk jewelry, I can attest that this is not true. "CLEAN Diamonds(SI and better)" items are anything but junk and BIDZ has a very good selection of top of the line jewelry. I have purchased "IF" internal flawless diamond pieces off their website. They offer their customers a wide range of jewelry from very low cost, to high end IF diamond pieces. Bidz offers their customers significant savings over retail pricing through a fun auction where each buyer decides how much they are willing to pay for the item.
What does this mean to BIDZ shareholders? There is one thing very clear. The support has been very high. Further blogging on Yahoo message boards for BIDZ show that the shareholders of BIDZ are behind this effort and Matthew has started numerous blogs with updates. The latest blog by Matthew Mills is subject titled "Becoming Class Action for Bidz Shareholders."
It would appear that the shareholders are fed up with the current stock price and ready to fight back. The company they stand behind recently presented in Las Vegas, NV at the Citi Investment Research Annual Small & Mid-Cap Conference.
They reported Q4 2002 pre-tax income increased 766% YoY to $8.2 million. 2007 pre-tax income increased 275% YoY to $20.7million.
Let's not forget that BIDZ's 4th quarter numbers exceeded guidance and stomped estimates when they reported EPS increases of 625% to $0.29 from $0.04 prior year. 2007 pre-tax income increases 200% to $0.69 from $0.23 in prior year. BIDZ also announced they were increasing 2008 guidance. That's a very upbeat announcement, considering that competitor Blue Nile (NASDAQ:NILE) has stated the complete opposite and is not as upbeat about the near future as BIDZ. Blue Nile announced 2008 net sales are expected to be relatively flat with Q1 2007.
Those impressive numbers have not helped the stock. In fact, the stock has gone down since the 4th quarter and year-end numbers were reported. BIDZ has released that institutional investing has been increasing and BIDZ has increased their buyback program from $5 million to $20 million. Nothing seems to help the stock. The stock is currently trading a P/E ratio of 11.5. This price seems very low compared to competitor Blue Nile, whose P/E is 45.17. Keep in mind that Blue Nile announced that 2008 net sales are expected to be relatively flat with Q1 2007.
It would appear that BIDZ shareholders have something worth fighting for and are determined not to sit around while their company continues to exceed guidance and report record numbers amid a slowdown in the economy. I guess it is appropriate the internet based BIDZ is getting support from its shareholders through the internet web blogs. One thing is for sure, BIDZ shareholders are ready to battle for a company they believe in.
Disclosure: I am a Bidz verified customer and shareholder and have a long postion in this stock.