At the moment, there doesn't seem to be any place to hide in equity markets. In summarizing the Bear Stearns (NYSE:BSC) news on top of the housing slowdown, the credit crisis, the probability that the U.S. economy has slid into recession, and the steady beat of inflation in food and energy prices, Business Week on Tuesday said that 2008 is "turning into the ultimate stress test for investors" before examining the question of whether investors should avoid stocks altogether.
The answer, at least over the long haul, is no. From 1926 to 2006, stocks posted positive returns in 87% of the five-year rolling periods and 97% of the 10-year periods. Push the time frame to 20 years, and stocks have never posted a negative return.
Within equities, one place to look in times like these is large-cap value stocks, such as those of the industrial conglomerates, defense and aerospace behemoths, machinery makers, and other big, solid companies that make up the PowerShares FTSE RAFI Industrials Sector ETF (PRFN).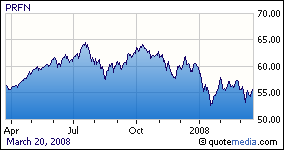 The fund tracks the performance of the largest U.S. industrials stocks, chosen by four fundamental measures: book value and the five-year averages of income, sales and dividends. Obviously, the model focuses on large-cap stocks, with a value bent. Nearly 73% of assets are invested in giant- or large-cap stocks, and nearly 70% are labeled as value, with an average market cap of nearly $93 billion.
PRFN has been moving up our PowerShares Momentum Tracker Sector Momentum Table in recent weeks, from No. 40 on Jan. 30 to No. 27 last week. For now, the ETF isn't ready to displace the commodity, materials and consumer staples funds with the most momentum, but through last week's rankings, PRFN's seven-week move was larger than that of any other fund except DB Base Metals (NYSEARCA:DBB).
On March 18, the Dow Jones Industrial Average jumped 3.5%, registering its largest one-day gain since 2002 and its fourth largest ever. PRFN—which has a top-10 holdings list that includes five Dow components and counts all of its top-10 holdings among the 102 heaviest-weighted stocks in the S&P 500—gained 1.6% on the day, leaving the fund down 8% for the year, 1.4% better than the S&P 500.
The reason for optimism in the industrial space comes down to the global reach of companies like top holding General Electric (NYSE:GE), which makes up nearly 19% of the PRFN portfolio. Shares of GE, No. 3 United Technologies (NYSE:UTX) and No. 5 Caterpillar (NYSE:CAT) have been helped by the continued build-out of cities, hospitals and airports in developing markets in the midst of a long growth spurt. The theory? Worldwide growth can help limit the damage of a U.S. slowdown for stocks that are viewed by some as attractively priced after a six-month dip in the sector. PRFN is down 14.6% since its October high.
Even No. 2 holding United Parcel Service (NYSE:UPS) earns praise from analysts, who tout its extensive global network as a key reason that it is more profitable than its peers are.
Last year marked the first time that GE earned more than half of its revenues from overseas, and a 4% bump from the translation of international currency helped the conglomerate lift total revenues by 18%. The other key to GE's strong earnings was its infrastructure group, which reported a 30% jump in sales, thanks largely to continued growth in develop- ing markets. United Technologies has seen foreign revenues grow from $13 billion in 1997 to $34 billion last year, accounting for 60% of earnings.
In 2000, the companies in the S&P 500 earned 31.7% of revenues from overseas. For 2007, Standard & Poor's estimates that the final tally will reveal that number to be 44%. Recently, analysts such as Putnam chief Kevin Cronin and Westwood Management's Susan Byrnes have said they like shares of companies plugged into foreign demand for both international growth and the benefits of a weaker dollar.
Morningstar's Tom D'Amore, meanwhile, said that GE is poised for significant earnings growth, thanks to rapid growth in the firm's largest markets, power, energy infrastructure and aerospace. He also had positive thoughts on United Technologies, which, like GE and other PRFN holdings, enjoys "powerful market positions and high exposure to expanding international markets."
So long as those markets keep growing over the long haul, PRFN could provide an equity-based haven from the U.S. slowdown, and even from the nerve-wracking high prices of the usual recession- and inflation-beaters, such as metals and energy. A drawn-out recession at home could pinch the ETF a bit, but only a truly global slowdown would likely inflict a lot of pain. For investors under stress and for those willing to ride out today's turbulence with a long-term vision, that sounds like a solid place to be.