We are eyeing possible reruns of 70% if one of our Retail Drugstore stocks returns to its 52 week high. An investment of $9,945 (not including commission) could yield almost $16,000, a profit of $7,000. At the moment, Retail Drugstores rate 6th of 60 industries relative to the performance of the S&P 500.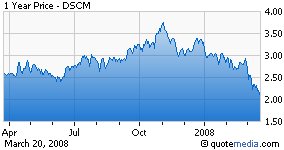 Drugstore.com's (NASDAQ:DSCM) management team says they might return to profitability in months ahead. Putting a positive number on the bottom line would go a long way in moving DSCM to its 52 week high of $3.54.
Analysts apparently agree with management as the consensus earnings estimates have DSCM breaking even in their next quarter and turning a small profit from there. While there is always a lot of risk with a $2 stock, DSCM's downside should be limited. It currently trades at .5 sales to market cap, which means they do twice as much in sales as the entire value of all DSCM's shares.
This low ratio is also at a discount of at least 30% to its peers. When you add it all together, better than average sector performance + discounted valuation + future profitability + buys signals from our models, DSCM share price should be on the move up.
Disclosure: none