Open Season For Industrials
Last week's eurozone bounce notwithstanding, this summer looks like it could be a treacherous one for the stock market. The upcoming June unemployment report is expected to confirm a slowdown in job growth, concerns about slowing growth in China and other emerging markets persist and even if the latest EU gambit is successful, the second quarter for which most firms are about to report earnings featured uncertainty and bad reports, suggesting the earnings season could be full of disappointments.
In this sort of environment, economically sensitive cyclical stocks are the most vulnerable to negative macro-sentiment. Among other sectors, the industrial sector is especially cyclical, tied as those companies are to growth, building and expansion in the economy as a whole. In the short term, holding onto stocks in this sector could lead to disappointing, below-market returns.
The converse is that in the long-term, those stocks should outrun the market as a whole, once the economy gets back on steadier footing. This, in my view, makes this summer a prime time to buy industrial stocks. Valuations will be getting cheaper for this sector, dividend yields will go higher and, considering that the Mayans were probably misquoted about the 2012 apocalypse, the economy will kick back into gear, offering a chance for these stocks to assume their traditional P/E multiples and positive returns.
A week ago, I wrote an article about Illinois Tool Works (NYSE:ITW), an industrial stock in my portfolio that has performed decently and has similarly decent prospects. In that article, I found a couple other stocks that are intriguing (one turnaround play discussed here). One especially stuck out as, at least on valuation terms, a screaming buy and so I thought I'd look a little closer at it.
Drilling Through The Business and History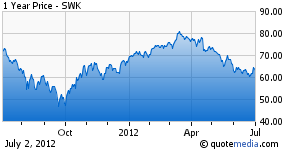 That company is Stanley Black & Decker (NYSE:SWK). The $11 billion market capitalized company is the result of a merger between Stanley Works (as acquirer) and Black & Decker that closed in March 2011. The companies are historic toolmaker powerhouses and the combined company sells tools and construction equipment under a number of brands, with major brands including Stanley, Black & Decker, Dewalt and Bostitch.
The combined company does business in three main segments. The first is construction and do-it-yourself (CDIY), under which the company sells power tools and hand tools. This is the company's largest segment, accounting for just under half of 2011 pro forma revenue. The second segment is industrial, wherein the company supports industrial production and automotive repair through engineering fastening systems, infrastructure solutions and tools meant to facilitate industrial and automotive repair. The last segment is grouped as security, as the company does business in building automatic doors, monitoring systems, health monitoring devices (think items similar to the call buttons from the old, "I've fallen and I can't get up" commercials) and keys and locks. Security and industrial stood for 30% and just over 20% of pro forma 2011 revenue for the company, respectively.
Stanley Black & Decker has long had an acquisitive bent to its business, a trait it shares with Illinois Tool Works among other firms. Not including the Black & Decker merger, the company boasts of 20 acquisitions worth over $4.3B over the past ten years and management frequently emphasizes a target of spending up to 2/3 of the company's free cash flow on acquisitions (with the rest dedicated to shareholder return), though recently the company has not quite hit that high a percentage. The company sets its long-term financial objective as 10-12% revenue growth annually, with 6% of that achieved through acquisitions. SWK touts the "Stanley Fulfillment System," a credo of efficiency and rapid capital conversion, as its secret for getting the most out of its acquisitions.
Current Concerns and Chances
The most recent of these acquisitions was of Niscayah, a Swedish firm specializing in electronic security services. The acquisition is expected to provide the bulk of SWK's revenue growth for 2012 and together with the ongoing synergies from the Black & Decker acquisition, a huge chunk of cost savings and earnings accretion. Management has increased its synergy guidance and expects $115M in new synergies from Black & Decker this year (accruing to $450M annually since the deal's close) and $45M in synergies from Niscayah, leading to about $.70 in accretive EPS for this year. That roughly provides the entire increase in EPS for this year, as the company guides to $5.75-$6.00 in 2012 non-GAAP EPS compared to $5.24 in non-GAAP 2011 EPS. Given the sluggish macro environment, this seems like a reasonable and conservative guidance to issue.
Much of that sluggishness emanates from the old world and the Niscayah acquisition of course increases Stanley Black & Decker's European exposure. Management has so far expressed confidence about Europe in two ways. First, the company stated that the first quarter results, in which Europe had flat growth, were slightly ahead of expectations. SWK also insisted that they had built in up to a 10% decrease in Niscayah pro forma revenues in guidance, as well as a general 3% decline in Europe for the year. The second quarter report will be an interesting indicator of how far Europe has dropped off recently and how well Stanley Black & Decker's conservatism prepared the company for this downdraft.
The emerging markets have powered the company's growth this year to date and that becomes another area of interest going forward. SWK grew 19% organically in Latin America and 10% organically in Asia in the first quarter 2012. With reports of Brazil and China both suffering from slowing growth engines, it remains to be seen whether SWK can continue to hit its marks there.
Back on the home front, there is a huge area of potential upside for the company that might power it through the uncertainty abroad: so far, management has not factored in a possible housing recovery into its guidance. With increasing signs that housing may be turning a corner, home construction and repair should follow, boosting Stanley Black & Decker's CDIY unit. As COO James Loree stated in the Q1 conference call, "the company is still positioned to outperform in the event that this home improvement and housing recovery issue or opportunity is real." Over the second half of 2012 and into 2013, this possibility grows stronger. (SWK should maintain this upside despite selling off a non-core hardware and home improvement unit, according to analysts. Raymond James analyst Sam Darkatsh, for example, describes the deal as consistent with the company's strategy and desire to stabilize its portfolio, even as it dilutes the company's "sum-of-parts" value slightly. A sale would also help fortify the company's already solid balance sheet).
Income and Valuation for SWK
A final piece to the investment puzzle is to consider Stanley Black & Decker's dividend, stock performance and valuation. The company has increased its dividend 44 consecutive years and features that fact prominently on its website. An increase is overdue for the company, but it seems reasonable to expect that the company will hike the dividend before year-end, a hike that could be substantial. The current payout ratio is 40% of 2011 free cash flow, 28% of forecasted 2012 earnings and 33% of forecasted 2012 free cash flow; Stanley Black & Decker expects to grow free cash flow by 20% this year, for what it's worth.
The stock has historically outperformed the S&P 500 (NYSEARCA:SPY), but has lagged this year. The stock is down over 8% for the year and is largely falling behind its peer group. Over a year period it runs roughly even with most of the group. This holds true even after Friday's huge rally.
This underperformance doesn't necessarily reflect weakness in the company and as such leads to an intriguing valuation. Comparing the company to ITW, Danaher Corp (NYSE:DHR), Parker Hannifin (NYSE:PH), W.W. Grainger Inc (NYSE:GWW) and Snap On Inc. (NYSE:SNA), other industrials with either tool businesses or involved in making (or in Grainger's case, distributing) electronic or industrial products, leads to some interesting results:
(Sources: WSJ, TDAmeritrade)
| | | | | | | |
| --- | --- | --- | --- | --- | --- | --- |
| As of Q1 2012 | SWK | GWW | SNA | DHR | ITW | PH |
| Market Cap | $11.0B | $13.4B | $3.6B | $36.1B | $24.8B | $12B |
| Quarterly Revenue Growth (Y-over-Y) | 11.42% | 16.40% | 7.46% | 28.99% | 3.62% | 4.75% |
| Yearly Revenue Growth | 23.38% | 12.48% | 11.04% | 21.87% | 12.08% | 23.55% |
| EPS Growth (Annual) | 39.68% | 31.35% | 18.50% | 26.51% | 47.72% | 17.75% |
| Estimated Earnings Growth (next 3 years) | 12.40% | 15.22% | 10.57% | 13.46% | 12.05% | 11.77% |
| Earnings 2011 | 5.24 | 9.04 | 4.53 | 2.83 | 3.77 | 6.37 |
| Earnings 2012 (Est.) | 5.8 | 10.67 | 5.03 | 3.32 | 4.25 | 7.45 |
| Earnings 2013 (Est.) | 6.58 | 12.21 | 5.56 | 3.69 | 4.72 | 8.15 |
| Free Cash Flow 2011 | 4.1 | 7.73 | 1.14 | 3.27 | 3.24 | 5.82 |
| 2011 P/E | 12.28 | 21.15 | 13.74 | 18.40 | 14.03 | 12.07 |
| 2012 P/E | 11.10 | 17.92 | 12.38 | 15.69 | 12.44 | 10.32 |
| 2013 P/E | 9.78 | 15.66 | 11.20 | 14.11 | 11.21 | 9.43 |
| 2011 P/FCF | 15.70 | 24.74 | 54.61 | 15.93 | 16.32 | 13.21 |
| PEG Ratio | 0.99 | 1.39 | 1.30 | 1.37 | 1.16 | 1.03 |
| Price | 64.36 | 191.24 | 62.25 | 52.08 | 52.89 | 76.88 |
| Dividend | 1.64 | 3.2 | 1.36 | 0.1 | 1.44 | 1.64 |
| Dividend Yield | 2.55% | 1.67% | 2.18% | 0.19% | 2.72% | 2.13% |
The only stock here that is as cheap as Stanley Black & Decker is Parker Hannifin, which might deserve its own look at some point. In the meantime, compared to each of the other companies SWK has quality growth numbers looking both backwards and forwards. The company also has high quality earnings, judging by its low P/FCF valuation. The dividend yield outranks every stock here except Illinois Tool Works; both dividends should get a hike by year-end.
Setting Targets and Taking Aim
Having looked at Stanley Black & Decker both as a peer to compare other stocks too and as the base stock in a comparison, I find that the company is a very interesting play at current levels, again even after Friday's price hike. Even if the current conditions slow earnings and it hits, say, 6.40 in EPS in 2013, a 14x multiple gives an 18-month target of about 90/share, nearly 40% above current levels. While the headwinds from Europe and the macro environment in general are intimidating, the conservative approach management takes and the possible upside of a U.S. housing recovery, not factored at all into guidance, should outweigh those headwinds.
The second quarter could well be a disappointment for SWK, as it might be for many other industrial stocks. There should also be some correction off of Friday's rush. I'm looking at 60/share as a good place to start a position, as that offers 50% long-term upside - I also think Stanley Black & Decker are likely to raise the dividend and a 10% hike to $1.8/share annually would give a 3% yield at that price. Any post-earnings weakness where management does not drastically back away from guidance in short or longer term will see me adding to that position (or opening it if the stock hasn't dropped low enough yet).
Volatility and uncertain macro situations lead to undervalued (and vulnerable) cyclical stocks. We are not at the low point of last October yet and there could be significant wobbles before autumn, but industrials are far from their peak values as well. In looking to the long-term, I've been looking for the right industrial to buy cheap. Having looked at Stanley Black & Decker once out of the corner of my eye and once again straight on, I have a feeling I don't have to look much longer.
Disclosure: I am long ITW. I may initiate a long position in SWK over the next 72 hours.