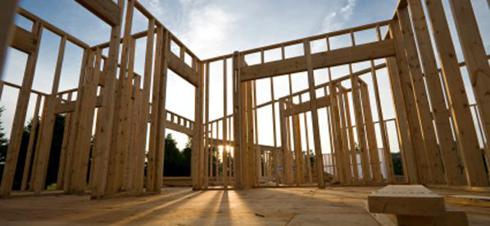 The Department of Commerce released the Construction Spending report this morning. The report shows a 0.9% increase to $830 billion in spending for May. Analysts had expected to see a 0.2% increase in spending. The prior period's result was revised to $822.5 billion.
Residential Construction Leads Gains
Private construction saw 1.6% gains to $560.4 billion. Residential construction increased by 3% to $261.3 billion. Non-residential construction increased by 0.4% to $299.1 billion.
Public sector construction increased 0.4% to $269.6 billion.
Housing Showing Signs of Recovery
The strength in private residential construction echoes similar reports from companies like Lennar Co (NYSE:LEN), which released earnings last week. The company beat analyst expectations and reported improving trends in their underlying business, with average sales prices and margins improving. The company reported a 40% increase in home orders and a 61% increase in their backlog.
On Friday June 29th, KB Home (NYSE:KBH) also reported that 2nd Quarter sales jumped 12% to $302.9 million, beating projections of $296.4 million. The company also reported that year-over-year, the average selling price increased and that orders were up 18%.
Also last week, the Case-Shiller home price index showed decent gains, with 19 out of 20 cities showing improved pricing. Overall, the index rose 1.3% between March and April. Phoenix, Arizona, one of the hardest hit locations in the United States, showed an 8.6% increase in home prices versus the prior year.
A new home sales report also came in better than expected last week. Seasonally adjusted sales were 369,000 versus the expected 350,000 during the period. Versus the prior year, new home sales were up 19.8%. In another report, several weeks ago, new building permits were reported at 780,000, much higher than anything analysts expected.
Pending home sales reported last week increased 5.9%, as reported by the National Association of Realtors. Analysts expected a 0.5% increase for the month. Versus the prior year, pending home sales rose 13.3%.
The improvement in homebuilding, home sales, and home prices is directly related to reductions in homes available for sale. Increasingly, realtors are reporting anecdotal evidence of bidding wars. This cycle is being fueled by record low interest rates and increased confidence that a bottom has been found in housing.
Homebuilders saw moderate buying in early trading. This sector includes Toll Brothers (NYSE:TOL), PulteGroup, Inc. (NYSE:PHM), DR Horton Inc. (NYSE:DHI), Hovnanian Enterprises Inc. (NYSE:HOV), and Beazer Homes USA Inc. (NYSE:BZH).
All this good housing news is coming despite the fact that the United States does not have a long-term plan for housing finance. For the past four years, the majority of all new mortgages and refinance activity have come with a government guarantee. All the while, politicians in Washington have fought over the long-term solution for Fannie Mae (OTCQB:FNMA) and Freddie Mac (OTCQB:FMCC).
Disclosure: I am long OTCQB:FNMA, OTCQB:FMCC.
Additional disclosure: Holdings include FMCKI, FMCKP, FMCCO, FMCKJ, FMCKK, FNMAL, FNMAO, FMCCL, FMCCS, FMCCP, FMCCT and FMCCK.