Coal is the worst performing industry year-to-date, if we consider the Dow Jones industry indexes. The Dow Jones U.S. Coal Index was down -35.1% as of June 29 (source: Marketwatch). This is not much of a surprise, the shale boom together with the warmest winter in a century and the resulting natural gas glut, aided by heavy dispatch switching substitution of coal for natural gas in the electricity generation sector made sure coal saw a large drop in demand. This naturally impacted coal prices heavily, making for a double volume and pricing effect on coal miners.
However, both the mild winter and dispatch switching were temporary phenomena. And the shale boom, incredible as it was, is not economic at the present natural gas prices either. So natural gas bottomed all the way back in April while at the same time we saw a large plunge in rigs drilling for natural gas (source: EIA), which should ensure lower natural gas production going forward and significantly higher natural gas prices in late 2012 and during 2013.
In the middle of this all, though, coal stocks continued their downward trek. Even as natural gas bottomed around April 19, the KOL ETF lost another 23% since then. After all, coal prices continued under pressure even after natural gas bottomed.
Something might be changing
Still, natural gas held and pushed towards the levels ($2.70-$3.00) where it's likely that we see the dispatch switching from natural gas to coal unwinding. The hot summer weather, as pictured below, certainly helped (source: Weather.com).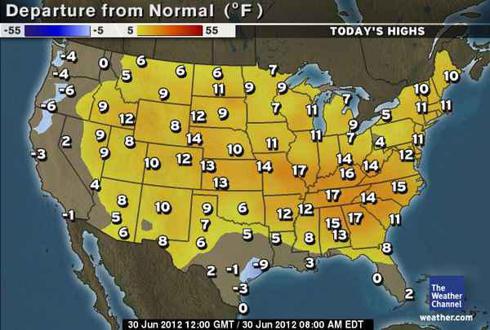 Click to enlarge
(Click to enlarge)
And now, for the first time in a long while, we might have the first signs of a change in the coal market. Using the CME CAPP coal August front month futures as a proxy, we can finally see some upward movement in prices as well as a possible double bottom!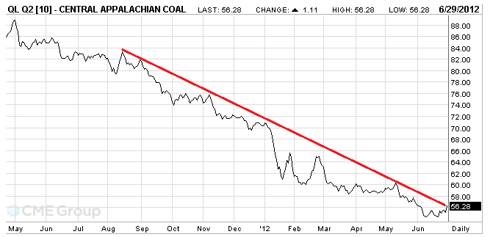 Click to enlarge
(Click to enlarge)
This is important, since the market mostly discounts Armageddon and coal having no future, while the thesis for coal long positions is simply that what happened was mostly temporary (weather, dispatch switching) and as natural gas prices go up coal's demand will recover, perhaps not to 2011 levels, but close. Plus with the recovery in demand, we'll see some recovery in prices.
And that's it -- emerging signs of such a recovery, with this recent movement, are no longer just theoretical! Sure, it can all turn to pumpkins in an instant, but at least now the movement is clearly possible even before some producers go belly up. The next few days will be critical, with coal facing the downtrend in place for more than one year.
Conclusion
A part of the huge drop in coal shares was motivated by temporary factors that will go away, allowing coal to recover demand levels close to those observed during 2011. Pricing, as natural gas goes up, will also firm. This cyclical nature of coal was forgotten for a while and there's the likelihood that coal shares such as Arch Coal (ACI), Alpha Natural Resources (ANR), Cloud Peak Energy (NYSE:CLD), Peabody Energy (BTU) and perhaps even James River Coal (JRCC) might see a more pronounced rebound. Patriot Coal (PCX) might also benefit, but given that coal prices probably won't recover fast enough it remains too risky, exposed to possible short-term insolvency.
Disclosure: I am long ACI, ANR, BTU.