Wal-Mart Stores, Inc. (NYSE:WMT) operates retail stores in various formats worldwide. It operates through three segments: Wal-Mart Stores, Sam's Club, and International. The company is a dividend aristocrat, as well as a major component of the S&P 500 and Dow Jones Industrials indexes.
Over the past 10 years this dividend growth stock has delivered an annual average total return of 10.50 % to its shareholders, with the majority of the gains coming in the late 1990's. After peaking at $70.25 in late 1999 though, the stock has gone nowhere for eight years, while at the same time, the company has managed to deliver an impressive 16% average annual increase in its EPS.
click to enlarge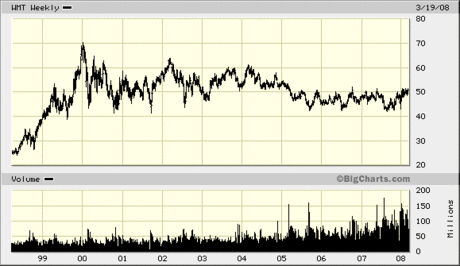 click to enlarge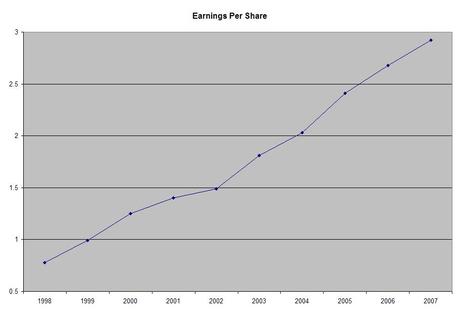 The ROE has been hovering in the 18% - 20 % range over the past 10 years.
click to enlarge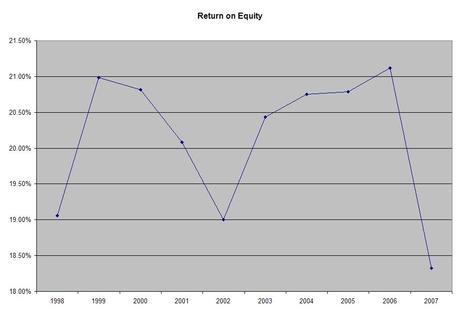 Annual dividend payments have increased over the past 10 years by an average of 21% annually, which exceeds the growth in EPS. A 21% growth in dividends translates into the dividend payment doubling almost every 3.5 years. If we look at the historical data going as far back as 1993, WMT has indeed managed to double its dividend payments every three and a half years.
click to enlarge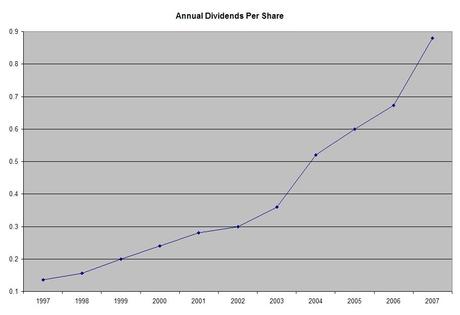 If we invested $100,000 in WMT on December 31, 1997 we would have bought 5071 shares (Adjusted for 2:1 stock split in April 1999). Your first dividend payment would have been $197.77 in March 1998. If you kept reinvesting the dividends though instead of spending them, your quarterly dividend payment would have risen to $1211 by December 2007. For a period of 10 years, your quarterly dividend income has increased by 464%. Althought, if you reinvested it, your quarterly dividend income would have increased by 612%.
click to enlarge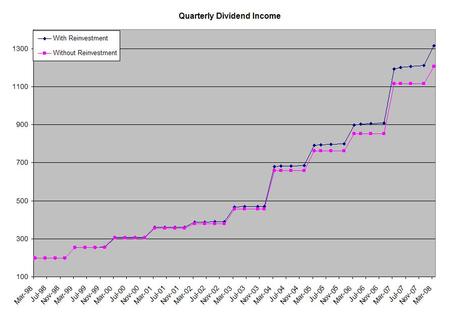 The dividend payout has increased from 20% to 30% over the past 10 years. A lower payout is always a plus, since it leaves room for consistent dividend growth minimizing the impact of short-term fluctuations in earnings.
click to enlarge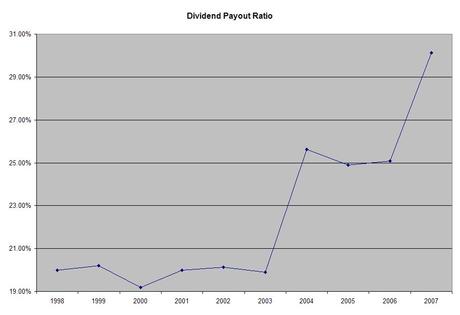 I think that WMT is attractively valued with its low price/earnings multiple of 17, and yield at 1.90%.
Disclosure: I own shares of WMT.