XO Holdings (OTC:XOHO) on March 17 reported an unsurprisingly good quarter and annual revenues of $367.9 million and $1.43 billion, as well as adjusted annual EBITDA $108.4 million respectively. Business-wise, the company took advantage of the exploding demands on bandwidth and IP applications. With increasing capital investment and capacity, the shift from legacy TDM/voice applications to higher profit margin data/IP services continues with the preferable revenue approaching 50%, notably, the high profit margin businesses "the carrier wave-length orders tripled year over year" and "Enterprise sales increase 50+% (3Q07 vs. 1Q06)."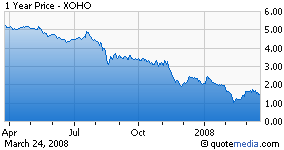 The finance focuses on the completion of a $75 million notes sale and $70 million of more notes offering to qualified minority shareholders for working capital and liquidity. This calms the fear of immediate dilution.
The more interesting event is the then NDA protected "Stockholder Meetings" on or about December 10-14, 2007 as filed in the 8K. In that meeting, XO contemplated a "Rights Offering" in the $200- $500 million range with an unjustifiably high amount of refinance package of $900 million -- all through rights-offering and debts, rather then at least by some increased cash-flows and improving EBITDA - not at all - in the face of increasing capital investment and improving business environment and profit margin.
There have been speculations that Carl Icahn – the Chairman of XO, who owns 58.89% of its stock and 95% debts – intends to use the now $3.1 billion NOL tax carry-forward credit, although some rumors say he has already used it. However, in order to get that he needs to reach the threshold of 80% ownership, or additional 45 million shares. If the NOL was indeed on Icahn's mind, he might have found it not so easy to screw the 45 million shares on the cheap from the 90-million-shares-minority shareholders. No one knows for sure what caused XO stock crash from 5.45 to about 1 in a few months without substantial negative events. But the "Rights Offering" plan with Icahn's probable backstop – picking up the shares on the cheap caused the minority shareholders outcries and the notable protest by R2 Investment's SEC filing:
Should you be considering a rights offering, you must recognize that while a rights offering may superficially appear fair to all shareholders, it is actually not fair at all when you consider that the Company is trying to raise more money than it immediately needs in the middle of an obviously distressed market environment, as is suggested in the Company's most recent Form 10-Q. This fatal combination will inevitably lead to Mr. Icahn increasing his relative percentage ownership at the expense of other shareholders when such an action is completely unnecessary. This will prove to just be a poorly disguised means of stealing value from the minority shareholders and handing it to Mr. Icahn. Our belief is that Delaware law will see this for what it is - an underhanded way to steal the Company. We trust that Delaware law will once again prove that form does not trump substance.
The new $145 million bridge loan makes the $900 million re-finance proposed in the Dec. 2007 shareholders meeting less relevant. However, the overly low 2008 EBITDA guidance with seemingly deliberate effort to hold down expectations could be a perfect excuse to justify the need for the $900 million refinance; meanwhile, Icahn & Co. may choose to acquire additional 45 million shares from other minority shareholders, or even from the public market for under $200 million – a not so hard decision compared to the $3.1 billion tax credit, which Icahn & Co deserves since he worked so hard in rebuilding XO and he has already owned near 60% of the stock.
Since the fall 2006, every sign shows XO is serious in growing business. Short term, the exceedingly conservative EBITDA guidance along with the un-adjusted (or re-priced) option exercise price of $5+ for executives surely hurt the morale of investors and employees alike – a situation needs to be immediately addressed by the company. On the positive side, XO could prove to be a formidable competitor for its rivals, particularly in the case like when Level 3 ran into some power struggle and integration problems. It will compete with the lowest price with any routes where it can offer an end-to-end connection – just like JetBlue's economical offerings.
A total $7 billion has been invested since XO started 8 years ago and there are only 6-7 national carriers left today. The foundation for future business expansion has been laid and the current cash level of $108 million and $75 short-term loan with additional $70 million from qualified shareholders – the total $253 million cash will keep XO running until the senior debts due in July 2009. By then both XO's business and the credit market may improve, and XO's stock may rise to a higher level. Then a "Right Offering" or regular equity offer may be closer to the "pay-off" level and people may realize that the chance of getting XO shares in the 2- 3 level is slim, even without considering the possibility of merge/acquisition in the way bandwidth demands grow further.
During the March 9, 2008 edition of 60 Minutes, billionaire investor Carl Icahn was interviewed by Lesley Stahl with a lot of praises: "Fortune Magazine says he may be making more money for shareholders than anyone else on the planet." And "Now - all of a sudden - he's Robin Hood, making money for the little guy, and crusading for ways to make American companies more competitive." Still, at the end of the interview, the unsatisfied Stahl asked "You don't do it for the other shareholders, you do it for you - but it does happen to raise all the boats?" "It helps. It helps the shareholders immensely," the unfazed Icahn nodded – with slight hesitation. In a couple of years, XO might offer Carl Icahn – the intimidating and relentless corporate raider/activist -- a unique opportunity to show the world he is capable of building some serious value in a tough environment.
Disclosure: Long