Shares of semiconductor materials and solar energy company MEMC Electronic Materials Inc (WFR) surged higher by more than 15% on Monday to lead the NYSE.
European Deals
Early Monday, WFR announced sales contracts for four solar projects in Europe. These deals should help ease the difficult financial situation the company is in.
Nevada Solar Plant Sold
Late last week, WFR reached a deal to sell its Nevada solar plant to Southern Company (NYSE:SO) Chairman, President and CEO Thomas A. Fanning and Turner Renewable Energy founder Ted Turner. While the terms of the deal were not announced, the sale should help bolster WFR's capital position.
Debt
One of the biggest challenges facing WFR is the debt load. Currently, WFR has $2.1 billion in debt against $588 million in equity. Given the difficulties facing the company's solar business, the debt to equity ratio makes WFR a risky play.
Short Interest
Short interest in WFR currently stands at roughly 25.12 million or 12.3% of the float. It is possible that some shorts are starting to lock in gains at these levels as WFR has been a real winner for the short sellers. However, it should be noted that the high short interest does create the potential for a short squeeze which seems to be playing out on Monday following recent news.
Altai Capital Management
In early June, Altai Capital Management doubled its stake in WFR. This is bullish as it shows at least some institutional money has confidence in WFR. However, it should be noted that shares have rallied significantly since Altai increased its stake.
My Take
With Monday's move higher, WFR shares are now up more than 57% over the past month.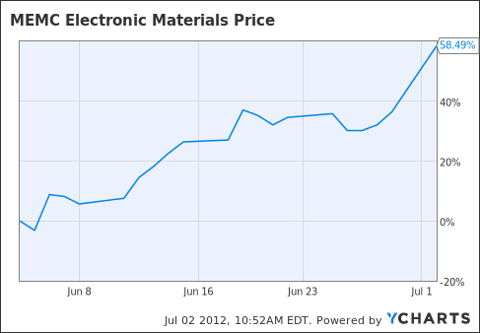 I expect the short squeeze to continue for anywhere between a few hours to a few days. However, I would be a seller into the rally as the company still faces an uphill battle and shares are likely to go through a period of consolidation following the massive move higher over the past month. That being said, in my opinion, WFR is probably a better speculation than some of the weaker Chinese solar companies like JA Solar (NASDAQ:JASO), LDK Solar (NYSE:LDK), or Yingli Green Energy (NYSE:YGE).
Disclosure: I have no positions in any stocks mentioned, and no plans to initiate any positions within the next 72 hours.