Instead of pursuing a degree in business administration and career in the investment world, I should have started a bakery in San Francisco. Recently, Starbucks (NASDAQ:SBUX) announced that it would acquire Bay Bread, owner of 19 La Boulange bakeries in San Francisco for $100 million in cash. The purchase makes sense for three main reasons. First, Starbucks will be able to grow its sales and income by offering first-class bakery and food items. Second, consumers are increasingly becoming more efficient when shopping. Offering a quality food menu will allow Starbucks to compete more easily with chains such as Yum Brands (NYSE:YUM), McDonald's (NYSE:MCD), and even Chipotle Mexican Grill (NYSE:CMG). Third, Starbucks has the financial and operational strength to integrate and grow the bakery business successfully.
Growth Opportunity
Starbucks' stock has experienced tremendous success over the years (see graph below). More recently, Starbucks decided to improve its food offerings by purchasing a French bakery and hiring its chef, Pascal Rigo. In fact, the company has been trying to diversify its business in the past few years away from its traditional U.S. coffee shops. These initiatives include offering alcohol and finger foods in selected stores, entry into India, a purchase of a freshly squeezed juice company, Evolution Fresh, and a push into groceries. The Bay Bread and La Boulange acquisition offers a great way for Starbucks to expand its food menu with high-quality bakery goods.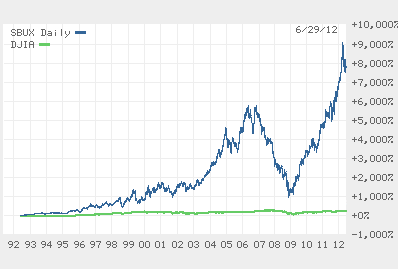 While my two sons really enjoy the chocolate milk and fruit packs at Starbucks, I rarely buy anything more than an Americano. I do not have a sweet tooth, and the other food offered at Starbucks is nothing more than what I can buy at a grocery store and eat at home. With the offering of a French bakery, customers should be more confident in trying Starbucks' food. In fact, many coffee shops and bakeries around the world offer good coffee in combination with delicious snack food.
Assuming that by 2013 Starbucks is able to offer quality bakery goods in its stores, it will certainly grow its revenues and income. Another company, Panera Bread (NASDAQ:PNRA), is already offering quality baked goods together with coffee in its stores. The results are clear: Panera Bread had 740 company-owned stores at the end of 2011, almost entirely in the U.S., which generated $1.6 billion in sales and $220 million of operating income in 2011. At the same time, Starbucks generated $8 billion of revenue and $1.5 billion of operating income from about 10,500 U.S. stores in its fiscal 2011. Sales and operating income per store for Starbucks in the U.S. were $0.8 million and $0.14 million, respectively. This is much lower than for Panera Bread, with 2.1 million and $0.29 million, respectively. Clearly, Starbucks should be able to increase its sales and profits growth rates substantially by offering quality bakery food.
Competition
The global fast food, coffee, and beverage serving business is extremely competitive. However, in recent years, many companies have started to switch to higher-quality food and beverage offerings. Examples include Chipotle Mexican Grill, which serves burritos made of mostly organic ingredients, and McDonald's, which encroached on Starbucks' turf by offering gourmet espresso-type drinks. At the same time, consumers are demanding better products for what they pay and expect this by visiting only one restaurant instead of McDonald's for food, Starbucks for coffee, and Cold Stone Creamery for dessert.
As a result, companies like Chipotle Mexican Grill and Starbucks have been able to grow their annual sales by 22.5% and 8.5%, respectively, for each of the past five years. On the other hand, companies such as McDonald's and Yum Brands grew sales by 5.3% and 5.7%, respectively, on average per year in the past five years. At the same time, Starbucks' and Chipotle's marketing expenses for their latest fiscal years were $141 million and $32 million, respectively. This is favorable, compared to $769 million for McDonald's (only for its 6,435 company-operated stores) and $593 million for Yum Brands (for its 7,437 company-operated restaurants). The consumer is a lot more difficult to lure into buying food and beverages only with commercials. In a sluggish economy, going out for consumers is more special. They expect high-quality food and a cozy environment (including clean restrooms and free Wi-Fi) even from fast-food and beverage restaurants.
Financial Strength
On a per-share basis, Starbucks is more expensive than McDonald's and Yum Brands and cheaper than Chipotle. This is warranted, as Starbucks boasts higher growth rates than the two fast-food retailers and slower growth than Chipotle. The recent acquisition of Bay Bakery should provide Starbucks with an additional strong growth opportunity while keeping its fixed costs relatively stable. The purchase price of $100 million is worth slightly more than three weeks' of Starbucks cash inflows from operations (based on 2011 figures). Also, Starbucks' balance sheet has $2.2 billion of cash and only about $0.6 billion in long-term debt, which should provide a cushion in case not everything goes according to plan. Overall, I think the potential benefits for Starbucks and its shareholders far outweigh the risks of entering the bakery business with this recent acquisition.
Conclusion
In a recent article, I stressed that Starbucks is brewing more growth for investors. Starbucks' acquisition of Bay Bakery and La Boulange paves the way for offering quality and innovative food throughout its stores, which will complement its coffee menu. The expansion into the bakery business is a natural step for Starbucks, as good coffee usually goes with good baked goods. In addition, this will provide more growth opportunities and further diversify Starbucks away from coffee, which is mostly sold in the morning. The level of success depends on whether Starbucks will be able to preserve the unique qualities of a French bakery and at the same time make it an everyday food item around the world. Starbucks' proven success and capable management should help assure investors.
Disclosure: I have no positions in any stocks mentioned, and no plans to initiate any positions within the next 72 hours.