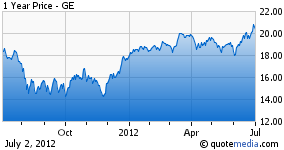 General Electric Company (NYSE:GE) was established by a merger between Thomas Edison's Edison General Electric Company and Thomson-Houston Electric Company in 1892. As a world-famous conglomerate, General Electric believes in being the best in the industries it operates in. The company has been making acquisitions over the years to grow. Recently, the management announced the proposed acquisitions in the German mid-sized, non listed companies. The focus of the company is to acquire technology leaders in the businesses it operates. The company has four segments: energy, capital finance, technology infrastructure and consumer & industrial. General Electric has been making moves in the oil & gas services recently. The company acquired privately held Lineage Power Holdings, Inc., from The Gores Group, LLC. Sticking to the company's tradition of being the best in the market, it has been peeling the underperforming businesses. In 2011, GE Capital sold $2 billion worth of assets in Mexico to Santander (NYSE:SAN) for $162 million. Santander also assumed the portfolio debts of the business. The move was made to shed non-core business, and the focus was turned to core businesses by GE Capital.
Being a conglomerate, the Connecticut-based company operates in a range of markets. Some of these markets are generation, transmission and distribution of electricity, motors, railway locomotives, aircraft jet engines, and aviation services. General Electric offers a range of financial services as well through GE Commercial Finance, GE Consumer Finance, GE Equipment Services, and GE Insurance. The company has presence in over 100 countries. In most of the markets, it has significant entry barriers. It is quite difficult for the new companies to enter the market and compete with such a worldwide name. Through its innovation and research, the company tries to keep the entry barriers high. General Electric has been trying to shrink the GE capital finance arm recently, and focus more on industrial portion.
Basic Ratios:
General Electric stock has been gradually rising in the past three months. I have written an article on June 13 regarding General Electric's admirable performance and recommended taking a look at it. Since that time, the stock is up by 8.2%. The 52 week range for the stock is $13.64-$20.82. The stock is currently trading at around $20.8, next to the 52 week high mark. P/E ratio stands at 15.9, a little higher than the industry average of 15.7. However, it has a quite cheap forward P/E ratio (11.5) for its size, which promises a better future. P/B, P/S and P/CF ratios are 1.8, 1.5 and 6.9 respectively, well below the industry averages. Operating margin is 11.5%, lower than the industry average of 16.3%. Net profit margin is slightly better than the industry average of 8.8%, beating it by .01%. At the time of Lehman crisis, General Electric went crushing down and had to cut its dividend by two-thirds. However, dividend background is excellent since then. Based on its indicators, the company has a C Grade O-Metrix score of 5.71.
(For more information on O-Metrix calculations, please click here.)
GE data by YCharts
Financial performance:
Revenue and EPS growth rates have been disappointing for General Electric in the recent past. The company could not meet the revenue expectations as its revenue was hit by recent eurozone crisis. First quarter earnings for 2012 fell by 12%. However, financial performance of the company is expected to pick up by the end of year 2012. Combined industrial margin is expected to go up by half percentage point from 14.9% to 15.4% by year end. General Electric currently has an order backlog of $201 billion, which is likely to kick up future revenues and earnings. Orders for big equipment were $23.1 billion, a 20% increase and first quarter record for the company. The company reported a profit of $3.03 billion for the first quarter. Industrial arm did a fine job here, as there was an increase of 14% in revenues from the industrial arm. At the same time, the overall decrease in revenue for the conglomerate was 8.2%. General Electric is to invest a $0.9 billion in Turkey, which will focus on innovation and local infrastructure.
GE Revenues data by YCharts
Comparative Analysis:
The stock has been performing well as compared to S&P 500, Industrial Index and other U.S. conglomerate stocks. Stock performance for General Electric has been well above these three indices. The stock beat all other three indices at one month, three month, six month and one year parameters.
Competitor Analysis:
Main competitors of this giant are Hewlett-Packard Co (NYSE:HPQ), International Business Machine (NYSE:IBM) and McKesson Corp (NYSE:MCK). Hewlett Packard has been declining for the last eight months and has touched its 52 week low limit of $19.2. However, both its P/E and forward P/E ratios are still attractive at 7.87 and 4.59, respectively. IBM reported flat revenue, which fell short of analysts' expectations. There was an increase in software and services revenue, but revenues for hardware and financing segments declined. IBM has high PEG at 1.7 and very high P/B ratio of 10.9. McKesson Corp has a P/E ratio of 16.8, higher than the industry average of 15.6. PEG for McKesson stands at 1.0, quite better than that of IBM.
GE PE Ratio data by YCharts
Summary:
General Electric is currently trading next to its 52 week high currently. I expect it to break the resistance level due to higher expected revenues from the industrial arm. As the stock is still trading below the resistance level, there is an opportunity to make decent profits. Strong business strategy focusing on innovation and consolidating the market share will yield benefits soon. The backlog of orders in the industrial arm is likely to generate revenues in the near future. The company is focusing on energy infrastructure. It is expected that General Electric will be a leader in the power infrastructure, making it the most prominent segment of the company in the future. As it aims to buy a medium-sized Germany business within this year stated in the introduction paragraph, General Electric will develop and expand global presence. Its share price of $20.8 is a bargain taking into account healthy revenue and earnings growth expected in the near term. My recommendation is to buy/hold the stock. There are some tasty profits to be made.
Disclosure: I have no positions in any stocks mentioned, and no plans to initiate any positions within the next 72 hours.