Don't look now, but shares of Verizon (NYSE:VZ) are up nearly 21% since their April 10th low. Not normally known for being a growth stock, Verizon has had a great run in the past few months, as seen in the chart below. Shares of the telecom giant hit a new 52-week high in early trading Friday before retreating slightly. So after this huge run in the stock, is there any more room to run?
Click to enlarge.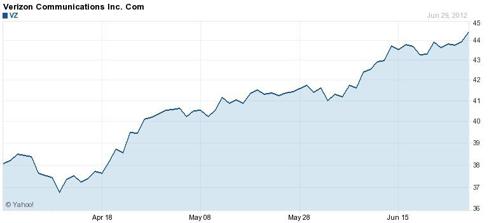 Click to enlarge
Source: Yahoo Finance.
The nice rally in the stock has actually pushed the dividend yield on Verizon down to 4.5%, the lowest it has been in some time. In comparison, Sprint (NYSE:S) doesn't pay a dividend, and AT&T (NYSE:T) currently yields 4.94%. When Verizon was down at that April 10th low, the yield was nearly a full percentage point higher, at 5.43%. While investors aren't getting the yield they were, I doubt they are complaining given the very solid run in this stock.
So now that we are here, were are we going? Well, first you have to look at where Verizon stands in the marketplace. Verizon is selling a good number of Apple's (NASDAQ:AAPL) iPhones currently, second to AT&T but still well ahead of Sprint. However, Sprint is gaining. Verizon does have a key edge in the LTE standard network. According to Bloomberg, Verizon has LTE in 304 cities, while AT&T is at 41 cities. Sprint is just launching their LTE network, hoping to have 6 cities online shortly. Verizon and AT&T also have the Apple iPad, while Sprint does not.
So let's look at the potential for growth in this space. The following table shows the revenue and earnings growth, as currently expected by analysts, for 2012 and 2013, along with the two-year total (difference between 2013 and 2011).
| | | | |
| --- | --- | --- | --- |
| Revenues | VZ | T | S |
| 2012 | 3.8% | 1.3% | 4.4% |
| 2013 | 3.2% | 1.4% | 1.9% |
| Two-Year | 7.2% | 2.8% | 6.4% |
| EPS | VZ | T | S |
| 2012 | 16.3% | 8.2% | -73.9% |
| 2013 | 11.6% | 7.6% | 28.8% |
| Two-Year | 29.8% | 16.4% | -23.9% |
When it comes to growth, Verizon is the clear leader. Revenues are expected to grow at a decent pace both years, with earnings per share growing very quickly. Remember, Sprint is losing a lot of money right now, so even though 2013 numbers are expected to be better than 2012, Sprint's loss in 2013 is expected to be greater than the 2011 loss. Verizon and AT&T are producing nice profits currently, while Sprint is still a few years away.
While Verizon is the clear leader in growth, the same cannot be said when it comes to valuation. The following table shows the price to sales and price to earnings multiples for each company, based on the current market cap and current revenue/earnings estimates.
| | | | |
| --- | --- | --- | --- |
| Valuations | VZ | T | S |
| 2012 P/S | 1.10 | 1.63 | 0.28 |
| 2013 P/S | 1.06 | 1.61 | 0.27 |
| 2012 P/E | 17.78 | 14.98 | N/A |
| 2013 P/E | 15.93 | 13.93 | N/A |
Verizon is cheaper than AT&T on a price to sales basis, but both names appear far overvalued compared with Sprint on that metric. Remember, though, that Sprint isn't profitable, and there are concerns about the future of Sprint. When it comes to earnings per share, Verizon trades at about a 15-20% premium to AT&T. Even though Verizon is growing a bit faster, that seems like a little much to me, especially since AT&T offers a bit more of a dividend. I think 15 times next year's earnings would be a fair price to pay currently, so yes, I think Verizon is overvalued currently.
So what do the professionals think? Well, the following table shows the average analyst rating (the lower the number, the stronger a buy). It also shows the average price target and the corresponding upside from today's levels.
| | | | |
| --- | --- | --- | --- |
| Analysts | VZ | T | S |
| Rating | 2.6 | 2.4 | 2.7 |
| Target | $41.30 | $34.25 | $3.73 |
| Upside | -7.07% | -3.95% | 14.42% |
As you can see, analysts like AT&T the most right now, and think Sprint has the most upside. I'll agree that Sprint has a ton of upside if they can get things right, although personally I don't think they can. But that's for another debate. We're analyzing Verizon here. Analysts think that Verizon is a bit overvalued here too, since the average price target is more than 7% below current levels.
So now that the first half of the year is over, investors will be looking at Q2 results in the next couple of weeks. Everyone expects to see a great quarter from Apple's iPad, as this was the first full selling quarter for the updated device. At the same time, most expect iPhone sales to be down quarter over quarter, as consumers wait for the newer version to come out later this year. Analysts currently see a 3.7% year over year rise for Verizon in terms of revenues, with earnings per share rising from $0.57 to $0.64. Remember, when these names announced Q1 numbers, they said margins improved because they sold fewer iPhones. Apple gets a lot from the iPhones, so selling less of the device could help margins in Q2 for Verizon as well.
The iPad/iPhone theme will continue in the second half of 2012. The iPad will have a decent 3rd quarter for sales, but I'm guessing iPad sales in Q2 will be larger. But once Q4 hits and the holiday season swings into gear, iPad sales will be strong once again. Also, once the new iPhone is released, it will be interesting to see how things shake out. AT&T has sold the most iPhones in the past, but Sprint has the great unlimited plan currently. Expect more battles going forward.
Verizon has had a nice run and does have a good amount of revenue and earnings growth ahead. However, shares seem a bit inflated at the moment, and the valuation just doesn't make sense to me here. For that reason, I would say Verizon is a good short candidate in the $44 to $46 range, and we are there now. I would look to cover, and perhaps go long the name in the $40 to $42 range. Again, that comes from my valuation of 15 times 2013 earnings, which at current expectations equals $41.85. Verizon has had a good run, but I'd sell into strength here and short it down for a couple of points.
Disclosure: I have no positions in any stocks mentioned, and no plans to initiate any positions within the next 72 hours.