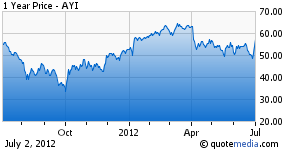 Acuity Brands (AYI) gained 9.6% Monday morning after the company posted its fiscal third quarter earnings results. The maker of lighting solutions posted EPS of $0.82 before a special charge, beating analysts' consensus expectations for $0.78, as per Yahoo Finance. The company's operating and share performance is notable for some very important reasons.
Industry comparables including Cooper Industries (CBE), Hubbell Inc. (NYSE: HUB-A), General Electric (GE) and Eaton Corp. (ETN) are trading mostly lower today. Few companies that benefit from construction are finding support today despite the latest Construction Spending data, which was reported increased 0.9% for the month of May. The shares of PulteGroup (PHM), Toll Brothers (TOL), Home Depot (HD) and Lowe's (LOW) are also mostly lower, because broader economic concerns are weighing as other economic data has come in dire from Asia, the EU and here at home as well. AYI's operating and stock performance is especially notable, as non-residential construction was reported unchanged in May.
Acuity Brands reported net sales gained 6.4% to $487.5 million in the quarter ended May. Growth came on unit volume increase of more than 5%, on North American growth that offset weakness in the company's Spanish market. The remainder of the sales increase benefited from product prices and product mix.
Operating profit increased 14.1%, on operating margin improvement of 80 basis points, but when excluding the special item, the company marked a 110 basis point margin gain in the quarter against the prior year period. The company attributed its operating leverage on its introduction of more energy efficient lighting solutions and market share gain. Its success is evidence of the company's ability to push through higher component and materials costs via price increases implemented in 2011. Also, margins expanded despite the company's growth initiatives involving product and market development.
Acuity's special charge was tied to the closure of a Georgia facility, allowing the company to streamline operations and save approximately $8 million annually. AYI experienced a slightly higher tax rate, limiting its net margin expansion a bit. Still, its 32% adjusted net earnings per share growth was quite enough to enthuse investors Monday.
Advising on its outlook, AYI said that while global economic concerns weigh on most business, it could continue to outpace. The company expects to leverage better growth in non-residential construction (versus residential), and to gain market share through growth within under-penetrated markets and through innovation and rising interest in environmentally friendly and energy efficient lighting solutions. The company reported no material change to its outlook, but analysts are likely to raise their estimates slightly, in my view.
AYI trades at 15.2X the analysts' consensus EPS estimate of $3.68 for FY 2013 (August), with that EPS estimate likely to increase slightly after today's result. That P/E ratio compares favorably with the analysts' forecasted EPS growth of 23% for FY 13. The PEG ratio is 0.7 based on that one-year growth outlook. Analysts' peg the company's five-year growth potential at 15.3%, giving AYI a PEG ratio of 0.99 on its FY 13 EPS estimate and 5-year growth projection. Thus, I would say today's 9.6% price gain is justified and should hold for now.
However, AYI's beta of 1.6 or so dictates that it will be impacted by economic news and market movement. Still, its valuation says it has some margin of safety. On this information alone, and without further due diligence that would require several days of company and industry research, I would say AYI is worth accumulating for diversified portfolios due to performance and valuation. That said, it bears market related risk as the global economy remains pressured. Its operational results could also be impacted should its markets come under increasing pressure.
Disclosure: I have no positions in any stocks mentioned, and no plans to initiate any positions within the next 72 hours.