Shares of Velocity Shares Daily 2x VIX Short Term ETN (NASDAQ:TVIX) hit a new all-time low on Monday despite a sell-off in the S&P 500, Dow, and Nasdaq.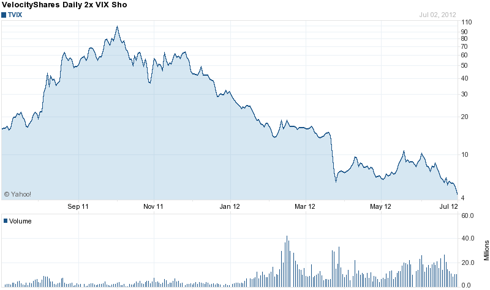 Click to enlarge
(Click to enlarge) (Yahoo)
VIX Higher
The VIX itself traded slightly higher on Monday in response to weaker equity prices. However, VIX futures moved lower, not higher, as traders are still betting that last week's news out of Europe will continue to calm the markets.
TVIX Dangers
I have written many articles warning about the dangers of this product, and I continue to believe that TVIX is one of the most dangerous products on the market for investors and traders.
Other VIX Products
Like TVIX, many other VIX related products are also trading at new all-time lows today. These products include the iPath S&P 500 Short-Term Futures ETN (NYSEARCA:VXX), Pro Shares Ultra VIX Short-Term Futures ETF (NYSEARCA:UVXY), and Pro Shares VIX Short-Term ETF (NYSEARCA:VIXY). These products suffer from many of the same problems as TVIX.
Conclusion
TVIX has once again showed that it is not the proper way to bet against the stock market. Investors looking to bet against equities should consider buying inverse ETFs such as Pro Shares Short S&P 500 (NYSEARCA:SH), or Pro Shares Short Dow (NYSEARCA:DOG).
Disclosure: I have no positions in any stocks mentioned, and no plans to initiate any positions within the next 72 hours.