Hormel Foods (NYSE:HRL) has paid a dividend every year since 1928 and increased it 46 straight years. That's a long history of paying dividends. But, the question is, as always, how will it do at paying dividends in the future? In this article, we look at 5 charachteristics of Hormel that may be indicative of its ability continually increase its dividend going forward: profitability, balance sheet and sustainability of its dividend, growth prospects, valuation, and commitment to returning capital to shareholders.
Profitability
Hormel has done well at improving its profit margins over the past 20 years. Part of this improvement may be due to management's focus on "value-added products." That is, products that are processed and branded, and offer higher margins than commodity food products. Some of Hormel's most popular brands include: Hormel (of course), Spam, Jennie-O, Dinty Moore, Stagg Chili, World Food, Saags, Valley Fresh, Lloyds Barbeque, and Farmer John meats.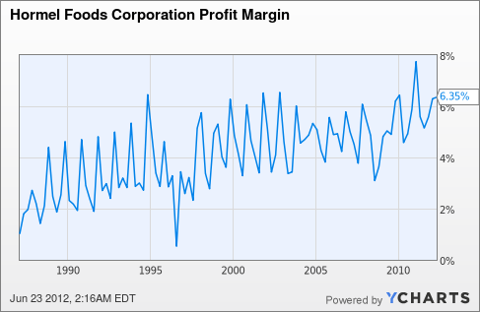 HRL Profit Margin data by YCharts
Though it's done well to grow margins, there is still plenty of room for further growth. Other companies in the staple foods industry like Kellogg (NYSE:K) and General Mills (NYSE:GIS) have margins in the 9% range. If management is able to execute on its strategy, there is further room for margin growth.
Balance Sheet and Dividend Stability
Hormel has a strong balance sheet indicating it should not face much trouble with debt or dividend payments. Its current ratio is approaching 3, quite high especially considering Hormel's high asset turnover and ability to generate cash from operations. It has very little debt (about $250M) and about $600M in cash. The current dividend rate of $0.15 per share represents a payout ratio of only 32%. It has plenty of resources to pay its current rate far into the future. Hormel's 80+ year history of paying dividends doesn't look like it will end soon.
Growth Prospects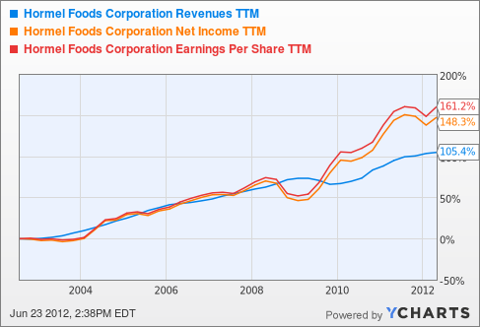 HRL Revenues TTM data by YCharts
As the chart above shows, Hormel has grown steadily over the past 10 years, though not at an astounding pace. Revenue has grown at an annualized rate of 7.5% per year while earnings per share have grown at 10.1% per year. Part of the reason for stronger earnings growth than revenue has been its expanding profit margins. As discussed earlier, if Hormel is able to continue its growth in margins, it could be a source of continued growth in earnings per share.
Valuation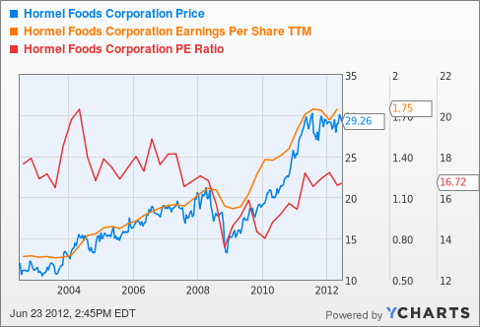 Hormel is currently trading at a P/E of about 17. While higher than it has been over the past couple of years, it is still lower than it traded prior to the financial crisis. Hormel's P/E is also in line with other companies in the consumer non-cyclical space. It's a little lower than that of Kraft (KFT) and ConAgra Foods (NYSE:CAG) and a little higher than that of Kellogg and General Mills. This seems to indicate that Hormel is trading pretty close to fair value relative to its competitors.
In comparison to the market as a whole, Hormel's valuation may be a little on the high side. It's PEG ratio (P/E to Growth) is 1.76. There are many companies in the market in which earnings are priced lower. But, part of the reason for Hormel's higher valuation may be due to its steady revenues and growth. Additionally, consumer staple companies are often given a premium for potential resistance to economic shocks. Many of the other consumer non-cyclical companies also trade at a premium to the market in general.
Commitment to Returning Capital to Shareholders
As a dividend growth investor, a company's demonstrated commitment to returning capital to shareholders is an important indicator of how the company will use its retained earnings going forward. Although Hormel has a long track record of paying dividends and has increased dividends for 46 straight years, it has not paid out a large portion of its earnings to shareholders. The current quarterly rate of $0.15 is only 31.25% of its most recent quarter's earnings. This is a low ratio and while promising for Hormel's ability to continue to pay this rate into the future, it does not indicate a strong commitment to return capital to shareholders in the form of dividends. Since 1991, Hormel's dividend has grown at a rate of 6% per year. That rate has greatly increased to near 15% over the past 5 years, but over the 20 year period, Hormel's dividend growth rate is unexceptional.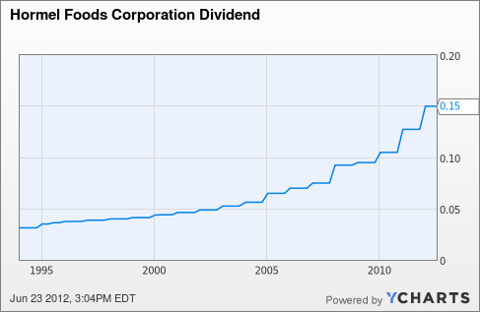 HRL Dividend data by YCharts
Hormel's stock buyback program also leaves something to be desired. Although it has bought back stock for many years, it has not done so at a very high rate. As the following chart shows, other than in 2011, Hormel's stock buybacks have been quite minimal. It is yet to be seen if the increased buybacks of 2011 are indicative of a long term commitment to buy back shares, or just a one time thing.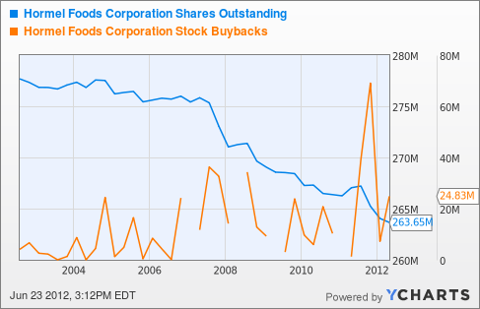 HRL Shares Outstanding data by YCharts
Conclusion
Hormel Foods appears to be a well run company, steadily improving margins and growing earnings, albeit at only a moderate pace. The trouble for dividend investors is that it does not pay out a high portion of its earnings out to shareholders. The current yield is only about 2%. This meager yield combined with moderate growth prospects indicate there may be better opportunities available for dividend growth investors.
Disclosure: I have no positions in any stocks mentioned, and no plans to initiate any positions within the next 72 hours.