"What then, shall we do?"
--Billy Kwan, The Year Of Living Dangerously
I awoke Friday morning on the very last trading day of the second quarter and pondered for a brief moment that the crisis must be over. After all, futures were up sharply on the back of a miraculous late day comeback in the final 90 minutes of trading the day before. In all, a near +50 point swing (+4%) on the S&P 500 (NYSEARCA:SPY) in a matter of hours. Why? It seemed that European leaders had finally conjured up the "political will to solve the crisis" that I've been glibly hearing so much about over the last few years. But this fleeting delusion that all must be well quickly gave way back to reality. We've heard this story too many times before. Nothing has been solved. Little progress has actually been made. And Friday was nothing more than yet another day spent in investment markets where grasping at headlines and hope once again prevailed over fundamentals. Looking ahead, such fickle market drivers are likely to only intensify as we move out into what promises to be a most eventful and sometimes dangerous third quarter of 2012.
So what then shall we do with the various unpredictable forces likely to be at work in investment markets over the next few months? Real opportunities reside in these various events, but the ability to predict them correctly will depend just as much if not more so on the whims of a global policy maker or central bank as they will on any economic or corporate earnings developments. Thus, staying nimble will be as important as ever in the coming months.
To best answer these questions, it is worthwhile to examine the various conventional wisdoms as we move into the third quarter.
The Global Economy Will Continue To Deteriorate
First, many are expecting that the global economy will continue to slow. Signs of economic weakening are widespread from various parts of the world including Europe, Asia and the United States. And a further deterioration in economic activity is likely to continue in the coming months given the continued drag on demand emanating from Europe along with the ongoing lack of clarity surrounding the regulatory and fiscal policy outlook. This would have a direct negative impact on corporate earnings and, in a normal environment, would imply a declining stock market. But in this "bad is good" investment climate, the weaker the economic readings, the more aggressive the monetary policy response from the Fed, the more euphoric the stock market reaction.
Given this upside down view of the economy as it relates to the stock market, what happens if economic readings come in better than expected? What if they actually accomplished something in Europe and things finally started to stabilize? And what if we begin to see a turn higher in the data for either the U.S. or Asia? If the economy starts to improve at what would most likely be a sluggish and uneven pace, then the likelihood of any further policy support from the Fed and other central banks will diminish. Under such a scenario, the stock market may finally be forced to face the prospect that no further policy morphine may be coming any time soon, as Operation Twist has already proven to be insufficient to support a sustainable rise in stocks, particularly at current valuations. So in what continues to represent an unusual twist in the current climate, a downside risk to the stock market outlook is that the global economy starts to gradually improve just enough in the coming months that no further policy support is warranted.
Stocks Cascade Lower
Many have been anticipating a dramatically sharp decline in the stock market over the summer. And it is easy to see why, as the global backdrop is infested with risks ranging from the potential for crisis in Europe, slowing growth in Asia, a stalling recovery in the United States and geopolitical instability in the Middle East just to name a few.
But perhaps more importantly, investors have been conditioned to expect such a dramatic outcome given the events of the last few years. In the summers of 2010 and 2011, the stock market posted sharp declines of -15% or more in the matter of weeks. And both of these sell offs represented particularly attractive buying opportunities, as the market swiftly rebounded from these declines.
So as we move into the summer of 2012, many investors stand ready and waiting with dry powder to deploy once the latest summer stock market cascade gets underway.
But what if the stock market doesn't sell off violently this time around? The fact alone that so many are anticipating such a decline already implies that it is less likely to actually happen, as any sharp pullbacks will be more quickly bought. But more importantly, monetary policy conditions are decidedly different this year versus the past two years.
Back in 2010, the Fed's QE1 program ended on March 31 and markets were left to go it alone without any monetary policy support. Seventeen trading days later, the cascade lower began and stocks were down by -15% in the matter of a month.
Moving ahead to 2011, the Fed's QE2 program ended on June 30 and once again markets set out alone without monetary policy support. Fifteen trading days later, another cascade lower began and stocks were down by -18% in the matter of just two weeks
In 2012, the monetary policy set up is different. The Fed's Operation Twist, which already does not have the same euphoric impact on stocks the way QE did, was set to conclude on June 30. But instead of allowing it to expire, the Fed recently announed on June 20 that it has chose instead to extend the program through the end of the year.
Thus, the stock market this summer is not being left to stand naked without monetary policy support the way it was during the summers of 2010 and 2011. While Operation Twist does not lead to euphoric rises in stock prices, nor does it seem to allow the bottom to quickly fall out from under the market.
So while the possibility of a cascade sell off in stocks still looms, a more likely scenario is that stocks may be left to grind lower with choppy swings along the way in the coming months.
Swift Policy Response By The Fed
While it is now less likely with the launch of Operation Twist, the probability of another sharp stock market correction still has significance. And the unflinching market expectation is that the moment we see any sustained sharp weakness in stock prices that the Fed will intervene with a swift policy response. Many that are hoping for the launch of QE3 recognize that an unsettling stock market decline is a necessary prerequisite to get the monetary fix they so desperately crave. And the Fed has given virtually no indication that it would do anything other than inject whatever stimulus is needed to keep the stock market stable.
But suppose we enter into a stock market cascade lower and investors begin filing in with the expectation that the Fed will come to the rescue. What then if the Fed decides to delay in providing policy support? Or what if they opt to stand back and let markets fall much further than the -15% to -20% most are targeting before finally stepping in with support? Or what if it turns out they are no longer willing or somehow unable to provide the magnitude of policy response the market is expecting if at all? Such a scenario could have hopeful investors stepping waist deep into the waters of a flash flood lower in stocks.
Stocks Continue To Get High On Stimulus
The reason that stock investors crave QE3 from the Fed or LTRO3 from the European Central Bank is that such previous balance sheet expanding policy actions have sent stocks into dreamy state of price increases that seem to occur without interruption on each and every trading day. The charts below illustrate this point.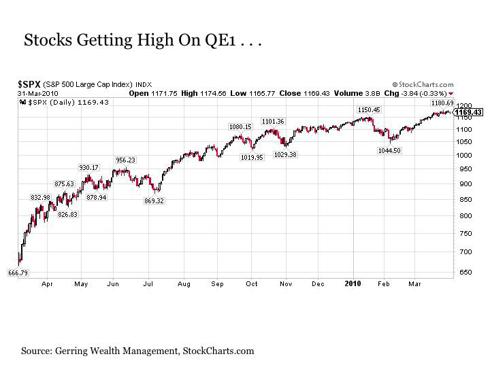 Click to enlarge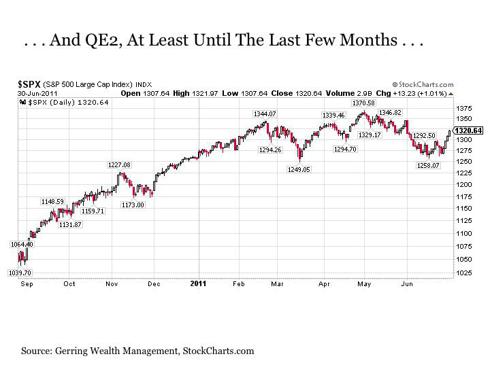 Click to enlarge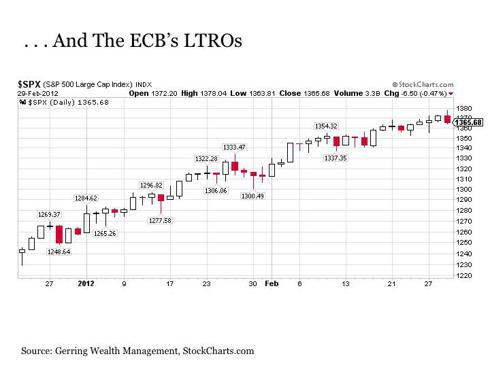 Click to enlarge
But during periods where neither the Fed nor the ECB is expanding its balance sheet, stocks have struggled as shown in the yellow highlighted areas of the chart below.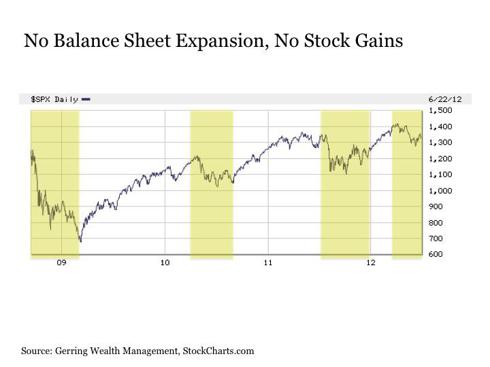 Click to enlarge
So the understandable investor bet is that if the market can land another round of balance sheet expanding stimulus, it will resume an intoxicated climb higher.
But what if the market receives the desired policy support, yet stocks do not respond by moving higher? After all, stocks have shown a diminishing marginal benefit from each successive round of balance sheet expanding monetary stimulus. And at some point, markets will finally grow numb to this medication, particularly if the magnitude of the problems overhanging the global economy begins to significantly exceed the degree of support being injected into the system.
This is a particularly important theme to monitor as we move forward. Markets have found great resilience over the last several years buoyed by the notion that the Fed will always intervene with policy support when needed to lift stock prices higher. If this thesis fails and investors are left to suffer declines following a major balance sheet expanding stimulus program, a crisis of confidence would likely soon follow that could pull markets dramatically lower from where they presently trade.
So What Can We Expect?
The highest probability outcome for the upcoming quarter associated with all of the above scenarios is the following. The global economy is likely to continue deteriorating, but the stock market does not necessarily cascade down. Instead, it is likely to continue grinding gradually lower with periodically sharp rallies along the way. Such an outcome would almost certainly prevent the Fed from applying any further stimulus such as QE3, particularly as we draw closer to the November election. And without the cascade lower and the balance sheet expanding stimulus high, stock investors may be left sufficiently sober to increasingly fret about the looming fiscal cliff along with other risks as we move toward the end of the year.
What Then, Shall We Do?
So what then is the best strategy given these risks in the coming quarter? What makes so many of these risks unique is that they are not much dependent on traditional fundamental or technical factors. Instead, they are reliant on anticipating the response of a person or group of people to a series of shock events if and when they occur. And then they must rely on the responses to these shocks to play out as anticipated. Moreover, to even have these policy moves put into action, investors must hope that economic and market conditions first deteriorate markedly. All of these are hardly the characteristics of a sound and well functioning market place.
For these reasons, it remains as important as ever to keep portfolio hedges in place. The stock market continues to hold its place in a broader portfolio strategy, but allocations should remain proportional to other asset classes. And in order to manage against both downside and upside risk, it may be beneficial to focus stock selection on those securities that rank among the highest quality and least volatile in the market. Representative names include Microsoft (NASDAQ:MSFT), ExxonMobil (NYSE:XOM), IBM (NYSE:IBM), McDonald's (NYSE:MCD), Procter & Gamble (NYSE:PG) and Hormel Foods (NYSE:HRL). And for those investors seeking opportunity in high quality names that have recently been beaten down to deeply oversold levels, Nike (NYSE:NKE) may have particular appeal.
But the best opportunities continue to reside beyond the stock market. A variety of categories continue to consistently rise despite the vagaries of the stock market. These include categories such as Agency MBS (NYSEARCA:MBB), U.S. TIPS (NYSEARCA:TIP), Build America Bonds (NYSEARCA:BAB) and Municipal Bonds (NYSEARCA:MUB). And for those looking to opportunistically short the stock market at any given point in time, Long-Term U.S. Treasuries (NYSEARCA:TLT) continue to represent an attractive alternative to establish such exposures. The Swiss Franc (NYSEARCA:FXF) also continues to offer favorable returns potential that is uncorrelated to the stock market. And both Gold (NYSEARCA:GLD) and Silver (NYSEARCA:SLV) represent ideal categories that provide the dual benefit of store of value upside associated with the launch of any new balance sheet expanding monetary stimulus program while also protecting against the swift stock market downside resulting from the outbreak of crisis.
The next few months promise to be most interesting and at times potentially dangerous. In a market that is being driven so heavily both to the upside and downside by non-traditional factors such as the whims of policy makers that have the authority to make decisions at a moment's notice, it remains most important to watch events closely and to stand ready to take actions both aggressively and defensively when warranted.
This post is for information purposes only. There are risks involved with investing including loss of principal. Gerring Wealth Management (GWM) makes no explicit or implicit guarantee with respect to performance or the outcome of any investment or projections made by GWM. There is no guarantee that the goals of the strategies discussed by GWM will be met.
Disclosure: I am long MCD, PG, HRL, NKE, GLD, SLV, TIP, MBB, BAB, MUB, FXF, TLT.