Over the past month, Google (NASDAQ:GOOG) converted all the pages in Google Places into Google+ pages and unveiled Google+ History so Google+ users can create a more robust online social identity.
In my view, the two features could greatly enhance Google's social networking platform and make Google+ a serious competitors to rival Facebook (NASDAQ:FB).
Google Places In Google+
Google changed all 80 million Google Places Pages to Google+ pages. When a user searches for a local business, the link that previously directed users to Google Places now takes the user to a Google+ Page.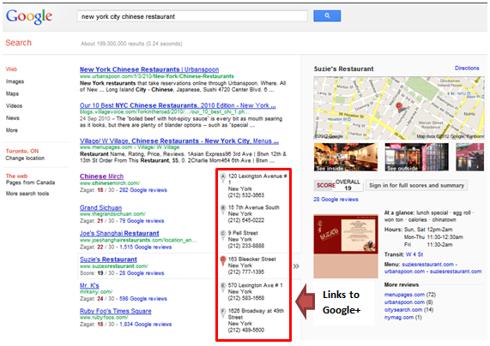 Click to enlarge
(Click to enlarge)
Source: Google, Jiang Zhang
Given that local search accounts for a significant share of online search, Google may enhance the user experience on Google+ and drive web traffic through the combination of search, local businesses and social networking. Features such as Zagat reviews, and the ability for businesses to list more information, upload larger pictures, and message followers and fans create a continuous two-way communication between local businesses and the users, which leads to high user engagement and spur more businesses to create their Google+ pages.
As I pointed out in my June 28th note titled "Facebook: Intense Domestic Competition, International Growth Lacks Visibility," Google+ is a wild card in the social networking space in that Google is trying to leverage its strength in mobile, search and email to build its own social networking platform. Despite 625K users join the platform every day, user engagement is still low. I note that average time spent per Google+ user is only 5 minutes compared with Facebook's 394 minutes per user, according to data from comScore.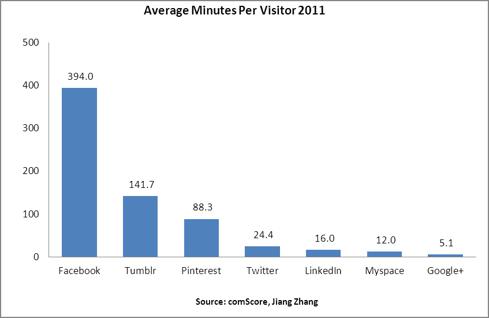 Click to enlarge
(Click to enlarge)
However, low user engagement could indicate a long runway for growth if Google is successful in enhancing user experience and building its network effect.
Google+ History: A More Private And Robust Timeline
Google+ History allows third-party apps, sites and services to share information about user's online activities with Google+, and allows the user to add past online activities to the platform. Unlike Facebook's Open Graph API, which instantly broadcasts a message to the user's network whenever the user shares or "Likes" something, Google+ prepares the ready-to-post content in a secure place so the user can choose which content to share.
In my view, Google+ History API could deliver a superior experience than Facebook's Open Graph because it gives users more privacy and a more robust online identity that features both private and public moments. For example, some Facebook users are often embarrassed by Facebook's Open Graph because they unknowingly broadcasted a content that negatively affected their public image. With Google+ History, the user can first decide the content's suitability before sharing it with his network, which leads to a more secure and enjoyable social networking experience.
Currently, Google+ has 250 million accounts and 150 million monthly active users, which is still pale compared with Facebook's 900+ million monthly active users. However, user engagement is showing signs for improvement. I note that users now spend approximately 12 minutes per day in Google+ Stream, which is equivalent of Facebook's Wall, compared with 9 minutes several months ago.
Disclosure: I have no positions in any stocks mentioned, and no plans to initiate any positions within the next 72 hours.