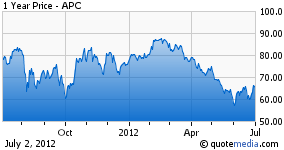 Anadarko Petroleum (NYSE:APC) is among the Gulf of Mexico drillers impacted by Tropical Storm Debby recently. It and its competitors, including BP (NYSE:BP), ConocoPhillips (NYSE:COP), and Marathon Oil (NYSE:MRO), halted production on several drilling platforms ahead of the storm. According to the U.S. Bureau of Safety and Environmental Enforcement, 23% of active platforms ceased operations. The storm was not a threat to the platforms but was deemed strong enough to represent a danger to personnel, which is why the shut-ins were enacted. By June 26, two of the four platforms Anadarko shut down were back in production. Temporary shut downs like these can actually help Anadarko; since it is the largest natural gas producer in the Gulf with over 1 bcf of production per day from its Independence Hub alone, a reduction in the amount of natural gas Anadarko sends onshore could send prices up at least nominally for the gas it already has in storage.
This inaugurates storm season in the Gulf for the summer, as it was the first "real threat" according to Jim Rouiller, a senior energy meteorologist at Planalytics. It might be an active year in the Gulf for tropical storms and hurricanes, since Debby marks the first time that four named storms formed before July 1 since 1851, the first year such records were kept. As drilling activities in the Gulf are just reaching pre-moratorium activity levels, an especially heavy storm season could certainly have an outsized impact on production. This could be particularly negative for Anadarko's oil production in the Gulf, considering the spread between its western project at the Deep Nansen and its eastern project at the Raptor; any storm moving through the Gulf is likely to impact one or more of its rigs.
Despite minor setbacks, Anadarko is more than keeping up the pace on its deepwater explorations, continuing to prospect in the Rovuma Basin off the shores of Mozambique after a series of large natural gas discoveries and announcing a new exploration agreement by its subsidiary Anadarko Guyana Company with the Government of Guyana. Anadarko competitors Exxon Mobil (NYSE:XOM) and Royal Dutch Shell (NYSE:RDS.A) are already exploring in the Essequibo region claimed by Guyana, which recently provoked a dispute with the government of Venezuela, another claimant to this potentially resource-heavy area. Shell estimates that reserves in nearby French Guiana could lead to 300 million barrels in reserves, but the true resource capability of this offshore area is largely unknown. This means that, while a gamble, Anadarko's exploration could result in a huge payoff. With a 70% deepwater exploration and appraisal success rate, the odds are in favor of Anadarko and its shareholders.
Strong Operations On Shore
Anadarko is preparing to expand its activities on the Utica Shale with two new wells in central Ohio, and local business owners are welcoming Anadarko to the area in hopes of generating business to business contracts. Though this is far from a focus area for the firm, it is part of the company's overall diversification strategy. Anadarko plans to accelerate testing the potential of its Utica holdings as part of what it calls its "emerging growth" area, though just 5% of its 2012 capital expenditures are budgeted towards U.S. onshore exploration.
Anadarko is also jumping in to the Eagleford Shale, where it is seeing 55% year over year liquids growth with ten rigs operating. It expects sales volumes in this area to almost double by the end of 2013, from about 30 mboe per day to just under 50 mboe per day. Since it estimates that its resources in the Eagleford have a 65% liquids composition, this is a high value play compared to many of Anadarko's other U.S. onshore activities, though its prospects in the Permian are equally attractive. Anadarko is posting 92% year over year liquids growth for its Permian production, with just five operated rigs. Though it entered this play late, Anadarko is showing how quick it can be to catch up.
The firm publicly indicated an interest in purchasing Chesapeake Energy's (NYSE:CHK) Permian Basin assets earlier this spring, one of few to do so. Since Anadarko is already a partner with Chesapeake on some of the assets held for sale, this could be a good opportunity for Anadarko. The biggest question is whether Chesapeake will receive the $5 billion asking price, which might be too steep for Anadarko's conservative strategy. Industry insiders believe that Chesapeake rejected a $3.5 million bid from Occidental Petroleum (NYSE:OXY) early in the bidding, but even if true, that was before the extent of Chesapeake's poor corporate governance and debt situation were widely dissimulated, putting the company in more of a cash crunch. I believe that Chesapeake may ultimately accept a lower bid, which would be a huge win for Anadarko if successful.
Outlook
One of the most impressive things about Anadarko is that it has managed to do all of this while maintaining $2 billion in free cash flow, giving it a position as one of the most fiscally disciplined independents operating. It has a debt to equity ratio of 0.8, a few steps below the industry average of 1.1 and a positive indicator as the firm prepares to explore the lease acquisitions made over the past few years.
Anadarko also has a reasonable price to book of 1.5 and a forward price to earnings of 12.4, both lower ratios than in the recent past. I believe that part of this downtrend is due to investors discounting the shares over a pending lawsuit brought by the Environmental Protection Agency. However, I also believe that Anadarko has a strong chance at fighting off the threat of substantial damages in this case, meaning that the discount is opening the way to a value buy for this independent.
Disclosure: I have no positions in any stocks mentioned, and no plans to initiate any positions within the next 72 hours.