Sideways-Trading Limbo
Southwest Airlines (NYSE:LUV) hit a record stock price of $22.35 in December 2000 and has not been back since. Due to a turbulent decade of airline events, a stock that returned 1100% (27% annualized) in the 1990s was relegated to a sideways-trading purgatory of sorts. Southwest had notable companions in this limbo, including tech giant Microsoft (NASDAQ:MSFT) and retail stalwart Wal-Mart (NYSE:WMT).
Why have these stocks struggled? In brief, all three were over-valued, primarily due to high expectations for a repeat of their 1990s industry-leading growth performance. The Southwest story is slightly more complex, but their stock turnaround might be just around the corner.
Turbulence of the 2000s
Although 2000 was a great year for airliners, especially Southwest, the rest of the decade would prove disastrous. The September 11 hijackings opened the door to increased taxation and regulation while subsequently hampering passenger growth. While operating costs surged, passenger growth did not resume until 2004. U.S. global military efforts, coupled with global supply and demand shifts forced up the price of oil until the market crash in 2008. Although 2009 brought lower oil prices, airlines had weak demand due to the worldwide recession. During this era, 17 airline bankruptcies occurred, including United Airlines (NYSE:UAL), Delta Airlines (NYSE:DAL), Frontier Airlines, and back-to-back bankruptcies by U.S. Airways (LCC).
Dismal Weather Continues
While the overall economic recovery from the "Great Recession" has been slow, most markets have seen strong rebounds. The primary exception is the airline business, which carried headlines during 2011 for the bankruptcy of American Airlines. As oil witnessed a rebound in 2011 and early 2012, primarily due to Middle East unrest and a weakening dollar, airlines have continued to suffer with Southwest's latest report (Q1-12) showing no exception.
Clear Skies Ahead?
As airlines continued to struggle throughout early 2012, the world energy supply has been surging due to recent worldwide natural gas discoveries accompanied by new offshore oil production around Africa and the Brazilian coastline. Combined with stagnant demand, oil prices will likely fall, or at least flat-line, throughout the next few years. With oil prices in the $60-$80 range, Southwest's largest expense will be chopped and the profits will explode.
Oil Pricing Tsunami
If oil prices drop, the upside in Southwest will be huge. To illustrate the disastrous effects fuel price has had on Southwest's profits, compare the 2000 Annual Report to the 2011 Annual Report. In 11 years, revenues have grown by $10B, or 9.7% annualized. However, operating profit has decreased and net income has dropped significantly. The culprit to this profitless growth is skyrocketing fuel costs. Salaries, wages, and benefits were the largest expense in 2000, at 29.8% of revenues in 2000, while fuel only consumed 14.2% of revenue. In 2011, wage expense dropped to 27.9% while fuel costs shot up to 36% of total revenue. In total, Southwest lowered all expenses (without fuel) from 67.7% to 59.5% while suffering a strong decline in net income.
Altogether, Southwest has cut other expenses by 12.1% (of revenue) while increasing revenues by 9.7% annualized over the past 11 years. Without the oil restraint, assuming a profit increase of 10.5% annually, Southwest should have reported EPS of approximately $3.54 in 2011. Instead, they reported a measly EPS of 23 cents.
To illustrate the impact on 2011 of hypothetical $80 to $60 fuel prices (assuming 2006 and 2007 fuel run cost averages of $1.70 and $2.25 versus Southwest reported 2011 run cost of $3.19), fuel expenses would drop by approximately 47% to 29%. Assuming negative results from Southwest fuel hedging only yielded an average drop in fuel costs of 30% and coupled with an average tax rate of 38%, Southwest would have returned earnings of approximately $1.61 per share. With a 50% drop in fuel costs, earnings would shoot to $2.52 per share. For a 10-yr history of fuel prices, see the chart below (source: indexmundi.com). It is difficult to believe that jet fuel prices were below $1/gal only seven years ago! (2011 adjusted EPS of $3.36!)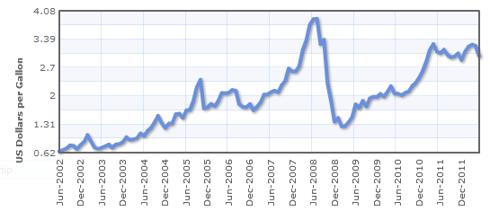 Click to enlarge
Recommended Flight Plan
I do not see Southwest as a quick trade, but rather as a great long-term investment opportunity, especially if oil prices settle around $80 per barrel or below. Southwest has managed to continue strong revenue growth in a disastrous environment and has operated profitably for 39 consecutive years. I believe that they are the best investment by far in the airline sector. In subsequent articles, I plan to highlight the benefits of Southwest's conservative balance sheet as well as related upside from new capital expenditure plans. At approximately $9 per share, this is perhaps the best buying opportunity since early 2009, and perhaps even since the mid-1990s.
Disclosure: I am long MSFT. I have no position in LUV, but may initiate a long position over the next 72 hours.