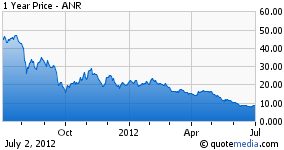 Perhaps gun shy from being too slow to bring earnings down in their coverage of Patriot Coal, (PCX) Arch Coal, (ACI) and James River, (JRCC) over the past year, analysts appear to be afraid to put out reports on Alpha Natural Resources, (ANR). Do I know this for sure? No. However, last week when Walter Energy, (NYSE:WLT) warned about 2nd quarter coking coal prices being lower than expected, 14 analysts put out notes on the news. When Alpha Natural Resources announced that it had amended its credit facility, zero analysts commented on it. The amendment is material news. Here's a quote from the press release.
"The amendment, among other revisions, provides the company with a holiday from the maximum net leverage ratio covenant of 3.75 times through 2014 in exchange for implementing a maximum net secured leverage ratio covenant of 2.50 times during such period and re-implementing a maximum net leverage ratio covenant of 4.25 times during the first quarter of 2015, which will in turn be reduced to 4.0 times during the second quarter 2015, and return to 3.75 times beginning in the third quarter 2015. The pricing grid was amended to provide an additional 50 basis points of interest to the participating banks for loans outstanding if the leverage ratio during an applicable time period exceeds 3.75 times.

In addition, the amendment reduces the minimum interest coverage ratio covenant of 2.5 times by 25 basis points during the fourth quarter 2012, by an additional 25 basis points during the first quarter 2013, and returning to 2.25 times during the second quarter 2013 extending through the fourth quarter of 2013. Furthermore, a minimum liquidity requirement of $500 million will be in place during the remainder of 2012 and 2013. Alpha received unanimous support from its bank group for this amendment."
This is really good news. It takes off the table a death spiral like that seen with Patriot Coal. To be clear, I didn't expect the stock to trade off substantially from around $8 per share, but I'm sure that some did. Importantly, this news makes it hard for short sellers to have high conviction in shorting the stock. I understand how some could worry that the Company's action signals that they believe that things will continue to get worse, but I just see it as a prudent move. An extra 50 basis points of interest on the credit facility is insignificant.
Might the Analyst's Silence Be a Bullish Contrarian Indicator?
Why does this matter? Because as an indication of how out of favor ANR is, I believe this could be a bullish contrarian data point. Analysts use material news events as an opportunity to update clients on their views about valuation and to stress the more important parts of their investment thesis. When analysts stop writing about a company, that can be a negative sign. For example, there have also been few to none notes out on Arch, Patriot and James River, companies that I'm not bullish about.
If one believes like I do that ANR is not only a survivor but also well positioned to thrive when the fundamentals of the global coking coal market improves, then the fact that it's out of favor might suggest that the stock is oversold. In past articles I've been hesitant to call a bottom or pound the table on any stocks. In ANR's case I think that $7.46 might turn out to be the bottom. If so, the risk / reward becomes compelling with the stock currently at about $8.6 per share.
I'm Getting Increasingly Comfortable that ANR May Offer the Best Risk / Reward
I'm not suggesting that volatility in the coal stocks will necessarily be less over the next 6-12 months, only that ANR has been punished severely and most of the bad news on the stock may be out by now. There remains a significant chance that ANR stock trades between $7.50-$9.50 for the rest of the year, but for those who are bullish on coal stocks after the recent plunge, ANR may offer the best risk / reward.
If my presumption is true on ANR, then it might only have about $1 of downside. The upside is anyone's guess, but I recently wrote an article suggesting that if the coal sector rallies, ANR and WLT were the most likely to experience 50% gains in the next 6 months. Therefore, ANR stock could have up to $4 of upside vs. $1 of downside, making it an attractive risk-adjusted proposition.
One risk that remains with ANR is that all the coal stocks continue to trade with high correlation to each other. For my thesis to come to pass, ANR might have to break free from the pack in terms of outperforming peers. I think both WLT and ANR can break free. Another risk is that ANR will be dead money, trading in a the $7.5-$9.5 range mentioned above. Even though analysts are not saying a word on the topic, I'm taking a deeper look into Alpha and I'm liking what I see. I hope to have a more in-depth article out on Alpha Natural Resources later this week.