After being down 170 points on the DOW in early trading last Thursday, the market rallied back to close down a mere 24 points, which is one more sign of a base building process. With the U.S. Supreme court upholding President Obama's healthcare overhaul, some uncertainty was lifted off the market and it set a bullish tone. Also, the U.S. housing market appears to have started a solid improvement, and the economy as a whole is sending positive signals as well. But the highlight of the week was Friday's strong rally, driven by a surge of euphoria across international financial markets, brought on by eurozone leaders agreeing at a summit to closer integration of the 17 nation euro currency bloc and headed by the European Central Bank. This just proves that the headline act of the market is still being played out in Europe. The officials at this summit also agreed to lend bailout funds directly to the struggling banks of the eurozone, rather through each nation's central bank. This move immediately is taking the governments of Italy and Spain off the hook for their ailing financial institutions. So the notion of complete collapse by these institutions is off the table for now, and that alone more than justifies last Friday's rally. But the main catalyst for the market's strong showing is that Germany finally is giving its full support to the eurozone's financial restructuring initiatives, which could trigger a major directional shift in favor of the eurozone. Still, the naysayers are out in force and as the bears have it, this rally is a selling opportunity. According to these bears, this is going to be a really rough market for the rest of this year and therefore the time is right to sell the market short. Apparently, there is no bullish catalyst out there to spark a sustainable rally, but supposedly there are plenty of reasons for the market to sell off - rampant unemployment, excessive debt, shrinking GDP and a total lack of clarity about the details of the euro summit agreement.
So if there ever was a time for the projections by these charts to take on a special meaning, this is it. In a broad outline, the way the indexes and sectors have soared, this market wants to rally in a major way and will use any excuse to do so. But for as long as the green, red and yellow core Moving Average lines remain in their bearish configurations, the market is vulnerable to a sharp pull-back. Now that would be a good thing because the market needs to digest some of the gains, consolidate and give the MA lines a chance to come back with bullish configurations.
These three Troika charts S&P 500 SPX bull trend SPXL and bear trend SPXS show the market at an inflection point that can reverse this rally and pull the market back. For as long as the green, red and yellow MA lines remain in their current negative configurations while the same MA lines for the bear trend remain positive, the market will continue to be vulnerable to the downside. Only when this MA line pattern reverses and turns positive for the bulls and negative for the bear will the market be able to rally in a sustained fashion.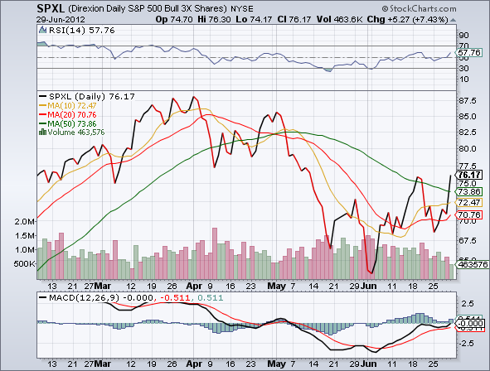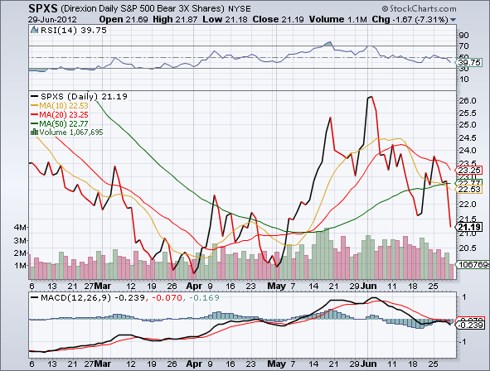 This VIX Futures UVXY ETF chart is a contrarian indicator and a good companion to Troika in guiding market direction. Note that while this index appears to have hit bottom, its green, red and yellow MA lines have slipped into a negative configuration, and that is bullish for the market. That the MACD momentum index along with the RSI strength indicator are also in negative territory only adds to this chart's bullish stance.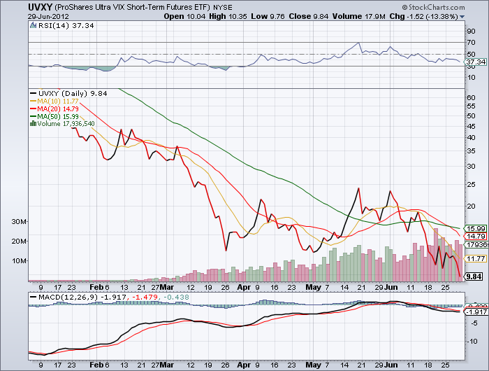 This market forecasting Junk Bond canary JNK is certainly in a bullish mode, but for as long as its MA lines maintain their negative configuration, the market isn't quite there yet. When this index pulls back while the MA line configuration turns positive, that would be a signal by the market to rally in a sustained fashion. Also note that the MACD momentum index along with the RSI strength indicator are both in positive territories, and that's bullish for the market.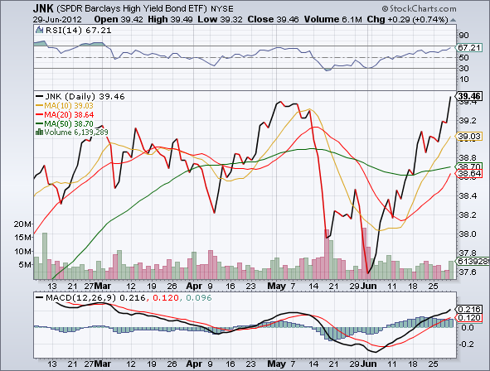 This commodity CRB index has joined the party, but for as long as the green, red and yellow MA lines remain in their sharply bearish configuration, commodities in general won't have a chance to engage into a sustained advance.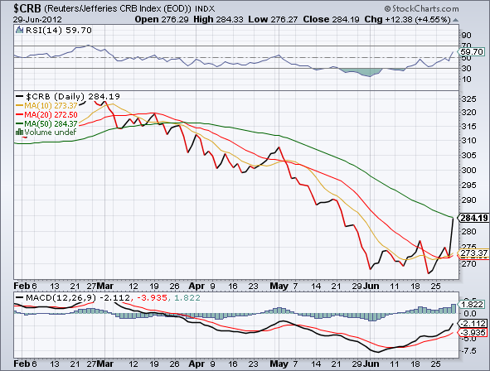 Along with the commodity market this Oil (WTIC) index snapped sharply out of a hole, but for as long as its MA lines maintain their strongly bearish configuration, oil is in no condition to engage in a sustained rally.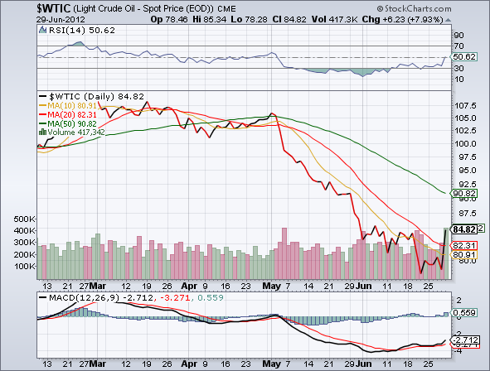 After snapping off the bottom, gold (GOLD) is in a good position to keep moving higher. Its MA lines are at dead neutral and all it would take is for the red line to convincingly move above the green, and gold would rally. Of course, the green line could slide below the red, and the yellow metal would be back digging deep holes again.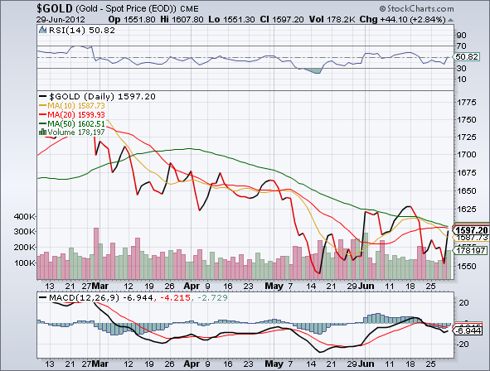 Being saddled with a heavy load of commodity issues, this (TSX) index remains in a sharply bearish mode.
In case the market continues to rally, here are some leveraged ETFs, poised to perform well:
Real Estate Bull 3x (NYSEARCA:DRN), ULTRA DOW 3x (NYSEARCA:UDOW), Technology Bull 3x (NYSEARCA:TECL), NASDAQ 100 3X (NASDAQ:TQQQ).
Ditto for non leveraged long ETFs:
Home Construction (NYSEARCA:ITB), Bio Technology (NYSEARCA:XBI), Pharmaceutical (NYSEARCA:XPH), Real Estate (NYSEARCA:IYR).
Should the market decline, these leveraged bears will perform:
Short Oil 2x (NYSEARCA:SCO), Gold Miners Bear 3x (NYSEARCA:DUST), Developed Markets Bear 3x (NYSEARCA:DPK) ULTRA short DOW 30 3x (NYSEARCA:SDOW).
Ditto for non leveraged short ETFs:
Short Oil (NYSEARCA:DNO), Active Bear (NYSEARCA:HDGE), Short EAFE (NYSEARCA:EFZ), Short Midcap 400 (NYSEARCA:MYY), Short DOW 30 (NYSEARCA:DOG), Short NASDAQ 100 (NYSEARCA:PSQ).
Disclosure: I have no positions in any stocks mentioned, and no plans to initiate any positions within the next 72 hours.