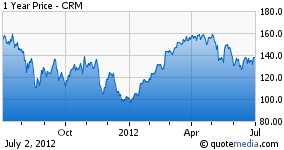 I have been pretty successful with a lot of my short positions over the last year or two, especially on those overvalued stocks that were once Jim Cramer favorites. I have had solid gains with short positions in OpenTable (NASDAQ:OPEN), Green Mountain Coffee Roasters (NASDAQ:GMCR) and Deckers (NASDAQ:DECK) when all were north of $100 a share. I also initiated a short position in Netflix (NASDAQ:NFLX) when it was significantly over $200. The one overvalued stock still in Cramer's spotlight that I have not been right on as of yet is Salesforce (NYSE:CRM) even as I have been negative on the stock for some time. However, I believe its time is coming.
Why Salesforce is overpriced at $138 a share:
Valuation:
Salesforce is selling at the top of its valuation range based on P/E, P/B and P/CF.
CRM is selling at almost 70 times forward earnings and almost 8 times revenues.
Consensus earnings estimates for both FY2012 ($1.49 vs. $1.63) and FY2013 ($1.99 vs. $2.09) have come down substantially.
It has one of largest five year projected PEG's (6.19) of any large cap growth company I am aware of.
Competition:
Microsoft's (NASDAQ:MSFT) $1.2B purchase of privately held Yammer was the latest salvo in an escalating war.
Oracle (NASDAQ:ORCL) also has new products targeting the "Cloud" out.
Salesforce will likely to keep a leading position in CRM but given the increasing competition with new capabilities, prices are likely to come down and margins will compress.
Insiders/Other Concerns
Outages in the last week at both Salesforce and Amazon (NASDAQ:AMZN) demonstrated again the vulnerability of relying completely on "Cloud services". It also could be vulnerable to usage based pricing.
Insiders continue to be active sellers of the stock with over $40mm of shares being sold since the first of year.
The company will not have actual GAAP earnings to probably FY2013. It is only "profitable" large cap technology company that I know of that actually has a negative return on assets and equity on Yahoo Finance.
Disclosure: I am long MSFT, ORCL, DECK. Short CRM through options as well.