The second quarter of 2012 ended last Friday on a decidedly up note for high yielding equity based Closed-End Funds (CEFs). After a strong 1st quarter in which many funds'/ market prices bounced off their widest discounts since the market lows of 2009, the 2nd quarter proceeded to look much like 2011 in which international markets began to waver under a sovereign debt cloud that continues to rear its ugly head to this day.
It remains to be seen what the 3rd quarter of 2012 will bring and I generally don't like to make market predictions, but I continue to advise investors looking for high yielding equity based CEFs to have a balanced portfolio of funds to take advantage of whatever market direction we go. That includes owning the more defensive option-income CEFs along with the more aggressive leveraged funds with perhaps more of a tilt towards the leveraged funds to take advantage of a continued up market environment here in the US and an anticipated market recovery overseas. With that in mind, let's take a look at the top performing funds so far in 2012 and a few individual fund recommendations.
The Good
On a market price basis, the good news was that many funds outperformed their benchmarks, which should have been expected after the drubbing most funds received at the end of 2011. The following table shows the top market price performers sorted by year-to-date total return performance with all distributions added back. The funds are color coded by income strategy (Option Income, Leverage or Dividend Harvest) and I have included red "flags" for funds that may have overly high premiums, NAV yields or expense ratios. For comparative purposes, I have included the following Exchange Traded funds (ETFs) representing both US based and international markets: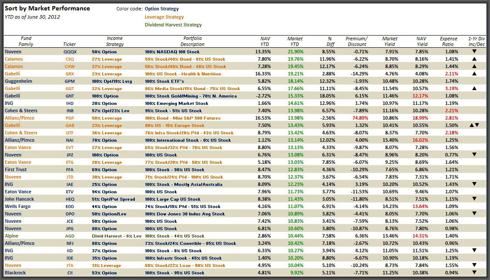 Note: Tables only show the top 30 or so funds out of a total of about 75 funds. If you would like to see all of the funds in an Excel spreadsheet format, please email me.
The Bad
When we look at the funds from a year-to-date Net Asset Value (NAV) perspective, however, the fund's don't look quite as good. In fact, only three funds have total return NAV performances better than the S&P 500 as represented by SPY (up 9.48% YTD).
Here are the top performing equity CEFs based on YTD NAV total returns, i.e. with all distributions added back. Green is for funds that outperformed the S&P 500 and red is for funds that underperformed. Again, this table only shows the top 30 out of about 75 funds.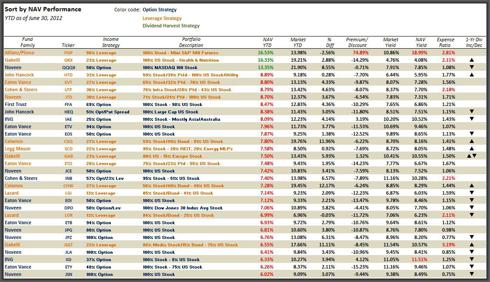 Now this isn't entirely fair since many of the equity CEFs listed have global (US and international) portfolios and the international markets have generally not performed nearly as well as the US markets. This is reflected in the largest and most popular international ETFs such as the iShares Europe 350 index - IEV, up only 2.7% YTD and the iShares MSCI Asia Pacific (ex-Japan) - EPP, up 6.9% YTD.
In addition, many equity CEFs, particularly the leveraged funds, include bond and fixed income securities in their portfolios. Still, when compared to the major market indices, it's been difficult for most fund's NAVs to keep up with the broad US indices such as the S&P 500 - SPY and the NASDAQ 100 - QQQ.
One of the three funds that has outperformed the indexes and I continue to highly recommend is the Gabelli Healthcare and WellnessRx fund (NYSE:GRX). I first wrote about GRX on May 22nd which you can read here.
GRX is a leveraged fund whose NAV is up 16.3% YTD and yet it continues to trade at a very wide -14.3% discount. The reason why GRX trades at such a wide discount is because historically, it had no regular distribution and despite its superior NAV performance, investors in CEFs look for high yielding, regular distributions. Then on March 5th, Gabelli announced that GRX would begin a regular quarterly distribution policy of $0.10/share beginning in June. Though this is a rather modest amount resulting in only a 4.8% market yield, I believe it's a good start - we'll see a distribution increase in GRX before long.
The other positive with GRX now is having the Supreme Court healthcare ruling put behind it. Gabelli had positioned the fund's portfolio defensively ahead of the decision, as outlined in their Manager's Commentary dated March 31st, but now with the uncertainty largely out of the way, Gabelli can move forward with managing the portfolio accordingly.
The Ugly (or rather the undeserved)
The final table looks at the difference between a fund's market price performance YTD and its NAV performance. If a fund's market price has gotten too far ahead of its NAV performance, then theoretically, the fund may be due for a pullback. However, there are offsets to this and some funds may have a good reason why their market price is outperforming their NAV price. Most equity CEFs saw heavy tax-selling at the end of 2011 which pushed down discounts to some of the widest levels since the bear market ended in early 2009 so many funds were overdue for a bounce in their market prices.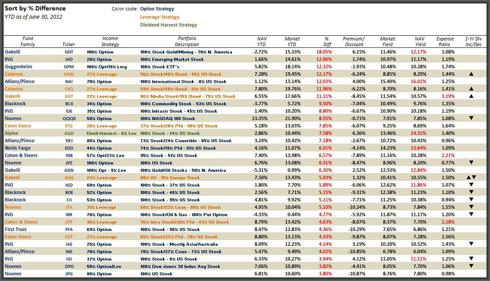 A good example of funds that deserve much better market price performance than their NAV performance are the Calamos funds Strategic Total Return fund (NASDAQ:CSQ) and the Global Dynamic Income fund (NASDAQ:CHW), two funds I recommended earlier this year. Both funds are up almost 20% YTD, much better than their NAVs, however, both funds raised their distributions substantially in February and both funds were coming off exceptionally wide -15% to -16% discounts at the end of 2011.
On the other hand, funds like the ING Emerging Markets High Dividend Equity fund (NYSE:IHD) and the Allianz International & Premium Strategy fund (NYSE:NAI) have also shown strong market price appreciation YTD, even moving to premiums from wide discounts at the end of 2011. However, their NAVs are barely positive for the year. Both funds have exceptionally volatile portfolios and can see strong NAV price appreciation during international market recoveries, but I would much rather be in a leveraged fund at a discount during a market recovery than an option-income fund at a premium.
Some of the gold and commodity related CEFs such as the Gabelli Natural Resources, Gold and Income Trust fund (NYSE:GGT) and the BlackRock Resources and Commodity Strategy Trust fund (NYSE:BCX) are also pricing in a strong recovery in those sectors as well, even with NAVs that are still negative for 2012.
Another fund which I believe has gotten ahead of itself, and one I recommended earlier this year, is the Guggenheim Enhanced Equity Income fund (NYSE:GPM). GPM is flirting with a premium pricing now after I wrote about it at an -11.1% discount back on January 24th. You can read that article here. I still like GPM but I believe the fund's strong market price performance doesn't reflect the relatively modest NAV performance so far this year.
Again, if you would like to receive the YTD performance tables shown above which include all of the high yielding equity CEFs available to investors, please email me or go to my website capincmgt.com and sign up for the 2012 Equity CEF Performance Spreadsheet and Analysis.
Disclosure: I am long CHW, CSQ, GRX, BCX, EPP, IEV, SPY, DIA.
Additional disclosure: Short NAI, QQQ