Executive Summary
We are of the belief that AT&T (NYSE:T) is a very attractive dividend stock having a dividend yield of 5%. However, it has been fairly priced in the market, and we initiate a hold rating due to the following reasons:
AT&T's future is dependent on its ability to manage growth in data services from expanding smartphone penetration.
To manage growth in data services, AT&T consistently needs sufficient spectrum to provide quality services. A lack of spectrum leads to bandwidth constraints; thereby increasing dropped calls, slowing data speeds, and rising customer prices.
An improvement in technology, leading to spectrum capacity enhancement, will help AT&T in saving billions of dollars required for acquisition of new spectrums.
Falling margins, owing to a rise in smartphone sales, have become an important consideration for investors. Every time a customer buys a new smartphone, under a carrier contract, or upgrades an existing smartphone, the carrier pays a hefty subsidy to the smartphone manufacturer. Lower subsidies on top of a more disciplined upgrade policy will definitely help AT&T's future margins.
Recent network speed tests by PC World Magazine in 13 U.S. cities found AT&T to have the fastest network download/upload speeds compared to its rivals Verizon (NYSE:VZ), T-Mobile and Sprint (NYSE:S).
The Company Description
AT&T provides Wireline and Wireless communication services to more than 100 million users in America. The company launched its famous video service "U-verse" in 2006. U-verse is recording a double-digit growth in the last three years and has successfully helped AT&T in offsetting the declining revenue growth in the wireline voice segment of the business.
Stock Price Drivers
New subscribers, churn rates, free cash flows, average revenue per user (ARPU) and coverage, voice/data packages are some of the factors that have played a key role in determining the financial performance of telecom operators like AT&T. Investors closely follow the trend in churn rates, and the addition of new subscribers in the Telecommunication Services Industry because these factors ultimately decide the long-term profitability of companies.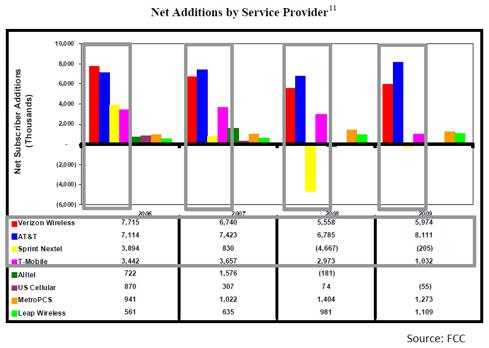 Click to enlarge
AT&T has added 187,000 subscribers in 1Q2012, less than the 501,000 subscribers added by its key rival, Verizon Wireless. However, AT&T was able to gain more subscribers in 1Q2012 with an addition of 92,000 subscribers a year ago. Also, ARPU rose to $64.46 in 1Q2012, but ARPU growth slowed down to 1.7% from 2.4% a year earlier. Postpaid subscribers' churn rate also improved in 1Q2012 to 1.10% from 1.18% in 1Q2011. The company was able to generate free cash flows of $3.535 billion in 1Q2012, sufficient to support the $2.6 billion in dividends, and maintain financial flexibility.
Upcoming Stock Catalysts
AT&T's future is all about its ability to manage growth in data services from expanding smartphone penetration. The AT&T smartphone penetration, measured by the number of smartphones as a proportion of total mobile devices, has augmented to 59.3% in 1Q2012 from 46.2% a year ago. On top of that, by the end of 1Q2012, 30% of postpaid smartphone subscribers used a 4G phone capable of using high speed LTE.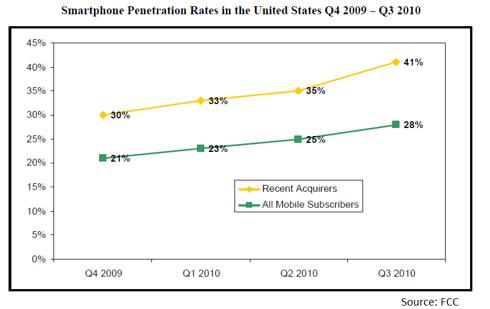 Click to enlarge
To avoid the bandwidth constraint and an increase in the dropped calls, the company needs enough spectrum. Otherwise, it all leads to high churn rates, and falling profitability. Companies in the Telecom Industry have ferociously started acquisitions of available free spectrum to avoid future bandwidth constraints. FCC has forecasted that the current spectrum surplus will convert to a deficit by 2013. Therefore, it is imperative for AT&T to ensure having ample spectrum available to maintain growth in Data Services.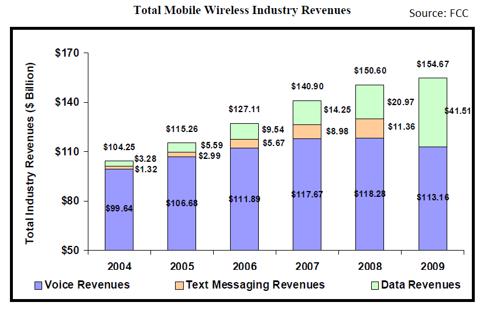 Click to enlarge
Furthermore, an improvement in technology leading to spectrum capacity enhancement will help AT&T in saving billions of dollars required for acquisition of new spectrums. Therefore, investors are advised to look for AT&T's acquisition of new spectrums as a possible favorable driver of its stock price.
Lately, investors have been concerned about falling margins due to higher smartphone sales. A rise in smartphone sales has resulted in a massive surge in subsidies that carriers pay to smartphone manufacturers. All the carriers have to pay a subsidy to the smartphone manufacturer. AT&T, being one of the largest sellers of Apple's iPhone, is particularly vulnerable to this problem; as iPhone constitutes more than 70% of AT&T's total smartphone sales. According to an estimate, AT&T pays more than $600 per device to Apple in terms of subsidies. Margins can expand if the subsidies are reduced and upgrade policy becomes more disciplined. Therefore, investors should look for a change in subsidies as a major driver of AT&T's stock price. Furthermore, slim growth in Wireline can be maintained by expansion in U-verse services, which can offset the decline in voice-related revenues in the fixed line category.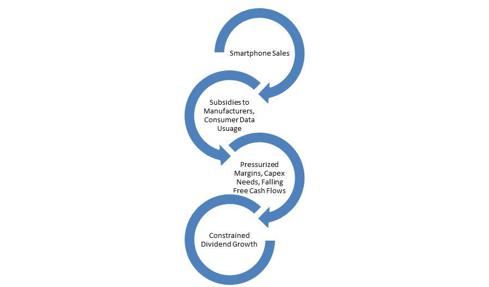 Click to enlarge
Financial Review
AT&T revenues posted a modest growth rate in 1Q2012 earnings on a backdrop of high growth in smartphone sales, and data services, together with declining wireline voice revenues. Wireless subscribers rose by 6.6% YOY in 1Q2012 with a YOY improvement in churn rates from 1.18% to 1.10%. Rapid growth in the wireless segment of the business is cannibalizing its sales, as customers switch to wireless forms of communication.
The wireless segment performed well, and now has a proportional share of more than 50% in the total operating revenue. The wireless segment's revenue grew by 5.4% YOY in 1Q2012, primarily driven by high smartphone sales. Of the total subscriber base, 59.3% now use smartphones, up from 46.2% a year earlier. AT&T is experiencing explosive growth in smartphones and 30% of the total postpaid subscribers now own a 4G phone capable of using AT&T's fast LTE network speeds. Churn rates for postpaid subscribers have experienced a downward trend over the last few quarters as a result of improvement in service quality and the launch of fast LTE. The AT&T LTE network has been found out to be faster than rival T-Mobile's, thus enabling the company in attracting new subscribers along with retaining existing ones.
The wireline segment's revenues declined YOY by 0.8% during 1Q2012 as the number of fixed line subscribers dropped by nearly 12%. Therefore, revenue from voice services fell by 10% YOY in 1Q2012. However, sound growth in the new U-verse video service enabled the company to offset the decline in wireline revenues, as the company recorded a 24% growth in U-verse video subscriptions.
The company recorded a 12% decline in both retail consumer voice connections and switched access lines; as a result, revenues from the wireline segment are expected to remain under pressure in the future and will depend largely on growth in U-verse video services.
Bullish Thesis
Credit Suisse (NYSE:CS) has upgraded AT&T to outperform as a result of an expected improvement in company margins from changes in upgrade policy and implementation of upgrade fees. Furthermore, carriers are expected to pressurize smartphone manufacturers to lower down subsidies, which can drive down equipment-related costs and boost earnings.
Bearish Thesis
AT&T could fail to acquire enough wireless spectrums to sustain the growth in data services. Limited spectrums can clog network traffic and bring down the quality of wireless communication services being provided by AT&T from next year; thereby, resulting in a significant customer loss and deteriorating profitability.
Competition
As a result of near total penetration of mobile phones among Americans, the competition among telecom operators has become fierce. Companies in the Telecom Industry, in the past, have competed on low pricing plans. In addition, the subscriber growth in the industry has become a zero sum game for companies because of high penetration. As a result, companies actively compete in the industry to attract other companies' subscribers. Also, regulation plays a very important role in the Telecom Industry, as companies are regulated by FCC to provide communication services at specific spectrum bands and in specific geographies.
In addition, the ability to launch new services/products before others has helped companies like Verizon in significantly boosting their subscriber base. Verizon was the first telecom operator to launch high speed LTE service in the U.S. and currently offers LTE in 203 cities, as opposed to AT&T which offers LTE in 11 cities till the end of 1Q2012.
Valuation
According to analysts' consensus estimates of FY12 EPS and revenues, AT&T is trading at a 13% forward P/E discount to Verizon Wireless. Also, AT&T is trading at 45% forward P/S premium to Verizon Wireless.
Income Versus Capital Appreciation
From an income perspective, it remains an attractive stock in terms of its high dividend yield of 5%. T currently has a payout ratio of 250%, which is not well supported by its free cash flow yield of a mere 3%. However, it has a cash balance of almost $3 billion as of the most recent quarter, and yearly cash flows from operations have remained steady at around $34 billion. With no announcements to the contrary and healthy cash flows, the company is unlikely to cut dividends going forward. From a capital appreciation perspective, however, we believe that investors should wait for a better entry point. The stock is currently trading around its 52-week high of $36.
We have a neutral stance on AT&T owing to uncertainty involved in the future margins and the smartphone mix during FY2012/13.
Disclosure: I have no positions in any stocks mentioned, and no plans to initiate any positions within the next 72 hours.