Flextronics (NASDAQ:FLEX) is a major player in the worldwide contract manufacturing market. After buying Solectron last October, their expected FY 2007 [ends March 2008] revenues are over $27 billion. With a full year's contribution from Solectron factored in for FY 2008, sales are projected to reach almost $35 billion. Asian sales are approximately 61% and European revenues about 17% of their totals.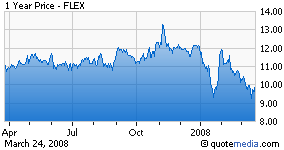 EPS have grown dramatically since troughing at $0.31 in FY 2002 [following 2001's recession] to an estimated $0.92 for the year wrapping up this March. The December quarter came in at $0.30 -- 4 cents above analyst forecasts. Coming year consensus earnings have been recently raised to $1.15 [up 5 cents from previous views].
Long-term debt is only 19% of capital and treasury cash exceeded $1 billion as of last September. Even after issuing a significant number of new shares to complete the Solectron merger Flextronic's book value has hit an all-time high of over $11/share putting today's P/BV at less than 1x.
Value Line expects more than $200 MM in annual cost savings once the merger is fully integrated due to
SG & A savings and facilities shut downs. This is a company with lots of good news that does not seem to be reflected in the present share price.
Guru George Soros purchased 55,000 shares in the fourth quarter of 2007 at an average price of $12/share. A company director put $205,000 into FLEX shares in November at a $12.65/share average cost.
Some heavyweight holders [as of December 31, 2007]:
[Year-end 2007 closing price: $11.65/share]
AXA owned 10.65% FMR [Fidelity Funds] had 10.40%
Capital Research & Management held 6.86%
Franklin Resources owned 5.62%
Wellington Cap. Management held 4.73%
Lazard Asset Management had 4.76%
Barclays Global owned 2.68%
Sound Shore Management owned 2.56%
Flextronic's lowest average annual P/E in the past 15 years was 16.1x. Value Line is taking a very conservative viewpoint on their 3 - 5 year outlook by using only a 14 multiple. Even fourteen times the FY 2008 estimate of $1.15 brings me to a $16.10 goal price within 15 months or + 67% from the current quote. Even just a reflex trading bounce back to Flextronic's year-end price would lead to a better than 21% return from today's price.
The FY just ending is virtually certain to have been an all-time record year and the year ahead is looking to be even better. Yet FLEX shares now trade at just 8.4x next year's estimates. How many growth stocks can you think of where you get a PEG ratio this low?
'Flex' time has never seemed more attractive than right now.
Disclosure: Author is long Flextronics shares.