The Guyanan government announced last week that it had signed an agreement with Anadarko (NYSE:APC) to undertake exploration in a new deepwater lease christened "Roraima."
There has been no mention of the lease in Anadarko's website nor have any further details been announced by the officials in Guyana.
So where is this Roraima Block and what impact might it have in the future on Anadarko?
The Atlantic margin from French Guinea through Guyana has seen recent interest as a frontier offshore play. Geology, source rock and play types are analogous to their West Africa equivalents in Sierra Leone / Liberia where Anadarko has drilled successful tests on the Mercury and Jupiter prospects. Tullow has further de-risked the area with the Zaedyus discovery offshore French New Guinea which found 72m of pay in water depths of 2000m. Tullow reports the discovery was found in a turbidite fan sandstone, the same reservoir type as recent discoveries in West Africa including the new Anadarko Paon find and the Jubilee/TEN complex in Ghana.
The lease map below is from the CGX Energy website with water depths in orange from publicly available bathymetric data and the three alternative "where is Roraima" scenarios as described in the text: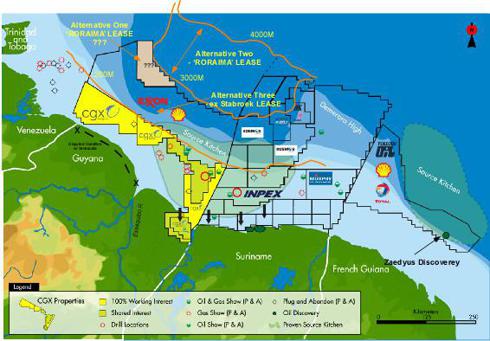 Guyana has leased out the majority of its offshore acreage so it is puzzling where this new Roraima block is actually located.
The three alternatives:
Alternative 1. The Roraima block could be located in the northwest of Guyana's Exclusive Economic Zone as sketched on the map and constrained to a water depth of 3000M. 3000M is the current upper limit of deepwater production capabilities. This would be a rather small block for Anadarko to consider. Also noted is that the border between Guyana and Venezuela west of the Essequibo River is disputed, further increasing political risk.
Alternative 2. The Roraima block could be located within the vast Ultra Deepwater area in water depths between 3000M to 4000M north of the Stabroek lease. Ultra deepwater drillships currently have a practical technical capacity of 3000M and exploiting this area would require the newest generation of drilling rigs rated for even deeper waters along with new ultra deepwater production strategies. A long term project for Anadarko, expensive and economically biased towards very high future oil prices.
Alternative 3. Roraima could be simply a new name for the Starbroek Lease. Exxon Mobil (NYSE:XOM) and Shell (NYSE:RDS.B) hold the 17 million acre Stabroek lease in Guyana in water depths ranging up to 3000m. The lease was granted in 1999 but as of date no wells have been drilled. Announcements of upcoming work programs are met with fierce opposition by Venezuela, which disputes the border between Guyana and Venezuela. Shell continues to hold a lease position in Venezuela and Exxon is embroiled in a dispute over expropriation of its assets by the Chavez regime.
It's safe to say that neither company is anxious to further antagonize Venezuela over rank wildcat drilling offshore Guyana. So it's not a stretch to believe that the Guyana government has just said "enough is enough - you're not drilling so these leases are going to Anadarko who have no competing interests in Venezuela."
I would rate alternatives two and three as significant to Anadarko's future prospects and of course dependent upon exploration success in a rank wildcat setting. Anadarko's geology and geophysics team has a superlative track record of success in these turbidite fan plays. Look for clarity on the Roraima lease issue to happen at the next analyst meeting during the Q&A session.
Disclosure: I am long APC.
Additional disclosure: Long stock and short out of the money calls.