Verizon Communications Inc. (NYSE:VZ)
Verizon Communications Inc. provides communications, information, and entertainment products and services to consumers, businesses, and governmental agencies worldwide. It operates through two segments: wireless and wireline. The wireless segment offers data services and applications comprising internet access through smartphones and basic phones, mobile broadband services and messaging services, which enable its customers to send and receive texts, pictures, and video messages. The wireline segment offers video services over its fiber-optic network.
Upcoming Catalysts:
The company has made its plans public to deploy 4G LTE in its entire current third-generation (3G) network footprint by mid-2013. This extended coverage could strengthen Verizon's position at the launch of the iPhone 5 later this year.
Verizon Wireless and Deutsche Telekom's U.S. unit have agreed to a spectrum swap, under which Verizon will receive spectrum covering 22 million people and cash of around $260 billion.
Wireless On The Rise
Verizon's wireless segment was the major contributor to the company's revenues and earnings and in the first quarter of 2012, accounting for almost 65% of its revenues. The segment's revenues were up 8% in the quarter ending March, largely due to growth in both service and equipment revenues. An increase in retail customers as well as growth in data revenues also led to this increase. The churn rate for the wireless segment also slowed improvement in the first quarter, down 1.24% from the previous 1.33%. Below are the first quarter results for the company for its two segments, compared to the same period quarter of the previous year.

Click to enlarge
Total revenue for the quarter was up 5%, despite a slowdown in the company's wireline segment. VZ's wireline segment showed signs of slowing down largely due to decline in global wholesale and voice revenues, as a result of decreased minutes of use. Looking at the annual results for the fiscal year ended 2011, revenues have grown at a two-year CAGR of only 1.5%, with gross margins staying more or less flat at around 60%.
Better 1Q2012 for Earnings
The company reported an EPS of $0.59 in 1Q2012, compared to $0.51 of 1Q2011, resulting in a 20% increase in earnings. The company's wireless segment also contributed to the increase in its earnings for the quarter, with the segment's EBITDA showing an improvement of almost 15% in 1Q2012 and EBITDA margins improving as well. Average revenue per user from both retail service and postpaid increased by almost 4%. However, the company has been unable to increase its earnings over the past five years and they are on a continuous decline since 2007.
VZ's cash from operations declined in the year ended 2011 by 11%, however, the first quarter showed an improvement of 18% from the same period quarter of the last year, adding almost a million. This increase was driven primarily by higher earnings and improved working capital levels. However, the company was not able to add on to its cash and cash equivalents in the first quarter compared to the quarter ended December, 2011.
iPhone Launch in Fall
In 2010, VZ launched its fourth-generation (4G) Long-Term Evolution technology (LTE) mobile broadband network, and as of April 19, 2012, it has deployed 4G LTE in 230 markets covering more than 200 million people throughout the country. Furthermore, the company has made its plans public to deploy 4G LTE in its entire current third-generation (3G) network footprint by mid-2013. This extended coverage would strengthen Verizon's position at the launch of the iPhone 5 later this year. With the introductions of smartphones and the iPhone, and a declining churn rate for the company, VZ could see an increase in its revenues.
ARPUs Trending Up
VZ has shown an impressive increase in its subscriber base in the past, and its ARPUs are currently on an upward trend. The new 4G services are likely to bring the company some growth. It has enough financial strength with sufficient cash in excess of $6.5 billion and its operating cash flows have remained steady at around $30 billion on a yearly basis. The company's stock is attractive in terms of its dividend yield of 4.60%, however it maintains a very high payout ratio in excess of 200%, which might have to be reduced considering the recent decline in its earnings. Despite a high payout ratio, its free cash flow yield of almost 8% is more than sufficient to sustain the dividends in the short-term.
Bullish
Strong fundamentals. An increase in its subscriber base, increase in ARPU, lower churn rates.
4G services will provide significant potential for growth.
New smartphone devices coming in upcoming years will help the company increase its market share, as well as retain customers.
Strong Balance Sheet.
Bearish
Wireline business contracting.
The launch of the iPhone 5 and other smartphones will serve as negative catalysts for VZ's own wireline customers, since more customers will convert to wireless in the near future.
Stock Performance
If we look at the company's stock performance, it has yielded almost 11% to date, higher than the benchmark, but it has underperformed peers like AT&T (NYSE:T) and Sprint (NYSE:S).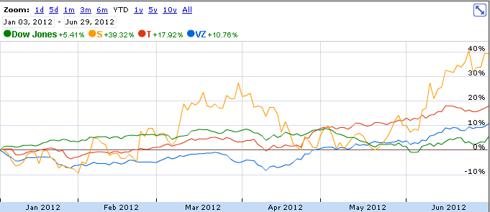 Click to enlarge
Conclusion
We believe that the company has an attractive fundamental outlook, with an increasing possibility of growing revenues, earnings, and cash flows going forward. However, VZ has put large sums of spending into its 4G network, as well as marketing, without adding on to its LTE devices. Expensive LTE devices could lead to a reduction in the company's wireless margins, which is its largest segment. Moreover, the stock is trading at 48 times its trailing earnings, at a substantial premium to its industry, and we believe the stock to be overvalued at current levels. The forward P/E ratio is 16x, higher than AT&T's 14x.Its dividend yield has been dropping with time as well and is already lower than its peer AT&T. While we like the company's business, we believe the stock is over-priced and may lose some value going forward. The stock currently trades around its 52-week high ($44.77). Long term investors with a dividend focus should wait for a better entry point in the stock.
Disclosure: I have no positions in any stocks mentioned, and no plans to initiate any positions within the next 72 hours.