Being a contrarian can be rewarding, but it can also be lonely. I've written a series of articles about why Treasuries are dangerous, but judging by the news headlines, I'm mostly alone. Despite the fact that stocks are still cheap by historical standards, and the fact that dividend yields on many blue chips like Procter and Gamble and Johnson and Johnson actually exceed 30-year Treasury yields, investors still flee to Treasuries at the drop of a pin.
I was considering just giving up writing anti-bond articles and hating Treasuries all by my lonesome self until one commenter on my recent article The Art Of Finding Retirement Stocks suggested the following:
30% (NASDAQ:QQQ) 70% (NYSEARCA:TLT) is all you need for a decent steady return over time. Rest is noise - unless you are greedy.
This advice made me incredibly sad, and inspired me to keep writing. It's important for investors to realize that buying long-term Treasuries right now is dangerous for several reasons. First and foremost, with yields so low, you're actually losing money to taxes and inflation. (See: Why Buffett Hates Bonds). But second, and perhaps more importantly, interest rate risk is a very real threat to capital invested in Treasuries. While bonds are typically seen as "safe" investments, any rise in yield will decimate long-term bond prices.
So imagine my (pleasant) surprise when I visited my broker's website and saw a link to this article:
Investors in U.S. Treasurys stand a good chance of losing money over time. And yet they can't seem to get enough of Uncle Sam's paper.
And this article:
Mr. Castelli [CEO of research firm RCube] says yields should rise to at least 2% by the end of August - and perhaps even as high as 2.5%. Such a spike could cause 10-year Treasury prices to fall anywhere from 2% to 5%, while a similar change in yield in 30-year bonds could cause prices to drop by 6% or more.

What would it take for that to happen?

For starters, Europe's policy makers must continue to demonstrate they are beginning to get the situation in Greece and Spain under control, says Phillip Colmar, a Montreal-based partner at MRB Partners, a research firm.
That last paragraph is worth further consideration. While the recent EU summit's "success" may be a fakeout, just like the one way back last fall, the market has liked it so far. TLT (an ETF for 20+ yr Treasuries) dropped 1.5% on the day, and is now hovering around the $125 level.
But it gets worse. The over-flight to Treasuries means that yields have been suppressed below where they should be, based on available economic data:
Treasury yields are about 40% lower than the historical relationship between the ISM and the 10-year yield suggests they should be.
This leaves a whole lot of room for downfall as investors shun Treasury bonds for higher-yielding investments. An examination of TLT's price vs the 30-year Treasury Yield shows that yields are essentially at the same level as the low right after the financial crisis. Keep in mind that over the next few months, the yield rose and the price of bonds plummeted by about 30%. Even if yields return to the level they were at last July, investors are looking at an over 30% loss.
(click to enlarge. Source: FreeStockCharts.com)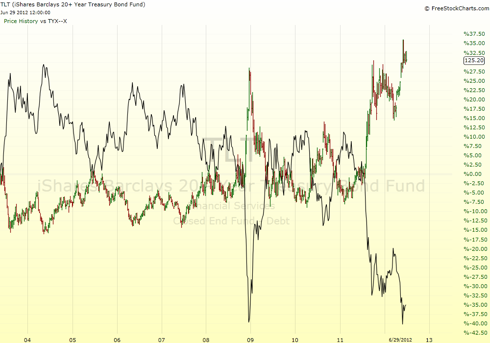 Click to enlarge
In conclusion: I believe dividend-yielding domestic equities are the best bet right now. However, if you're not ready to get back into the market, choose short-term (<5 yr) bonds or a CD instead of long term Treasuries. Do not buy long term Treasury bonds or the ETF equivalents like TLT. You stand to lose 30% in a year and have literally only a few percent in upside. Tell me, does that sound like a "safe" investment? Definitely not safe compared to investing in a company like Procter and Gamble, which has a lot more upside (and yield) for the same or less downside.

Disclosure: I have no positions in any stocks mentioned, but may initiate a short position in TLT over the next 72 hours.
Disclaimer: I am an individual investor, not a licensed investment advisor or broker dealer. Investors are cautioned to perform their own due diligence. All information contained within this report is presented as-is and has been derived from public sources & management. Always contact a financial professional before making any major financial decisions. All investments have an inherent degree of risk. The future is uncertain, and actual results may be materially different from those expected. Past performance is no guarantee of future results. All views expressed herein are my own, and cannot be interpreted as the views of my employer(s) or any organizations I am affiliated with. Presentation of information does not necessarily constitute a recommendation to buy or sell. Never make any investment without conducting your own research and reading multiple points of view.