Teva Pharmaceuticals (NASDAQ:TEVA) has been a laggard in the stock market for the past two or so years. While part of its weaker than market results are related to relative strength during the 2008-09 financial crisis, doubts have plagued the company's long-term growth prospects over this recent period. Indeed, since hitting a multi-year high in March 2010, the stock has declined 40% in value. So far this year, the stock has made a couple rallies, spurred by the hiring of new CEO Dr. Jeremy Levin and then again by a key event last weekend, but both times has fallen more or less to previous depths. There are many who continue to doubt Teva's long-term prospects and its value as a stock, and the stock's continued struggles offer much fodder for the doubters' cannons.
(Chart is over 3-years)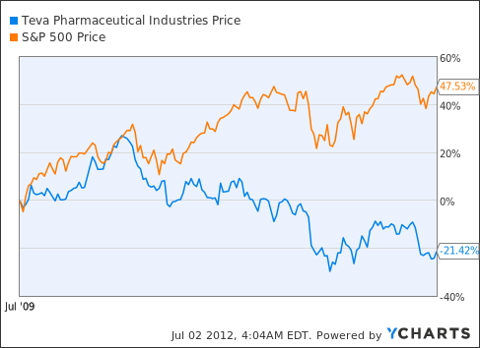 Click to enlarge
Two key trial verdicts in the last week of June could signal the beginning of the turnaround for Teva's stock. The one everybody is aware of is the U.S. Supreme Court ruling upholding the Affordable Care Act and the individual mandate, a.k.a. Obamacare. The other verdict, which Teva followers know is more important, is the recent ruling upholding Teva's patent rights over its pivotal Copaxone® drug.
Teva's stock has responded positively but not overwhelmingly to both rulings. The stock spiked as much as 7.5% in the aftermath of the Copaxone ruling that affected Monday, June 25th trading, before giving away more than half of those gains. The stock then struggled in the immediate response to the SCOTUS ruling before finishing slightly up on the day. Teva went up 3.75% last week in response to both trials and the Euro-zone tailwind from the end of the week.
Doubt still persists, however, and justifiably so. To understand when and how Teva's stock price might really rise, it's worth looking into how these two trials lay the groundwork for a turnaround, what future catalysts might push the stock higher, what still threatens the company, and what Teva's stock should be worth. Without further ado:
Copaxone Trial Implications
The Southern District of New York ruled that Momenta (NASDAQ:MNTA) and Mylan's (NASDAQ:MYL) generic versions of Copaxone infringed on Teva's patents, which remain valid until at least May 24, 2014, with the process patent expiring on September 1, 2015. Essentially, Teva's key drug has protected earnings for three more years.
The initial skepticism regarding the significance of this decision revolved around two points: first, most analysts expected Teva to win. This was not an upside surprise but more of an overhang remover. At the same time, Copaxone is expected to generate $3.8B in sales for Teva this year, just under 1/5 of the year's revenue guidance, and the binary possibility that those sales could be hit by a negative patent ruling kept some analysts wary of touting the stock too vocally.
The other nit skeptics have picked at is that the patent only endures for three more years. This statement is totally correct, but minimizes the value of protecting such a huge chunk of revenue and guidance even for three years, as well as the time this decision has afforded Teva to develop new drugs. Considering the new direction of the company, these three years could prove crucial to Teva's renewed growth.
Supreme Court ACA Verdict Impact
The immediate aftermath of the Supreme Court verdict has not been wholly predictable regarding healthcare. Before the verdict, most analysts expected an upholding of the law to be a positive for the industry as a whole due to the increase in patients (for example); while that has held true for hospital stocks and Medicare providers, for insurers and pharmaceuticals the results have been more mixed.
Teva's viewpoint on the issue as a huge generic drug maker and as a company with key brands like Copaxone has been less equivocal. On the May 24th call to issue updated guidance, President and CEO of the Americas wing of the company, Bill Marsh, stated that more patients entering the system would lead to more generics sold. The possibility of repeal or reform in the event of a Republican electoral landslide this November remains, but the status quo favors Teva given the company's leading generic position and overall flexibility.
Future Catalysts
As stated, these two trials have lifted Teva's stock a little, but the valuation is still exceedingly cheap and questions remain. With the Copaxone overhang removed from the short-term and the generics opportunity that should emerge from the ACA verdict, Teva has set a base for the company and the stock to build upon. A few of the possible building blocks, catalysts, and challenges that the company has in front of it in the near-term include:
- New CEO Levin's strategy, which will be critical for the company's future health one way or the other. As discussed previously, Levin's medical background and significant pharmaceutical experience bode well for his task of repositioning Teva. He has been consistent on the two conference calls he has led about his agnostic view towards the difference between generic and branded medicines, insisting that medicine is medicine. Levin also views Teva's extensive distribution network and experience as a key plus for the company in getting medicines to patients.
This suggests that Teva will continue its generic work, but also move towards developing more branded drugs ala Copaxone. The company anticipates $8B in total branded revenues this year, about 2/5 of total revenue. Levin stated on the updated guidance call a month ago that under new Global R&D head Michael Hayden, the company expects to keep its research focused on a few areas rather than overreach into areas beyond the company's expertise. The renewed focus on this research should provide answers to questions about what Teva does after Copaxone exclusivity.
As for how this might turn into a specific catalyst, watch for Teva's year-end strategy update in November or December. Levin is then expected to provide a clearer look for how he plans to lead the company going forward, as well as guidance for 2013. With almost a full year under his belt as boss, and with Hayden in place for at least half a year, Levin should be able to clarify Teva's long-term prospects and remove uncertainty.
- Hitting the company's new guidance would also help restore investor confidence. Levin provided updated guidance on May 24th as stated, reducing earnings guidance by about 4% and revenue by about 7% at the respective midpoints. The stock is still down over 11% from where it was before Q1 earnings, when Levin backed away from prior guidance. If the company hits its new targets, it should rise a little as a rebalancing from the market's overdone fears.
This guidance incorporates the key headwinds facing the company: Europe and generic competition. Internationally, the company forecast $600M in negative currency effects and $400M in effects from healthcare reform on the continent and elsewhere; that $1B captures almost the entire lowering in guidance, though U.S. estimates for revenue came down $500M as well. On the call, Marsh talked about Teva not launching a generic drug due to a crowded marketplace and the drug not being right in Teva's specialty; some viewed this as a sign of extreme competition, but it also testifies to focus on Teva's part and an unwillingness to overextend. This too can be viewed as a positive.
- New drugs always loom as key catalysts for Teva and all pharmaceutical companies. The company has 30 late-stage drug candidate programs, and recently released news on positive results for two areas. The company announced positive Phase III data for two biologic candidates involved in treating Neutropenia, a depletion in white blood cells, in chemotherapy patients. Biologics, drugs designed from genetically engineered proteins, "constitute one of the fastest growing segments of the global pharmaceutical market, aimed at offering safe and effective approaches for patients with few therapeutic options," according to Hayden, and these drugs offer a big opportunity for Teva as well as patients.
The company is also working on Copaxone spinoffs, which leads us back to where we started. The company announced positive Phase III results for a different version of Copaxone that involves doubling the dosage but cutting in half the number of dosages over the course of a week. This suggests that Teva will be able to support revenues from this key product even after it loses its exclusivity.
It should also be mentioned that Levin expressed mild exasperation on the recent guidance call regarding Copaxone, as he had to remind analysts that the Copaxone patent in question is just for the U.S., which is only one, albeit key, market. He also pointed out how normal patent cliffs are in the pharmaceutical industry. Perhaps they'll become more normal for Teva as it continues to build out its branded portfolio.
Valuation
Teva has a wide business with a number of catalysts. It is worth remembering that the company also has a very compelling valuation. Comparing the company to big pharmaceutical companies (Bristol Myers-Squibb (NYSE:BMY), Eli Lilly (NYSE:LLY), Novartis (NYSE:NVS)) and smaller generic rivals (Watson Pharmaceutical (WPI) and Mylan) suggests that if a few of those catalysts mentioned kick in, Teva has a lot of room to run:
(Sources: WSJ, TDAmeritrade, Teva's earnings releases)
| | | | | | | |
| --- | --- | --- | --- | --- | --- | --- |
| As of Q1 2012 | TEVA | BMY | LLY | NVS | WPI | MYL |
| Market Cap | $37.2B | $60.7B | $49.8B | $132.6B | $9.4B | $9.2B |
| Quarterly Revenue Growth (Y-over-Y) | 24.39% | 4.79% | -4% | -4.15% | 73.97% | 10.28% |
| Yearly Revenue Growth | 13.66% | 9.03% | 5.24% | -1.59% | 28.51% | 12.55% |
| EPS Growth (Annual) | 22.09% | 5.98% | flat | 23.86% | 33.07% | 25.28% |
| Estimated Earnings Growth (next 3 years) | 7.54% | flat | -13.74% | 3.94% | 25.29% | 12.61% |
| Earnings 2011 | 4.97 | 2.28 | 4.41 | 5.57 | 4.77 | 2.04 |
| Earnings 2012 (Est.) | 5.35 | 1.95 | 3.29 | 5.27 | 5.76 | 2.47 |
| Earnings 2013 (Est.) | 5.83 | 1.9 | 3.71 | 5.55 | 8.03 | 2.73 |
| Free Cash Flow 2011 | 3.49 | 2.61 | 5.32 | 4.94 | 3.86 | 1.00 |
| 2011 P/E | 7.94 | 15.77 | 9.73 | 10.04 | 15.51 | 10.48 |
| 2012 P/E | 7.37 | 18.44 | 13.04 | 10.61 | 12.85 | 8.65 |
| 2013 P/E | 6.77 | 18.92 | 11.57 | 10.07 | 9.21 | 7.83 |
| 2011 P/FCF | 11.30 | 13.77 | 8.07 | 11.32 | 19.17 | 21.37 |
| PEG Ratio | 1.05 | NA | neg. | 2.55 | 0.61 | 0.83 |
| Price (June 29th close) | 39.44 | 35.95 | 42.91 | 55.9 | 73.99 | 21.37 |
| Dividend | 1.0456 | 1.36 | 1.96 | 2.48 | NA | NA |
| Dividend Yield | 2.65% | 3.78% | 4.57% | 4.44% | NA | NA |
Teva's valuation is well below its peers despite having strong past and future growth. The dividend is not quite big pharma level - and the chart above does not discount the 25% tax withheld in Israel - but was increased 25% this year to a 1 NIS/quarter payout, which translated to $.2614/share in the first quarter before tax. That is the 13th consecutive year of dividend increases. Many investors worry about Teva's Israel location given geopolitical concerns, but these are often exaggerated: while Teva's headquarters are in Israel, the company has factories, distribution centers, and operations worldwide, and Israel is renowned for maintaining normalcy amidst trying conditions. Any sort of conflict should not affect Teva any more than it would the stock market as a whole.
Summary
The questions surrounding Teva have more to do with growth and performance than valuation. That the stock is cheap is widely acknowledged; skeptics point to the underperformance and the threats readily and justifiably. As such, Teva still has to prove that it can maintain strong growth.
These two recent trial verdicts do not offer that proof. They do provide a base of positive news for the company. Given that we are early in Levin's reign as CEO, and that Teva is positioned to take advantage of many opportunities over the near to mid-term period, Teva has a wide window to continue its growth. The stock has an even wider window to catch up to that growth. A multiple of 10x 2012 earnings would give a 12-month target of 53.5, 35% above current levels.
The verdict(s) is in: Teva should continue to be a strong play for the long-term.
Disclosure: I am long TEVA, WPI.